High School Students Walk Out Once More
Shaker Heights joined others nationwide in walkout memorializing lives lost in the 1999 Columbine school shooting
High school students walked out of school today at 10 a.m. to protest gun laws in America and remember the 1999 Columbine High School shooting.
The walkout, which took place on the front lawn of the high school, started during third period and ended fifth period. It began with a march around the high school and Woodbury Elementary School, with students chanting, "Enough is enough," "Police violence is gun violence" and "Black Lives Matter," among others. Police cars blocked off roads along the route of the march.
When students returned to the front lawn, they observed a minute of silence for all lives lost to gun violence. Then an open mic opportunity began, with junior Kevin LaMonica starting the speeches. LaMonica said, "This isn't just a Democrat or Republican issue; this is a life or death issue."
Aunya McFadden also approached the open mic. Instead of delivering a prepared speech like most other speakers, she sang "A Change is Gonna Come," by Sam Cooke.
Audience members began to cry when a student talked about losing her father to gun violence when she was 2 years old.
Over time, the size of the crowd lessened. The march started out with about 300 students, but when the open mic portion began there were only 250 students, and students trickled back into the school slowly before the end of the walkout sixth period.
The event followed the March 14 walkout, which observed 17 minutes of silence for the 17 victims of the Feb. 14 shooting in Parkland, Florida. It also followed the March 24 March For Our Lives event, which took place in downtown Cleveland.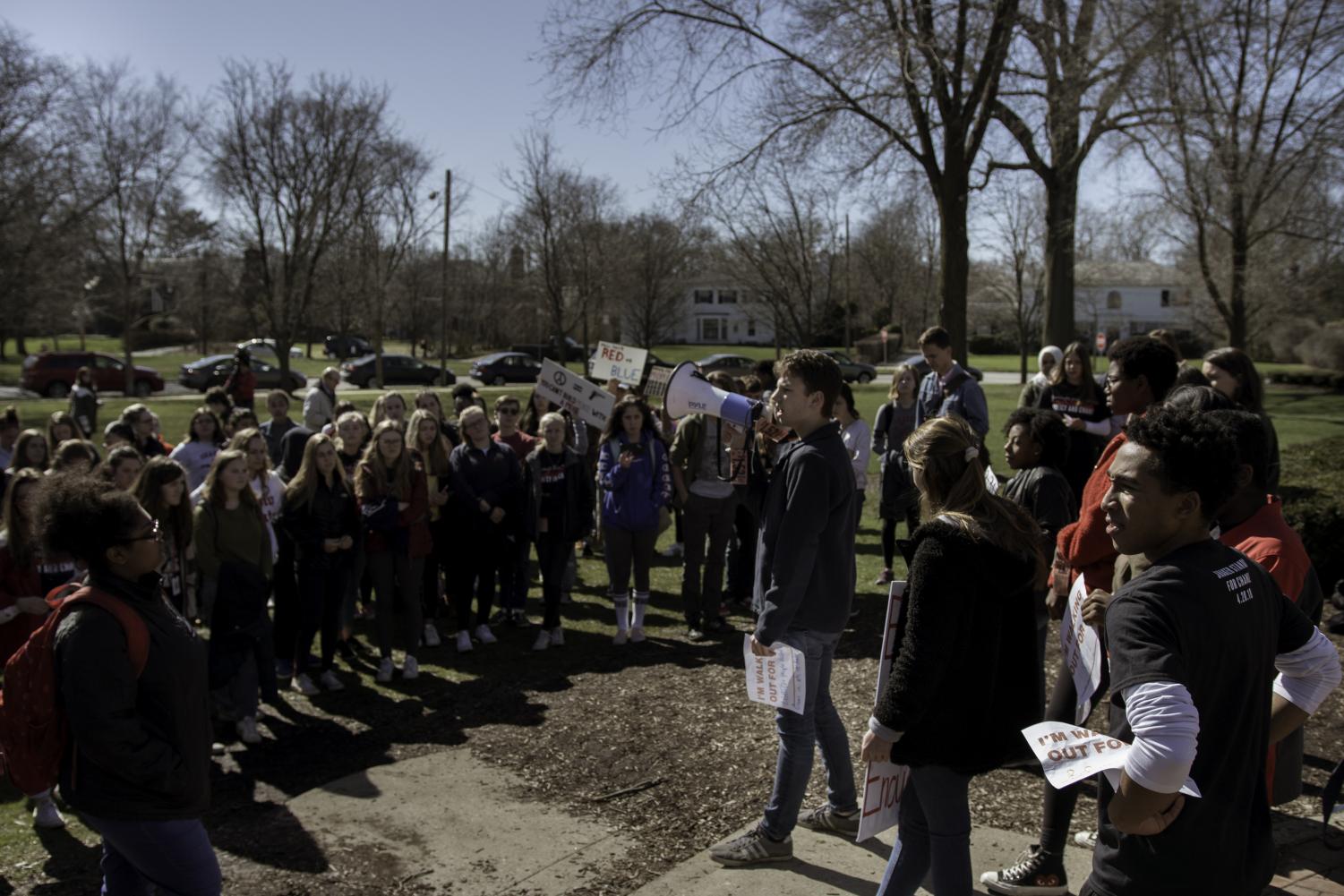 Students learned about the walkout from the Instagram and Twitter pages of Shaker4Change, a student group that organized Shaker's participation in today's event and the March 14 walkout.
Students wore T-shirts designed for the event. On the front, the T-shirts displayed the political cliche "thoughts and prayers."  The expression was crossed out and "policy and change" written beneath it. On the back, the shirts stated, "Shaker stands for change." All profits from the shirts will go to Everytown, an organization that advocates for gun violence prevention.
The walkout also has a hashtag, #imwalkingoutfor, which asks social media users to explain the reasons they are walking out. Students carried posters declaring what they were walking out for.
Officers along the route declined to comment.
Asked if she was worried about the chance for students to use an open mic, freshman Paige Masterson said, "Not really, because high schoolers understand how important this is, and they wouldn't go up to a microphone and say something inappropriate.
At the mic, freshman Max Carroll noted the importance of individual action. He said, "Change doesn't happen with one person, but it starts with one."
Journalism II Reporters John Carter and Paul Huang contributed reporting for this story.
Comment using your Facebook, Yahoo, AOL or Hotmail account
comments
Leave a Comment