Facing the Pressure of a Male Dominated Field
Female insecurity in STEM grows rampant despite equal gender ratios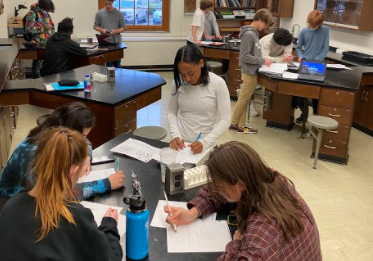 Editor's Note: This story is a part of The Shakerite: Women's Edition that was published virtually in May 2022. Due to a temporary change in the teacher adviser along with COVID-19 restrictions, The Shakerite decided to proceed with our print edition virtually. This is one of ten stories in the edition.
Growing up as a girl, I was often told that in order to succeed in a STEM field, I would have to work harder than my male counterparts. To succeed, I must hurdle over the obstacle of finding the courage and strength to assert myself into a male dominated field. 
However, I never experienced these difficulties. Science and math classes were a place I felt comfortable. I never once had to "fight for my place" in these typically male dominated classes.
This year, Advanced Placement (AP) Biology quickly became my favorite class. Being treated equally by the teacher and fellow students, I was given the chance to learn and participate. As a science oriented student, the opportunity to immerse myself in a subject that intrigued me allowed for growth, as there was no push back or difference with being a woman in the class  despite the commonly told struggle. 
However, halfway through the year, I started to understand why women may face conflict in STEM-– I started to feel an overwhelming male presence in class, despite the equal number of girls and boys in my class. I began to feel the atmosphere in the class change. 
At the beginning of the year there were 109 students signed up for AP Biology. Eventually, enrollment dropped to 84 students. According to John Overko and Jason Walker, the two AP Biology teachers, out of the 25 students that dropped out, 16 of them were women and nine were male. In AP Physics Electricity and Magnetism, the class ratio for females to males is about equal as well, according to the teacher James Schmidt. 
However, Schmidt also notices a pattern of unequal dropping rates between sexes. "I have found that more female students do tend to drop but that does not mean that there are more male students who are qualified. There are male students who probably should be in the same boat that my female students are. But for some reason, and it is a reason I don't know the answer to, the male students don't drop as much," he said. 
Individual reasons for leaving classes vary, but Schmidt thinks that the rates are partially due to a lack of confidence in females. "I do a lot more coaching of students' headspace about confidence and things like that with my female students then my male students. Some of my male students are just sort of over confident and don't need it, and I think I have female students who are under confident who are at a higher ability level then they give themselves credit for," he said. "That's the area that I know I can step in and say 'you're good at this, you can do this, you are doing great, you can do this class," Schmidt said. 
When the year began, I felt no need to exert myself, but as the year progressed I noticed a change in my comfortability. I found myself fighting to be heard and defending my intelligence. When working on group assignments, I will say the correct answer and be questioned or ignored. A few moments later a male will say the same answer I did and everyone will accept his response. 
Soon, I felt that the only way to gain respect was to demonstrate consistent performances. I've maintained an A throughout the year, and yet it seems as if a few questions answered incorrectly on an assignment revokes all the respect I've earned. This expectation instilled extra pressure to perform well, expectations that not all males may feel compelled to hold themselves to. They have a confidence that's not tethered to their objective performances. 
Schmidt also notices that due to the lack of women in STEM fields, his female students can be harder on themselves. The male dominance and pressure results in us to be harder on ourselves because we have to be in order to gain respect. While a guy can get a 44% on a test and not have his intelligence be questioned, if I get a 84% on a test, I am deemed as average and unworthy of praise. 
Sharita Hill, Honors Biology and Anatomy and Physiology teacher, helps her female students by advocating for them, particularly her female students of color. "I try to do my best to encourage my female students to consider all the different STEM careers that exist and possibly take additional science courses in order to tap into any interest that they may have," she wrote. 
Hill is transparent about her journey of becoming a STEM teacher. "I try to tell the story in a way that shows my girls that although this has been a male dominated field, there is definitely space for our thoughts, ideas and expertise in science." 
Hill makes attempts to shape curriculum to fit her female students' interests and highlight women in science. "I also try to design lessons in a way that engages all students but also tap into the inquiry of things that they care about," she wrote. "For example, teaching a lesson about proteins and hydrogen bonding can be easily adapted into a lesson about straightening your hair vs wearing your natural curls, and why heat is necessary for making the hair straight or what water and humidity is doing to return the curls and coils to their natural state."
STEM Ambassadors, a program started by Ashley Sah ('21) and Clovis Westlund ('21) to ensure equity in Shaker STEM programs, alongside advocacy and representation of women STEM teachers begins the conversation of the issue. However, in order to make the necessary room for women in STEM fields, men need to encourage and support female participation and become more aware about their place in the lack of inclusivity in the STEM field. 
Hill wrote, "I try to tell the story in a way that shows my girls that although this has been a male dominated field, there is definitely space for our thoughts, ideas and expertise in science."
DISCLAIMER: The dropout rates were given by the teachers of the respective classes. For the purpose of the article, gender was limited to females and males.
Comment using your Facebook, Yahoo, AOL or Hotmail account
comments
Leave a Comment