'Rite Idea: A Word of Advice to the New Boss
You won't replace Mike Griffith, but you should strive to match his commitment to students and staff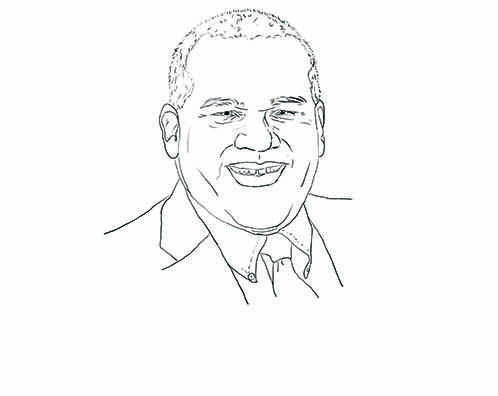 Dear Future Principal,
Welcome to Shaker Heights High School. We're thrilled to have you.
As we're sure you already know, Shaker is a unique community brimming with diverse and passionate people — the high school being no exception. With 32 seniors named Semifinalists and Commended Students in the National Merit and Achievement Scholarship Programs this year, a 407-student strong marching band and a state-championship field hockey team, it's safe to say that our high school offers something for just about everyone. Curious and eager students paired with hardworking staff who make it all possible are what define our traditions of academic, artistic, musical and athletic excellence. We're excited to see what you bring to your new gratifying — but overwhelming– position.
Clearly, you have some pretty big shoes to fill. Principal Michael Griffith is beloved by many, and there is no doubt that we'll miss him like a middle schooler misses recess. That being said, we welcome you into the Shaker community and are eager to get to know you as both an administrator and a person. However, there are a few things we'd like you to keep in mind as you enter this new position.
First and foremost, note the astounding variety in our high school courses. Shaker is home to the International Baccalaureate Middle Years and Diploma Programmes and 22 Advanced Placement classes. However, more uniquely, our high school offers electives such as Greek, Film As Art and Criminology, to name only a few — classes that are hard to come by at other schools. It is vital to teachers and students alike that these classes remain among the course offerings at the high school. Both teachers and students are worried about electives in light of budget concerns addressed by Superintendent Gregory C. Hutchings, Jr. in 2014. Hutchings' contract rewards him with salary bonuses for trimming the budget; elective classes with fewer students enrolled would logically be among the first targets, and he in fact reviewed the high school's elective enrollments last spring. With fewer electives to teach, the faculty can continue to shrink by retirements and resignations, further reducing the budget.
We cannot let this happen. There's more to our students than trigonometry and Shakespeare. Elective courses should not be diminished or belittled. Otherwise, we begin to lose our identity as a school that values talents outside of core subjects. That's not who we are and–we hope–never who we will be. We hope you will defend our electives against efforts to cut costs.
Secondly, it's important to remember that students should always come first. We know that parents and community members are very passionate in their ideals. We know that the state will continue to pile on mandatory testing. We know that there will be many outside — and inside — forces telling you what they think is best. But at the end of the day, please keep in mind that here at the high school, the needs of the students have always came first, and always should.
Gain the trust of your students. High school students want a superior they can relate to and respect, not a superior they fear. Griffith was always approachable and understanding. He connected with students by participating in school events such as being duct taped to the cafeteria wall for charity in 2013 and making his theatrical debut in the high school's production of "Wonderful Town" in 2011. When he arrived at Shaker 15 years ago, he inherited a tradition of senior pranks that had escalated to cruelty, with seniors — and other students — assaulting classes with water balloons, endangering students and staff in stairwells, abusing animals and detonating fireworks in the building. Rather than shut down pranks in a show of administrative power, Griffith worked with students to establish a process for approving students' prank ideas. The practice has since restored sanity and safety to the final weeks of school.
In addition to the students, earn the respect of the high school staff. Recently, teacher morale has been sagging, as publicly documented in the SHTA's open letter of May 11. Although it wasn't always obvious, Griffith strived to make his staff's lives a little easier in light of district and state-mandated changes seizing the high school. Griffith, a former math teacher, even spent hours creating software to aid teachers in collecting Student Learning Objective test data and analyzing it to determine how much, for instance, a physical education student "grew" in a school year.
Ensure that you're making high school teachers' lives easier, rather than harder. Our staff is the foundation of our excellence, and we cannot afford to lose them.
We wish you luck. We'll be watching.
Comment using your Facebook, Yahoo, AOL or Hotmail account
comments
Leave a Comment