A Foodie's Guide to Cleveland Part I
If you are home for spring break, check out some of Cleveland's great food options
Food is a large part of my life.  Making it, looking at it, taking pictures of it and especially eating it.  I consider myself a foodie. One of the best things about Cleveland, and its main selling point in my opinion, is the food.  You can consume anything from a burger made by an iron chef to ice cream made with liquid nitrogen in front of you (aka magic). Even the Cleveland Museum of Art is home to world class cuisine.
This post is the beginning a list of some of my favorite dishes in Greater Cleveland, in no particular order. All pictures are from the food album that I keep on my phone to remind myself why I love Cleveland during the polar vortex and other trying times throughout the year.
Sweet Melissa
I've eaten at the Sweet Melissa in Rocky River a few times, so I was delighted last year when I heard that another franchise was opening five minutes from my house.  The restaurant opened last March, and if you have not already been, I suggest you go — now. Their "Battered Artichoke Hearts" are an explosive combination of flavors. They are the perfect balance of crispy crunch, artichoke and a creamy pesto filling. I suggest adding a side of sweet potato fries to round out the flavors.
My other favorite is "Roger's Shrimp and Lobster Rolls." I'm not sure who Roger is, but he has good taste.  I love seafood, especially lobster, and this hits the spot every time. There is something about the combination of the seafood, the bread and the hint of lemon that makes me feel like I am lying on a beach chair during a paradise vacation.
SASA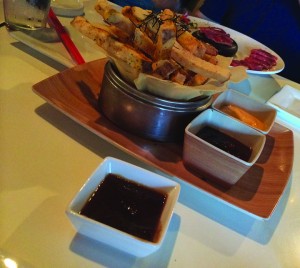 SASA offers the best sushi I have ever eaten. Period. I've eaten a lot of sushi, and nothing even comes close to SASA's "Hawaiian Roll." Whenever I go to a new sushi restaurant, I always try to look for sushi that comprises the following: avocado, tuna and/or salmon, something spicy and something crunchy. SASA delivers all of it. The "Hawaiian Roll" is filled with spicy salmon, tempura crunch, with tuna and avocado on top. However, I do not like the flavor of the cucumber and I think the roll tastes better without it. I also recommend ordering the roll with brown rice because it doesn't taste much different, but it makes you feel healthier. If you are not a big seafood person, go for "The Rock," which comes with a scalding hot rock, on which place pieces of raw meat to cook them.
No matter if you prefer food from the land or sea, you cannot leave without tasting "SASA fries," or the best fries you will eat in your life with the best dipping sauce you will ever taste. Their thick cut, salty seaweed topping and piping hot potato filling make them irresistible.
Hungry yet?
Comment using your Facebook, Yahoo, AOL or Hotmail account
comments
Leave a Comment