Some Walk Out, But Others Sit In
A student-led walkout about stricter gun laws leads to a student-led sit-in to protest racial inequity
A day set aside for a silent walkout honoring the 17 victims of the Parkland, Florida shooting also became a day for a sit-in protesting administrators' response to a planned walkout in 2016.
At 10 a.m. today, about 500 students, predominantly white, walked to the high school's turf field at Russell H. Rupp Stadium and observed 17 minutes of silence in memory of the 17 victims of the Feb. 14 Marjory Stoneman Douglas High School shooting. Students at schools across the nation participated in the walkout as part of a movement coined "Never Again" and determined to promote gun policy reform.
During the interval, students displayed posters depicting the names and ages of the 17 people killed in one of the nation's worst school shootings. Others held posters stating "Protect Kids, Not Guns," "More Love, Less Guns," "Never Again" and "Enough is Enough." Someone held up a picture of an AR-15 style semi-automatic rifle, the weapon used in the Parkland assault.
Sophomore Tomasina DeLong said the posters held during the walkout were powerful. "It was just the act of holding the posters there for 17 minutes . . . whether or not you had the same specific beliefs, everyone is coming together," she said. "That was a unifying factor."
English teacher Christopher Cotton, who participated in the walkout, said the protest was beautiful and powerful. "I think it's a unique moment that students are leading this effort to bring about a real change, and I just want to support it," he said.
IB Coordinator John Moore said he was impressed by how seriously the student body took the event. "I think there was something really unique about standing out in the cold and just being present," said Moore, who joined students outdoors, where skies were cloudy and the temperature was 22 degrees.
During the 17 minutes of silence observed outside, about 60 students, mostly African American, sat silently in the hallway outside the main office to protest what they consider a racially- motivated double standard in administrative treatment of today's walkout and a 2016 protest.
In November 2016, two students were suspended after sharing, via Snapchat and Twitter, screenshots of private texts sent by a third student. The texts made disparaging and broad comments about African Americans. One student served an in-school suspension Nov. 11 for her role in sharing the first student's texts. The other student's in-school suspension was rescinded Nov. 15 following the receipt of a letter from the ACLU of Ohio imploring the district to not discipline the student because doing so would infringe upon her First Amendment rights.
However, students critical of the administration's decision to discipline the two students who exposed another student's racist expression called via social media for a blackout dress day and 12:30 p.m. walkout in protest Nov. 11, 2016.

On Nov. 11, high school administrators made a P.A. announcement during fifth period that stated, "We have been made aware that some students may be planning to walk out at noon to express dissatisfaction with a student issue. However, we want you to know the student issue has been resolved with all parties. Unfortunately, the law doesn't allow us to discuss particular student issues with the public. Teachers and staff, students, please continue to conduct school as normal."

At the time of the intended walkout, administrators and security guards lined the doors and edges of the high school's campus, leaving only some cafeteria exit doors available during sixth period lunch. Nevertheless, some students did fill the hallway outside the cafeteria, chanting, "F*** Donald Trump" and "We need justice."
Junior Kye Harrell, who sparked today's sit-in, criticized the administration for supporting today's walkout. "They are picking and choosing which protest is a disruption and which one isn't," she said. "We wanted to walk out for racial injustice" in 2016, "but it was seen as a disturbance to the school day, and we were even threatened with suspension. Our right to have a non-violent protest was not supported, yet I find it odd how this one is."
Harrell continued, "As I'm taking an African-American History class, I have realized that when a group of black people want to protest, it is called a disturbance."
Yesterday, around 8 p.m., Harrell shared via Snapchat her views on the planned walkout. "I will be walking out of class with the others to show that I am in support of gun laws but not out of the building. I will be honoring my ancestors by having a silent sit in by the Eli gallery and main office hallway," she continued. "If security or anyone tells us to leave we will politely tell them no and continue to sit in. Not violating our rights."
After observing the silent interval outside, students returned to the building and to third period class. Some headed to the main office area and sat down with their peers. By fourth period, there were 83 students sitting, nearly all of whom were African American.
During fourth period, Principal Jonathan Kuehnle informed high school faculty via email that students participating in the sit-in would not be punished.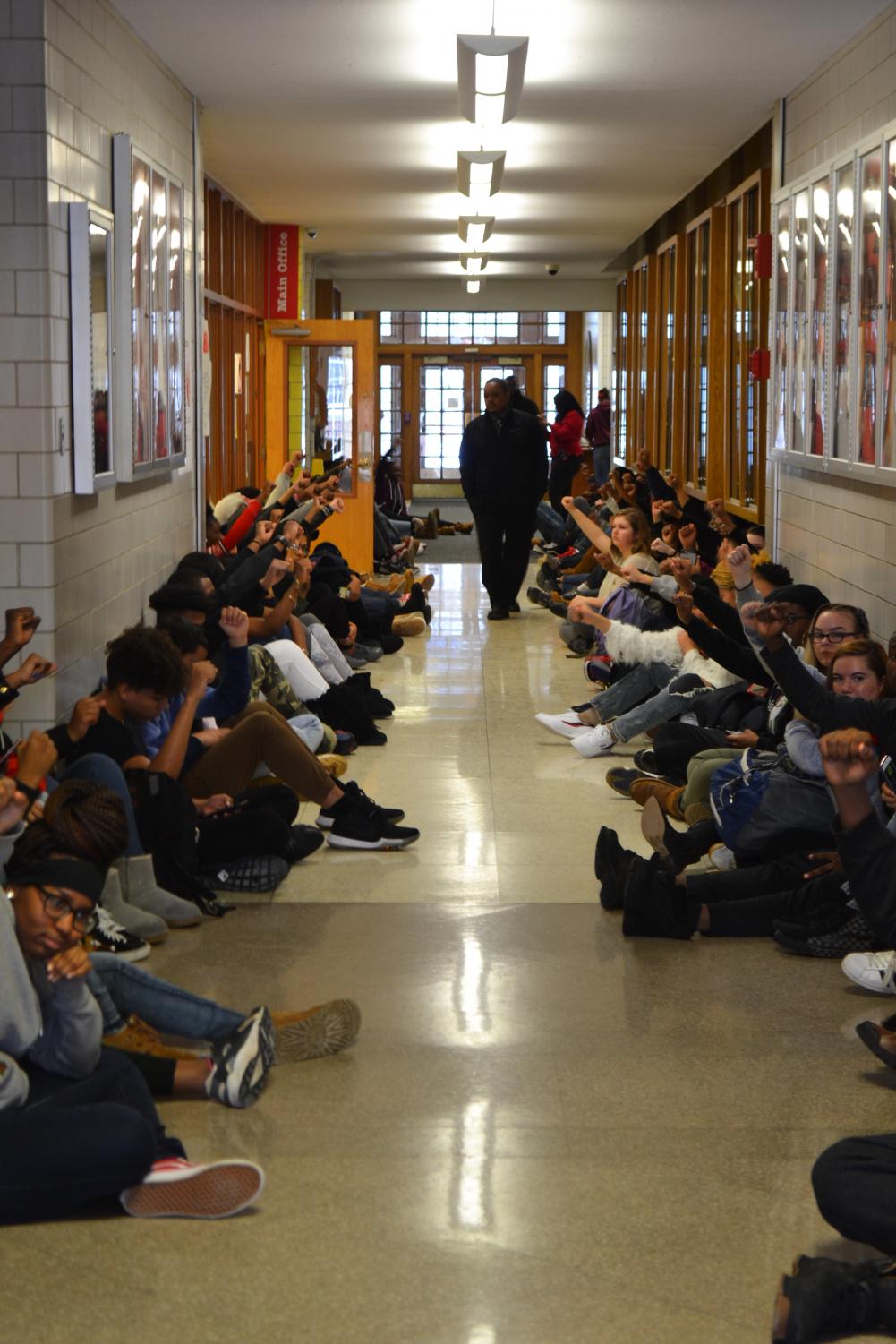 Student attendance officer Nicole Gardner collected student names during the sit-in protest in order to excuse their absences.
By fifth period, the number of sit-in participants reached 139, eight of whom were white. During fifth period, mathematics teacher Angela Harrell spoke to the students. "You can sit here all day, but if you're not working to then go out to be able to make changes and laws, this means nothing," she said. "Remember this day. Remember sitting with your classmates and making a difference, making a change. But if you don't go and do your individual part —  am I clear? Am I totally clear? You can sit today, but tomorrow you gotta stand." At the end of her speech, the students applauded and remained seated.
By sixth period, there were 176 students sitting. Students who skipped lunch to participate in the sit-in were brought food by peers. By seventh period, 235 students were there.
By eighth period, there were 168 African-American students and 68 white students participating. Some students began to treat the sit-in like a study hall, and some were standing up and talking, so the student leaders decided to end the protest.
Younger Shaker students also participated in today's protest against gun violence. According to Woodbury Principal Danny Young, about 19 students walked out with their parents at 10 a.m. At the middle school, there was a student-led commemoration of the Parkland victims in the auditorium, followed by a student-led, staff-supervised march around the outside of the building.
Kye Harrell feels strongly about protesting to help eliminate injustices. She said, "I know that I won't stop fighting for this until changes happen."
Journalism II Reporters Ashley Sah, Paul Huang and Will Burleigh contributed reporting.
Comment using your Facebook, Yahoo, AOL or Hotmail account
comments
Leave a Comment
About the 'Riter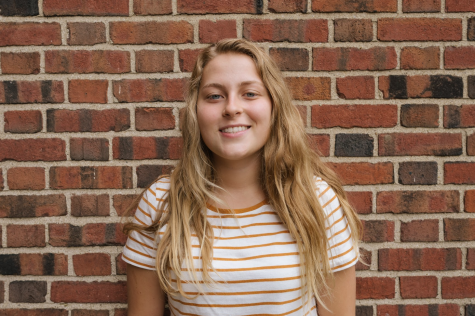 Mae Nagusky, Editor-in-Chief
Mae Nagusky ('20) is in her fourth year with The Shakerite. She is currently Editor-in-Chief, running and overseeing coverage for shakerite.com and the quarterly print issues. Mae was The Shakerite's Web Managing Editor in her junior year, and Campus and City Editor sophomore year. In the past, she has covered topics such as systemic inequity and disrespect toward teachers. Mae participates in high school softball, and she enjoys listening to podcasts and dancing.