The New Smoking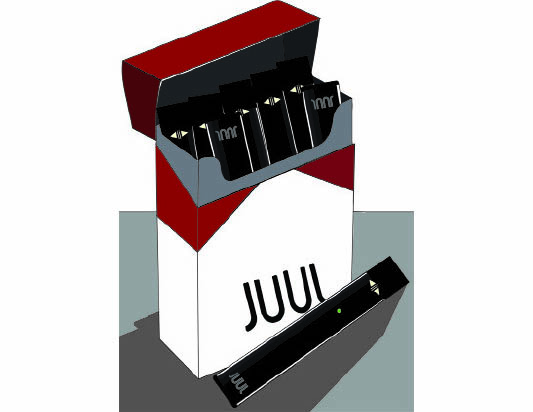 Since the invention of the electronic cigarette in 2003, high school students have increasingly used vaporizers, more commonly known as vapes, instead of tobacco cigarettes. Vaporizers are battery-powered devices that heat a liquid solution, usually containing propylene glycol, glycerin and nicotine, that can be inhaled as a vaporized form of nicotine.
"I think it's like, if you do it, you're cool, and if you don't, you're not cool — or you'll be peer pressured into doing it anyways," freshman Carson Fowler said.
As of 2016, twice as many teens vape than smoke, according to Science News for Students. Additionally, in 2015, in part with the National Youth Tobacco Survey, researchers found that 16 percent of teens vape, which adds up to 2.39 million teens in comparison to the 1.37 million high school teens who smoked cigarettes. 
"
In 2015, one in four high school students used some form of tobacco products, which includes e-cigarettes.
As more consumers begin to follow the vaping fad, the industry has made vaporizers smaller and more attractive. One vaporizer, known as a "JUUL," looks similar to a flash drive and is fairly attainable for students. The JUUL is USB chargeable, which allows students to easily charge them in their computers at school.
According to the company website, the mission of JUUL Labs is to eliminate combustible cigarettes and provide smokers with an alternative to cigarettes that can assist them in their attempts to quit.
Though JUUL Labs have tried to combat underage use by making the site only accessible to people who confirm they are 21 years or older, the JUUL has become more popular than classic vaporizers in high schools due to its sleek look and small size.
Vaporizers are healthier than tobacco cigarettes, which pose health risks due to smoke inhalation, but vaporizers and electronic cigarettes still have negative consequences for students' health.
One JUUL pod, or the cartridge in which the liquid solution is stored, contains 0.7 mL of liquid with five percent nicotine by weight, which is roughly equivalent to a pack of cigarettes, or 200 puffs.
Dr. Eleni Pelecanos-Matts, a primary care physician at Louis Stokes Cleveland Veterans Administration Medical Center, explained that nicotine affects teenagers differently than it does adults. "Nicotine has profound addiction-promoting effects on the brain, and the developing brain is more susceptible to these effects than the fully developed brain," she said.
Students can develop a nicotine addiction from consistent use of a vaporizer, Pelecanos-Matts warned. "Nicotine causes one to feel a short-term sense of pleasure and it promotes release of adrenaline, which can make one feel a bit more energized. It can cause dependency," she said. 
"
According to the 2017 Monitoring the Future survey, one in three seniors have reported past use of a vaping device.
Compared to alcohol, Pelecanos-Matts said, vaporizers affect the body differently, but both cause addiction and dependency if consumed regularly. "Given what is currently understood about nicotine addiction, I am concerned that vaping could increase one's risk for dependency on other addictive drugs," she said.
Studies reveal that nicotine use starting at a young age leads to nicotine addiction. "Epidemiologic studies indicate that people who start using nicotine products in their teen years are much more likely to become addicted than those who start as adults," Pelecanos-Matts said. 
"
A study in January 2016 found that kids who vape are three times more likely to begin smoking regular cigarettes than nonvapers.
However, nicotine isn't the only aspect of vaping that worries medical professionals. According to Pelecanos-Matts, concerns about vaping include the unknown effects of the substances used in producing the vapor and the delivery devices that are used.
According to the online high school student handbook, use of electronic cigarettes is prohibited. "The Board prohibits the smoking, use or possession of tobacco in any form including, but not limited to, cigarettes, cigars, clove cigarettes, chewing tobacco, snuff, alternative nicotine products, electronic cigarettes and any other forms of tobacco by any student in any area or vehicle under the control of the District or at any activity supervised by any school within the District," the handbook states.
The school's policy complies with state and federal laws. While the minimum age to purchase tobacco varies by state, JUUL Labs enacted a policy in August to prohibit anyone under 21 from purchasing their products via their website.
State laws set the minimum age for purchase of vaporizers anywhere from 18 years to 21 years of age. In Ohio, people 18 years old and older with a valid ID can legally buy tobacco products, including vaporizers.
Students explained that Ohio's law makes it easy for underage students to acquire the popular devices. "You can basically get them from any store as long as you have a senior by you," Fowler said.
"It's popular with a lot of upperclassmen, but I also think a lot of upperclassmen are introducing it to freshmen," junior Isabel Levin said. "If someone has one, they'll offer it to their friends, and then they try it, and they like it and want to do it, too." 
"
According to the National Institute on Drug Abuse, boys are two times more likely to use e-cigarettes than girls.
Levin also said the high school's new policy of testing for alcohol at school dances has increased student use of the smoking alternative. "Now that they Breathalyze at school dances, you can sneak in a vape, so that's appealing," Levin said. "I think that it's a trend now, and it's caught on."
The anonymous student said, "I one hundred percent believe JUULing and vaping is the new smoking of our generation."
Comment using your Facebook, Yahoo, AOL or Hotmail account
comments
Leave a Comment