The High School is Showing its Age
Teachers cope with excessive heat and water damage
Every day teachers and students work in a building with classrooms that have inconsistent temperatures, water damage and holes in the ceiling.
English teacher Erin Mauch's room, Room 158, is in the east wing of the building. This front hallway, east of the main office, was built in the 1961, so it's newer than the rest of the school, which was built in 1931. "It has needed pretty major repairs every year, for the past six years," Mauch said. "I lean toward thinking we probably need to rebuild."
The district has not yet decided on a school facilities plan. Some schools will be renovated and others may be replaced. 
Sophomore Greta Linz said she understands the benefits of a full remodel of the high school, however the process would require a lot of difficulties for both students and staff. "I feel that the process of remodeling would be very challenging if we must relocate," Linz said. "I personally want to finish high school without the challenge of working around a remodel."
Mauch said the disrepair affects teaching and learning. "We have to rearrange our furniture so that the tiles that are flooding are not where students sit," she said.  
The water problem makes some of Mauch's classroom space unusable. She has cabinets in her class but can't use them because water leaked into them and ruined her supplies. The school has not had  her cabinets repaired. "It got flooded and it got moldy, so I've stopped keeping anything in them. So I have a ton of storage that I don't use because I have lost hundreds of dollars worth of materials," she said.
English teacher Dr. Charles Kelly has also experienced issues with the building's conditions. "There's always an issue about the heat coming on very strong," Kelly said. In his classroom, Room 159, the radiators overheat the room. Kelly has to place books on top of the heaters to keep the room at a proper temperature. "I often have to have the window open just to temper the heat," Kelly said.
Linz said most of her classes have heating and cooling issues. "The class is either too hot or too cold," she said, "which can be distracting to my focus and learning."
Said Mauch, "I think we could use a new building at this point."
Correction: This story was revised to correct the dates of the high school's initial construction and the addition that includes Rooms 158 and 159.
Comment using your Facebook, Yahoo, AOL or Hotmail account
comments
Leave a Comment
About the 'Riter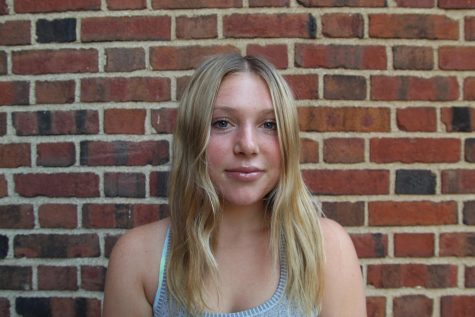 Lucy Horrigan, Campus and City Reporter
Lucy Horrigan ('25) is in her second year with The Shakerite, and is writing as a Campus and City Reporter. Last year she wrote about how girls in hockey leave the program once they get to high school. When not writing with The Shakerite, Lucy plays field hockey, lacrosse, and is in the SGORR, Mock Trial, Model UN and Debate Club. She works as a lifeguard, and in her free time she enjoys hanging out with friends and being active.