Students Walk Out in Wake of Gun Violence
Protest occurs in response to the Uvalde, Texas mass school shooting
High school students walked out to the front lawn at 12 p.m. today to advocate for stricter gun laws. 
The protest, which started during sixth period at the high school and ended around 1 p.m., was promoted nationwide by gun legislation advocacy organization Students Demand Action. "Join our nationwide walkout on Thursday, May 26th at 12pm ET as we grieve with the Uvalde community and demand action from our lawmakers," their website states.
On Tuesday, a gunman killed 19 children and two teachers at Robb Elementary School in Uvalde, Texas, according to Texas Governor Greg Abbott. Turmoil over gun violence and legislation has grown rapidly all over the nation. 
Students Demand Action provided a "toolkit" for students to use in organizing their school's walkout. "​​Use our toolkit to plan your walkout," their website states, along with tips on how to organize a successful protest. 
Principal Eric Juli allowed students to walk out, according to Senior Administrative Assistant Laurie Brem. "This optional walkout, promoted by Students Demand Action, will last about half an hour. All student participants should return to class, or their assigned lunch, immediately after the walkout.  This plan has been approved by Mr. Juli," Brem stated in an email to students at 10:49 a.m.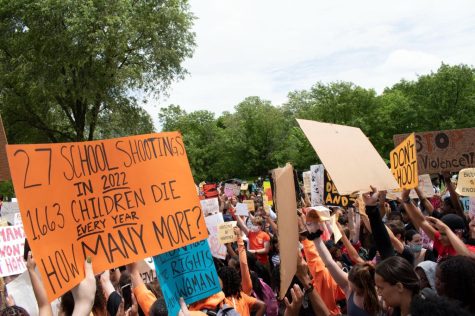 Senior K Armstrong, juniors Josh Mink and Spencer Payton and sophomores Jordyn Mitchum and Kaiya Thomas led the protest in Shaker. At the 12 p.m. start time, students exited the high school through the front doors and walked to the front lawn. Students gave brief speeches before marching a lap around the front of the school. The group then returned to the front lawn for more students to give speeches. 
"I shoot as a sport, but I'd be willing to put it down just to save one of those lives," freshman speaker Tima Ewing said in his emotional speech.
Mitchum said that the protest was planned in less than 24 hours, and described the planning as hectic. "We had so many things that we wanted to do for it, such as making signs and walking around the oval, as well as having students speak on the issue, and I'm happy to say that all of that was accomplished today," Mitchum wrote in a text message.
Demonstrators wore orange in honor of gun violence victims started by the Wear Orange organization, a nationwide gun violence protection advocacy organization.
Freshman speaker Jo Jones said that she felt passionate about the issue and decided to share her frustrations. "It was like, 11 p.m. last night, and I had just so much anger and sadness for those kids, so I sat down and just wrote. I just started writing poems; that's what I do," Jones said. "I was going to have Spencer [Payton] read it for me, but then last minute I was like, I want to read this myself. I just kind of wanted to let it all out."
Freshman Anjum Reddy said that she wishes that students will send letters to government representatives. "I feel like the full gravity of the situation hasn't struck me because there's just, like, like all the speakers said, I'm just numb to all of this," she said.
School officials monitored the perimeter of the protest to prevent non-Shaker students from attending. 
Thursday's walk out was not the first gun violence protest at the high school in recent years. In March 2018, students held a silent walk out in honor of the Marjory Stoneman Douglas High School mass shooting's 17 victims in Parkland, Florida.
"I think it's really important that students' voices are heard with this issue," Superintendent Dr. David Glasner said. "You know I remember a few years ago when Parkland happened, the Parkland school shooting, and there were similar protests and walkouts here in Shaker and across the country, and it's sad to me that there's a need for these kinds of protests to continue."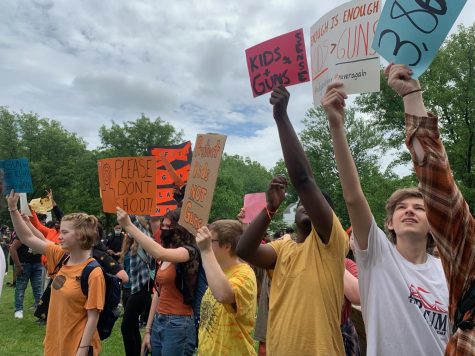 Freshman Addie Weingart said that she worries for her safety in school. "It's just a number until it's one of us," Weingart said.
Preventative security measures are in place in all Shaker schools, according to Glasner. "As always we will continue to make sure that we have our own safety protocols in place," he said.
Mitchum said that she believes gun control legislation is essential for feeling safe in schools. "Gun control is not just to keep students safe, but everybody safe. It's nerve wracking thinking that it could be your last day seeing your family and loved ones," Mitchum said.
Glasner said that he was supportive of the student-led protest and has hope that it will cause political change. He said, "The kind of advocacy that our Shaker students are doing today and outside of today is what will really make change, our political leaders need to hear from our current voters and future voters and leaders that this is not acceptable, and that we need to have change."
Josh Levin, Annie Sullivan, Jenna Loveman, Elle O'Brien, Ruben Rippner and Meredith Hurley contributed to reporting.

Comment using your Facebook, Yahoo, AOL or Hotmail account
comments
Leave a Comment