Students Evacuated, Dismissed after High School Fire
A 12:20 p.m. fire disrupted AP examinations and sent students home early
The high school was evacuated and students were dismissed from school after a fire was detected in the building around 12:20 p.m.
According to Shaker Heights Police Officer Joe Lagruth, everyone evacuated safely.
After the alarm sounded, students and teachers evacuated to the sidewalk around the oval.
According to administrators, middle school students who were on a field trip to the high school's planetarium at the time of the alarm were evacuated and returned to the middle school.
A 12:29 p.m. statement published on the Shaker school's app read, "The Fire Department is responding to a suspected electrical fire at the High School. Students are being evacuated."
The district then posted a statement on shaker.org dismissing students from the rest of their classes.
"Students have been evacuated from the High School because of a fire," the statement read. "The Shaker Heights Fire Department has closed the main building and will not permit students to return due to smoke."
Students who left the building without their backpacks and personal items were not immediately allowed back in to retrieve them.
Later in the day, however, an update was made to the shaker.org post. "Students still on campus will be allowed in to retrieve personal items with a staff escort. Students who left campus to return home will be allowed to retrieve their belongings Monday morning. Those students who want to finish their AP tests are being let back in to finish the exam," the update stated.
Junior Malka Steinberg said she was in the library when she saw smoke coming from the hallway. "It was kind of weird to see the smoke — I've never seen that in a school building," she said.
Librarian Robin Sweigert also noticed the smoke. "I was coming down from the upper cafeteria and something smelled really bad, like when you lay tar down," she said. "I knew it had something to do with whatever the smoke was."
English Teacher Sharon Craig said that she first thought the alarm was a drill. "My first thoughts were that maybe someone had pulled [the fire alarm]," she said. But then, when we got into the hallway, we knew it was serious and everyone started to help evacuate kids in the building."
The alarm sounded near the end of sixth period lunch, and cafeteria evacuation was difficult, according to freshman Logan Jones. "Everyone went wild and started screaming and panicking," he said. "It was very chaotic. Those drills did diddly-squat to help us if we're in the cafeteria."
Freshman Jaclyn Shin was also in sixth period lunch when the alarm sounded. "People were screaming, there was little directions, and it took a while to get through the crowded doors," she said.
The school holds fire drills monthly in keeping with state law, but does so outside of the lunch periods, and there is no set procedure for cafeteria evacuation, according to a 2017 Shakerite article titled, "What if it Happens at Lunch?"
In the article, Assistant Principal Ramsey Inman said the district would hold lunchtime safety drills during the 2016-2017 school year, per the advice of the Shaker Heights Fire Department. However, the school did not hold lunchtime drills, and there have been no fire drills during lunch periods in the 2017-2018 school year.
According to Principal Jonathan Kuehnle, if the cafeteria needs to be evacuated, students should follow directives by the security guards.
However, Jones said, the guards in exiting the cafeteria. "They were shouting commands, but no one could hear because everyone was yelling at the same time," he said. "I honestly couldn't really tell what was going on too much."
At the time of the fire, an Advanced Placement United States History exam — which began at 8 a.m. — was being administered.
Students taking the exam were instructed to leave their belongings in the testing room before evacuating the building.
On May 15, 2013, a fire drill was mistakenly scheduled during the administration of AP U.S. History and German exams.
The College Board, which administers the AP exams, requires reports on test interruptions. After the district filed an incident report in 2013, students had to retake the essay portion of their exams a week later, and their test scores were subsequently delayed.
Sophomore Emily Cawley, who was taking the APUSH exam today at the time of the fire, said that she and her classmates were instructed not to discuss the exam's content while outside in order to preserve test integrity.
Cawley added that the APUSH students were held outside during the evacuation. "We stand around outside for a very long time — something in between two and two and a half hours — and then they finally say we can go into the north gym," she said. "Prior to that, we just had to stand in the cold because our test could have been voided if we went anywhere else."
Cawley also explained that while sitting outside, students remained unaware of their testing situation. "We were not allowed to talk to anyone, and anyone that came by had to leave to try to preserve test integrity," she said. "Not a lot of people knew what was going on since no one had their phones and were not able to contact their parents, family or friends."
According to Cawley, the proctors of the exam and APUSH teachers were in contact with the College Board during that time, and when they entered the north gym, students were given three options: To leave and have their test voided, sign something that gave the College Board permission to grade their exam as they left it, or go back to the high school's multipurpose room and finish their exam, and wait for everyone else to do so as well.
Web Managing Editor Astrid Braun, Journalism II Reporter Katie Cronin, Journalism II Reporter Bess von der Heydt and Editor in Chief Grace Lougheed contributed reporting.
Comment using your Facebook, Yahoo, AOL or Hotmail account
comments
View Comments(1)
About the 'Riter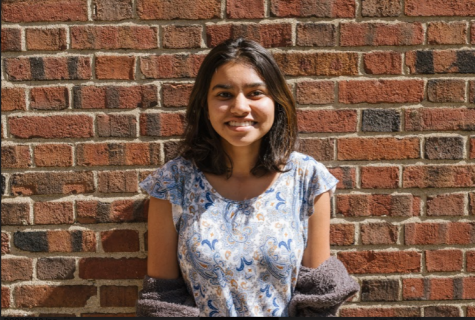 Ashley Sah, Videographer
Ashley Sah ('21) is the Videographey Editor and is in her fourth year with the Shakerite. In her sophomore year she was the Social Issues Investigations Reporter, covering topics such as classroom size and student teacher relationships. She is also a founder and leader of STEM Ambassadors, an organization dedicated to promoting and encouraging diversity in STEM. She also plays flute and volunteers at Shiksha Daan. In her free time she enjoys writing poems, making strong espressos and playing piano.