Striving For a Better Shaker
As the 2019-20 school year opened, Principal Eric Juli and Superintendent David Glasner embraced their new roles
Principal Eric Juli and Superintendent David Glasner are trying to set the district on the right path following a year of turmoil and temporary leadership.
"I think that we need to be really clear about what the purpose of school is, and how we're supporting all of our students to achieve that purpose," Juli said.
Juli said that students are the most important people in any school, and he is striving to connect with them. He said he hopes that every student will develop a bond with an adult in the high school.
"Kids are what is most important," Juli said. "We need to do everything in our power to create conditions where every single student can learn every single day. And that does not happen by accident. You have to create systems and structures where kids feel cared for and kids feel supported, where every single student feels connected to at least one adult in this building."
Juli previously served as the principal of Design Lab Early College High School in Cleveland from 2011 until 2019.
Design Lab, which focuses on project-based learning, features a makerspace where students design and create projects. Juli said he wants to create a similar space at Shaker Heights High School. He also wants to bring a version of a program called X Block to Shaker. X Block allows students to partner with community businesses and organizations on Wednesday afternoons 12 times a semester.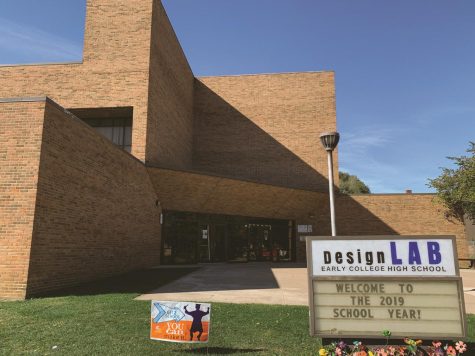 "We had kids at the Foundry learning to row. We had kids at Soulcraft Woodshop building furniture. We had kids at Skidmark Garage learning to repair motorcycles," he said. "I look forward to bringing some version of that here eventually."
In one way, Juli reaches every person in the high school every day — and has since the first day of school, when he began playing three-minute excerpts of diverse music tracks over the P.A. system during passing time.
He said he plays music between classes to create a common experience in the school community. "Whether you like the music or not, it doesn't matter — we're talking about the music. The music's playing. We're enjoying it," he said. "People are saying, 'I wish you played this,' 'I wish you didn't play that.' It's a common experience," he said.
Juli speaks to the whole school daily as well. "Good morning, Shaker Heights High School. This is Mr. Juli with a few words of wisdom," he says at the start of second period every day. He then reads a brief introduction and a quotation from a notable historic figure. He asks a related question and concludes, "With something to think about, this is Mr. Juli. Make it a great day, or not. The choice is yours."
Juli selects the daily message from a curriculum created by "Project Wisdom," a character education organization. When he found himself in the Large Auditorium second period Oct. 11 to introduce the annual Hall of Fame assembly, he delivered words of wisdom to the audience from the stage — while wearing a toga and a laurel wreath — before joining a Latin class activity. When he reached his sign-off statement, the audience of juniors and seniors recited, "Make it a great day, or not. The choice is yours," along with him.
Weekly video announcements produced by students are another of Juli's efforts to engage the school. He sends a link to the video file to teachers and asks that they show the video during class. He often interacts with students before school at the main entrance, during lunch periods and in the hallways. He said that school should be fun.
"I think it's OK to have fun in school; we work really hard, and we should be able to have fun. I mean that not just for the students. I mean that for all the adults that work here, too — the faculty and staff," he said.
Junior Rebecca Rhodes met with Juli to discuss creating a film program at the high school. She said he is very supportive of students, and it is easy to talk to him because he wants to address their concerns just as much as they do.
Juli said that by being available, listening and not pretending to have all the answers, he can collaborate to find solutions. He said that if he supports everyone, events like those of last year are less likely to occur.
Last school year, English teacher Jody Podl was placed on administrative leave Oct. 10, 2018 and investigated for claims of bullying, harassment and intimidation. The administration placed then-Principal Jonathan Kuehnle on administrative leave Nov. 1, while he was investigating Podl. The assistant cheerleading coach resigned Oct. 11 following allegations of body shaming. Head football coach Jarvis Gibson resigned Oct. 26. A hectic community meeting ensued Nov. 8 in the Large Auditorium.
Then, the district reassigned Kuehnle from his position of high school principal to non-specified administrative duties. A Shaker Heights Teachers' Association grievance was filed Nov. 8 on the basis of communication, academic freedom without interference and the lack of due process for Podl. The district withdrew its discipline of Podl Feb. 11, and the grievance was sustained as legitimate April 22.
Senior Nya McNutt said that communication is important, especially after all of the events that transpired last year.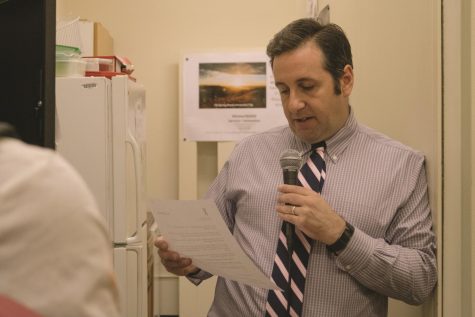 "I think it's important to be transparent with people," she said. "I know they can only open up to a certain extent, but it's [about] improving communication, and so people aren't left in the dark."
Days after Glasner assumed the role of substitute high school principal Nov. 2, he appeared on the Large Auditorium stage along with then-Interim Superintendent Dr. Stephen Wilkins and Scott Stephens, executive director of communications, during the community meeting.
The district convened the meeting to answer questions about the various personnel actions. The three answered audience questions submitted on notecards, but the audience grew frustrated and angry. People lined up at the stage to urge Stephens to ask their questions.
Eventually, some walked up on the stage, took the microphone from Glasner and began addressing the administration and audience.
The Board of Education released a statement Nov. 9 acknowledging community frustrations and flaws in the meeting's format and promising to take action.
Glasner has worked in Shaker since 2014, serving as Shaker Heights Middle School principal from July 2014 to June 2018, executive director of curriculum and instruction starting July, 1 2018 and interim high school principal from Nov. 2, 2018 through June 2019.
Glasner said the meeting helped address the harm and tension in the community. "That meeting really underscored for me the importance of listening to our community, making sure we have strong structures and processes in place, to focus on teaching and learning," he said. "Honestly, I also think that a lot of the events of last year resulted, bluntly speaking, from a failure in leadership at many different levels."
He said he realized the value of good leaders, and that the district conducted an extensive search to find the person best fit for the high school principal job, which led them to Juli.
"I really believe that when we're hiring leaders today, we're hiring them because they have an opportunity to shape our school district for tomorrow," Glasner said.
Glasner is focusing on communication by reinstating the Superintendent Advisory Council, meeting with the Parent Teacher Organization Executive Committee and starting a teacher advisory group.
Glasner's two main focuses for the school year are school climate and black excellence.
The district has begun to implement structures and programs that align with these two categories. Social-emotional learning has been added to pre-kindergarten through eighth grade.
Glasner said, "The focus on school social-emotional learning skill development is one really concrete thing that we are doing to really improve our school climate and culture from prekindergarten through 12th grade," he said. "Because we know that having students feel comfortable and safe and having positive relationships with adults and with peers, really has a pretty direct correlation with academic achievement," Glasner said.
According to the Ohio Department of Education, "Social-emotional learning is the process through which children and adults acquire and effectively apply the knowledge, attitudes and skills necessary to understand and manage emotions, set and achieve positive goals, feel and show empathy for others, establish and maintain positive relationships and make responsible decisions."
Along with these programs, the 1:1 device initiative for grades 5-12 is underway.Glasner said he's excited to see where the integration of technology takes the classroom. "The 1:1 Chromebook initiative, it really allows us to provide targeted instructions, supports and enrichments in a way that we haven't been able to up until now," he said.
The most significant policy the district implemented is the equity policy. The BOE adopted this policy in spring 2019, and it asserts: Teaching students based on their academic needs results in educational equity; all students must participate in order to create a skill set for life; BOE decisions must be made justly and there will be a targeted, universal approach.
According to shaker.org, a targeted approach "sets universal goals for all students and identifies targeted means and processes for specific populations depending on how they are situated to opportunity. This approach recognizes that the District must respond with necessary resources and multiple paths needed for different school communities and students to thrive."
Glasner said equity training for the BOE and district leadership is crucial.
"I think one of the things that makes us unique is there always is a need to talk about equity in the district, and that I think has been true of our district since [its] inception, honestly," Glasner said
Glasner said that his work as SMS principal and SHHS interim principal is helping him in his new position. "One of the things coming into superintendent that was a priority and remains a priority is building relationships," he said. "I feel very fortunate that I started in this role having some really strong relationships in place. Many of our students, I've gone to see move from the middle school to the high school, and many of our students, as well as many of our administrators, teachers and community members."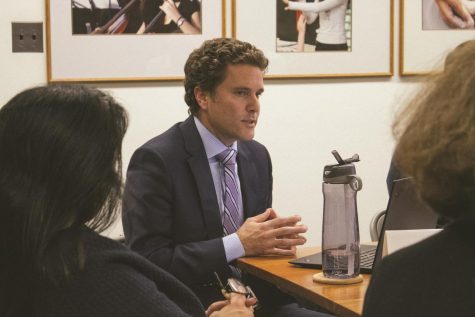 Glasner continued, "I am still working on developing relationships every day and [it is a] really important part of my job and also creating structures that allow for relationships to be built across schools and within our community," he said. "But I feel very fortunate to have had the experience of being middle school and high school principal. It has served me well, and it will serve me well moving forward."
Stephens said he is already beginning to see change.
"It really has changed," Stephens said. "A lot of that seems like a year ago history right now, and that we've turned some kind of corner, too. People seem genuinely excited about the start of the school year and genuinely pleased about it."
Stephens continued, "Candidly, if they don't feel that way, they're really not telling us."
Junior Zoe Rosenfelt agreed that this year has been better thus far. "The tension that kind of built up last year was a lot of Shaker problems, like stuff that we as students didn't have control over, and I think the tension built up from that is what kind of made things so bad for the district," she said.
"But I think for this year," she continued, "the change in attitude about listening to students and listening to community members, because we're the ones who know what needs to change, because we're the ones impacted directly by it."
Glasner said he wants to listen and work with students, staff, parents and committee members to address their concerns. He explained that the district has to examine its policies and structures to fit the needs of all.
McNutt echoed this idea. "It's important to make amends, but I think in order to do that again, you have to maintain communication and acknowledge faults that exist," she said.
Glasner said the work is collaborative. "I really believe that we're all doing this work together," he said.
"It means we, as a community, are doing this work together. I really believe that that drives the way I approach this work, and the way we interact with everybody around here on a daily basis."
A version of this article appears in print on pages 6-11 of Volume 90, Issue I, published Dec. 9, 2019.
Comment using your Facebook, Yahoo, AOL or Hotmail account
comments
Leave a Comment
About the 'Riter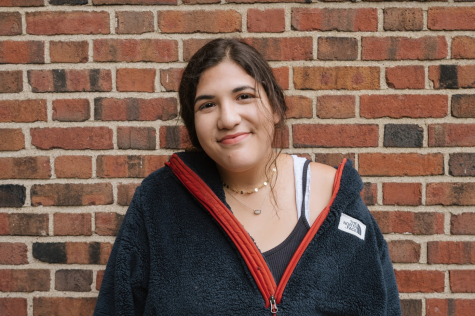 Danielle Krantz, Web Managing Editor
Danielle Krantz ('21) is in her fourth year with The Shakerite. She is currently a Web Managing Editor alongside Ben Cox, running and overseeing coverage for shakerite.com. Danielle is also a member of the Editorial Board. As Campus and City editor last year, Danielle covered topics such as police brutality protests, the "Shaker Bubble," COVID-19 cancellations and administrative changes. Danielle is a captain of the diving team, part of the Israeli Culture Club and is president of her Temple Youth Group. In her free time, Danielle enjoys hanging out with friends and playing ukulele.