Strategic Plan Lays a 5-Year Roadmap
Communication, cultural proficiency among plan's aims for district improvement
"I am Shaker."
Those three words have become a mantra for Superintendent Gregory C. Hutchings, Jr. since last year's State of the Schools speech. In that speech, Hutchings highlighted such issues as the achievement gap and a cultural disconnect between students and teachers, and presented his ideas about fixing them.
Those problems and proposed solutions culminated in the district's 2014-2019 Five-Year Strategic Plan, a collaborative effort adopted at the beginning of this school year to address the district's goals for the next five years and the blueprints for achieving them.
"Strategic Planning, boiled down, is the process of making informed decisions about an organization's future direction, priorities, and assembling the organizational and financial means to deliver as a high-performing organization," said Amy Morgenstern, president of Main Stream Enterprises, Inc. which specializes in advising clients in the strategic planning process.
"I underscore 'high-performing' because it's not just, 'Oh, let's go do what we do,' it's, 'Let's do what we do in the best manner possible,'" Morgenstern said. Her company, based in Cleveland and San Francisco, has previously worked with Case Western Reserve University, Cleveland Metropolitan School District and John Carroll University. Morgenstern advised the development of the Core Values, which appear on the inside cover of the Strategic Plan.
"I think [Strategic Planning] is very beneficial," said Amy Hanauer, founding executive director of Policy Matters Ohio and Shaker parent who participated the in the Strategic Planning process. "Especially at a time that Shaker was in, when you have new leadership, to sort of back up and think about your larger goals and your larger plans and to get everyone on the same page and to get everyone excited about transformation and achievement."
The Shaker five-year Strategic Plan, presented in a 41-page booklet distributed throughout the community, is organized into six goals developed by the Board of Education — The Shaker Experience, Continuous Improvement, Policy, Human Resources and Facilities, Communication and Finance. Each goal aims to meet 10 milestones and is divided into individual Strategic Initiatives.
The Plan divides the Strategic Initiative's into timelines. For example, Goal 1, the Shaker Experience, is divided into nine Strategic Initiatives. Strategic Initiative 1.1, which concerns the International Baccalaureate program, then splits into three separate goal-based timelines. The Plan dictates that "incorporating the IB philosophical framework into every aspect of the District's culture" will be focused on from the 2015-16 school year onwards.
"Strategic Planning is about being very specific with regard to what an organization will do and become in the future and what it will not do in the years ahead," said Morgenstern. "Being strategic means we know what we're focused in a deliberate, very intentional way in achieving."
Shaker first began Strategic Planning in the 2011-2012 school year, under the guidance of previous Superintendent Mark Freeman. The 2011-2013 Strategic Plan was originally intended to extend only from 2011-2012, but was lengthened to 2013 after Freeman announced his retirement.
"We believed that the best thing to do would be to extend the activities of that Strategic Plan into a third year, which would be the superintendent's first year, and then let him really understand the district," District Chief of Staff Christine Auginas said. "We knew that we had to renew our strategic plan years ahead of time."
School board member Amy Fulford says there are no drawbacks to strategic planning. Fulford served as one of the four Strategic Plan Team Facilitators, and works with her own consulting firm to "help companies and select non-profits develop and implement new strategies."
"Good strategic plans also provide metrics and indicators to let the team know what success looks like so they can measure their progress and performance," Fulford wrote in an email interview.
"I'm excited about it," said Griffith. "I'm excited that the voices in the process were honest, direct, and people spoke their mind and said the things that needed to be said."
"We all just have to hold each other accountable and deliver it," Griffith said.
The Makers
At the crux of the Strategic Plan sits the Strategic Planning team, a 44-member team of administrators, teachers, parents and students who met five times between Feb. 1 and April 30.
"The committee was a great group of people who were very opinionated and had good points to add to just make the community better," said senior Olivia Hamilton, one of the two Shaker students included in the planning process. The other student was senior Ben Silberman.
"I think it was very well-planned," Hanauer said, citing the timeline the district presented team members at the beginning of the process. "They were conscious of the fact that many of the people they were inviting to do this had jobs outside the home and didn't have flexibility between 9 and 5."
"It was extremely well-executed by the administrative staff," said Hanauer. "And I've been through a couple strategic plans and that's not always the case."
Morgenstern said that time presents the biggest challenge in Strategic Planning. "You can't just shut the door and say, 'Oh, we're in Strategic Planning, we'll come back and provide services when we're done,'"said Morgenstern. It's important to have frequent and significant meetings, but that's time consuming, she said.
"
You can't just shut the door and say, 'Oh, we're in Strategic Planning, we'll come back and provide services when we're done,'
— Amy Morgenstern
"The process was meant to be an inclusive process from many of the stakeholders, from many different representations throughout the district. So we had community members, we had parents, we had administrators, we had teachers, we had students," said Auginas, one of the four Strategic Plan Team Facilitators along with Fulford, Hutchings and school board member Annette Sutherland.
The Strategic Planning timeline, formulated before beginning the process, outlined each meeting's goals and activities over the five-month planning period. It served, essentially, as a strategic plan to the Strategic Plan.
Yet the operation began far earlier than even this. "We reviewed data that we had from the success of the activities and projects from the first strategic plan," said Auginas. "We had already done a lot of the homework before we started in February."
"It was not just information from this year," Hutchings said, citing data gathered from the state report card, Advanced Placement scores, SAT scores, participation data in extracurriculars and through community input.
When former Superintendent Mark Freeman retired, the district conducted a series of focus groups to inform the process of choosing a new superintendent. "We found out an awful lot about what people were looking for in a new leader, and what was it they wanted Shaker to be in the future," said Auginas.
"Part of the process is anticipating challenges and opportunities and drawing upon the best thinking," Morgenstern said.
Auginas said the school board established the six goals prior to beginning in February. "They believed that these were the important aspects of what they wanted in order to have a school district that was visionary, where the education of every student was important and that reflected very effective and efficient operations," said Auginas.
"So they gave us the six goals and then the team worked through the goals and what they might look like in the classrooms here in Shaker, and with the organization of our district in the next five years," Auginas said.
Hutchings said the Syracuse City School District's 2012-2017 Strategic Plan provided inspiration in the Shaker Plan's development. He encountered the plan by speaking with a Harvard University acquaintance who recommended the Syracuse model as an example.
"Not that we wanted to replicate it verbatim, but we wanted to use it more so as an example for what our strategic plan could look like," Hutchings said.
Both plans feature a letter from the superintendents, an inside-cover plan overview, a timeline for each of the strategic initiatives within each goal and community members' quotes interspersed throughout the document. The table of contents is almost identical, with both including "the challenge," "the opportunity," "developing the plan," "executing the plan," "pathway to success" and "goals." The "pathway to success" section's "milestones" are almost exactly the same.
With the basis of the Strategic Planning set, the next step was to establish the members of the Strategic Planning team. "We knew the slots we wanted to fill," said Auginas. "In other words, we knew we wanted parents, we knew we wanted community members, we knew we wanted students."
"During my first 90 days on the job, so back in August of last year, I met with hundreds of people," said Hutchings. "During that time I kept a list of people who were really engaged and had some input in regards to how the district could be better and people who shared commendations as well as recommendations."
Hutchings said he searched for teachers active on different teacher committees, as well as asking the Shaker Heights Teacher Association and the Parent Teacher Organization to give names. "It was a really collaborative effort and we had a diverse group of individuals who were a part of the actual committee," Hutchings said.
Morgenstern emphasized the importance of including varied views while planning strategically. "Here you have the school board, you have the superintendent, you have professionals, and a very impressive group of individuals who served on the committee," said Morgenstern. "You want that variety of perspectives around a table to best capitalize on the opportunities and build upon core competencies."
"Part of the process is anticipating challenges and opportunities and drawing upon the best thinking," Morgenstern said.
"We didn't want people who always said the Shaker schools do everything right, nor did we want people who said the Shaker schools do everything wrong," Auginas said.
The final Strategic Planning Team included two students, two school board members, two students, nine staff members, 15 community members and 17 people who each constituted both a community member and a staff member.
"I think it's very easy for a school system like ours to get very overly focused on the most-resourced and the loudest parents," said Hanauer. "It can be very easy to forget that there is another set of parents and children whose education is every bit as important."
"I think everyone on the committee was also really impressed with the high level of dialogue, the willingness to talk about some challenging issues and the willingness to talk about them openly," Hanauer said.
"I thought it was going to be weird, being the only students there," said Hamilton "but everyone was really nice and welcoming and we all worked together."

Elliot Srikantia
The Possibilities
The last of the six Core Values listed on the Strategic Plan's inside cover states "we are all accountable." Students see this increased accountability within Student Learning Objective tests and Common Core requirements. With the Strategic Plan, this expectation is sure to remain for at least the next five years.
"I think that we're already great as a school district, but it's really nice to say that we're getting even greater," said Hutchings "and we can only do that by having some accountability system in place." In May 2014, this emphasis on accountability was already being felt. The district received the Auditor of State Award with Distinction for its stewardship of public funds, presented to "local governments and school districts… who meet the criteria of a 'clean' audit report" according to Shaker.org.
With accountability, the district must have better communication, as both Griffith and Hutchings highlighted as necessary for achieving results. In each of the 29 strategic initiatives, the plan states its target year for the initiative's implementation. Some strategic initiatives entail an ongoing focus throughout all five years, while others receive only a single focus year.
With family communication being a focus in the district's quest towards further accountability, The new Family Engagement Center began the first of a series of programs Sept. 30, aimed for parents and guardians.
Taking place in the High School Large Auditorium, speakers Hutchings, Director of Curriculum Lynne Kulich, Director of Research and Accountability Dale Whittington and Director of Student Affairs Ouimet Smith discussed changing state testing requirements, the state report card, as well as overviewing the Strategic Plan. The district sent a recorded phone call advertising the event to all households, and posted the recording of the event online.
Some of the plan's efforts to engage the community lie in Strategic Initiative 1.3. This year the district will evaluate "academic support systems for students" such as tutoring centers and study groups. Following this study, they will "implement a District-approved and robust system of supports" using help from the community and its organizations. They also plan to "expand pre-K opportunities."
"Clearly there are parts of it that have more peripheral connection with students," said Griffith. "They do touch students, but in a different way."
The "Policy" goal, while it will have an indirect effect on students, will not be as visible, he said."There's a whole section in the strategic plan about finance and budget."
Though budget changes are not apparent, they will show in other ways during the next five years. The district will ensure the Shaker Experience by "providing high quality and sustainable programs."
"That definitely will impact students, but there's many pieces of that you won't see," Griffith said.
Strategic Initiative 5.4 compels regular communication "with all stakeholders regarding school finances" through collaboration with the Treasurer's office and education of the public "about the mechanics of school finance in Ohio." Such expectations don't specify how they will achieve this communication, however.
"So the difficulty is that the Strategic Plan highlights the areas of focus, but it doesn't say in that area of focus 'here's exactly what's going to happen'," said Griffith. "That's the next step."
However, Griffith said students can expect to shift from the traditional classroom setting toward a more "open learning" under student ownership with fewer "desks in rows."
"You would start to see a shift away from it being more traditional . . . but kind of opening up in a way that I think is more engaging for students in 2014."
"We've always had those options in different ways, but this is even more so," he said.
Such ideas in the Plan may seem intimidating, but Hutchings thinks it's all possible with a community effort.
"It's pretty ambitious. But it is definitely attainable and I believe that in Shaker we have really competent, knowledgeable, passionate employees and students and family members and community members so if anybody in this country is going to be able to do these things this is the place that it's going to happen," said Hutchings. "I really believe that. I know it."
"
If anybody in this country is going to be able to do these things this is the place that it's going to happen.
— Dr. Gregory C. Hutchings, Jr.
Technology
"We want to bring more technology into the classroom," Griffith said, stressing the expanding use of tools other than document cameras and smart boards. The Strategic Plan follows these sentiments, with the word "technology" appearing 18 times throughout the document, and Strategic Initiative 2.3 devoted entirely to establishing "district-wide expectations to implement and monitor the use of technology to support instruction and organizational efficiency.
Both Hutchings and Griffith said that expanded technology use may lead to more options in obtaining a Shaker Heights High School Diploma. The 2014-2015 school year saw the Innovative Center for Personalized Learning and Family Engagement implemented in the lower level of the City-owned Stephanie Tubbs Jones Community Building.
The Personalized Learning Center had an estimated cost of $212,000 and will provide "high-quality alternative and accelerated learning opportunities for students who are not finding success in the traditional setting" and "a resource center where parents can interact, learn more about navigating the system, and gain access to online information about the schools and student performance," as written in a statement on Shaker.org
"Some of it might be blended where a student might take some online courses intentionally and some courses in the high school," said Griffith. "Or you might be fully doing online courses, but would still be a member of the high school."
However the greater technology emphasis can be seen at a much smaller level. "Even something as simple as we now have 240 or 250 calculators," said Griffith "because there shouldn't be a reason for a student not to have a TI-84 in the math classroom."
Hutchings said that students should expect to see more technology embedded into classrooms throughout the district. "I hope that from all of this that we are really preparing students to be a part of the 21st century economy," said Hutchings.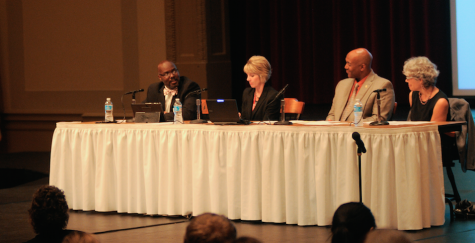 Cultural Proficiency
The Strategic Plan makes frequent reference to the idea of "cultural proficiency", broadly defining it as "an ability to interact effectively with people of different cultural and socioeconomic backgrounds."
Strategic Initiative 1.3 directs the district to "Employ a common set of proven teaching practices that are culturally inclusive." Strategic Initiative 4.3 aims to improve the level of cultural proficiency within the entire Shaker faculty and staff." The timeline for Strategic Initiative 1.6 plans a cultural proficiency professional learning program for faculty and staff over the next three years. This program will train principals, central office administrators, teachers and leaders over the 2014-2015 school year. Next, it moves on to faculty and staff in 2015-2016, and then students and parents in 2016-2017.
"We're going to begin working with a center here in Cleveland," said Griffith, one who will attend the sessions this year. "They're going to begin a series of trainings with all of the instructional and administrative council and other building leaders. The first meeting on that is in October and I think there will be four or five over the course of the year."
The program will be run by The Diversity Center of Northeast Ohio, a human relations organization based in Cleveland. Their website describes cultural competency training, saying it "focuses on discussions about the realities of racial and ethnic inequities and disparities" and "helps participants understand . . . how individual bias and belief may limit the ability to understand and communicate effectively with clients, staff, or co-workers"
Griffith described these trainings as an "enhancement", saying nothing was specifically wrong about Shaker's current "cultural proficiency" level. "We've always been a building and a school district that's been diverse," said Griffith. "But there have been changes over time in terms of the breadth of the diversity and the number of different types of folks who are a part of our school community and this is something that we need to revisit and refocus."
"Shaker is so diverse as a school district," said Hutchings. "We want people to have the skills to work with any student regardless of personal background, regardless of life experiences, and regardless of where they live or what school district they've come from, so that they can really embrace whatever cultural difference they bring to the Shaker School District."
This story appears in Volume 85, Issue 2 of the Shakerite (November 2014) on pages 4-7.
Comment using your Facebook, Yahoo, AOL or Hotmail account
comments
Leave a Comment