Staff Pull Alarm After Smelling Smoke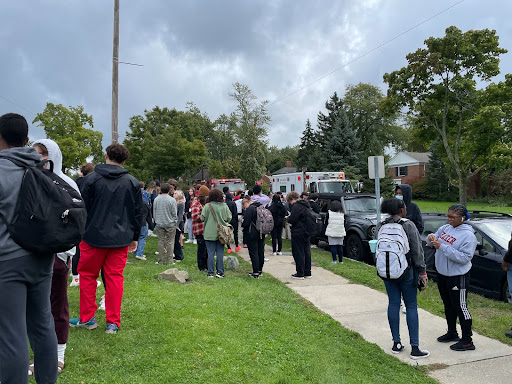 The high school was evacuated at 12:55 p.m. Sept. 28 after staff members reported smelling smoke in two first-floor classrooms.
The origin of the smoke is still unknown, according to Principal Eric Juli, but "was a result of something burning during lunch in a cafeteria microwave," he stated in an email. 
Juli verified the reports and activated the fire alarm pull station in the hallway outside Room 108. "They called me. I went to go check it out. I smelled smoke in two classrooms, so I pulled the fire alarm," Juli said.
The Shaker Heights Fire Department arrived at the high school a few minutes later. After they searched the building and deemed it safe, they worked with the high school custodians to reset the alarm system before giving Juli the all-clear to return to the building. Juli permitted students and staff to reenter the building at 1:15 p.m.
Juli extended fifth period by 30 minutes because the evacuation took place during a lunch block, according to an email sent at 1:25 p.m., which is when fifth period is supposed to end, by Administrative Assistant Laurie Brem. "Bells will ring at 1:50 p.m., 1:55 p.m., and 2:55 p.m. Thank you for your cooperation," Brem stated.
Some students were concerned during the evacuation because of the lack of information. "It was so stressful and scary," senior Bella Willis said. "There were so many rumors going around and I had no idea what was going on. No one told us if it was a real fire or if it was just a drill and it felt like it was last year all over again." 
Last year, there were more than nine false fire alarms in the first two months of school, escalating until they sounded four times in one day. The false-alarm streak ended after Juli announced his intentions to prosecute the individuals involved and had additional protective measures installed, including dye and plastic covers.
Juli said he heard the rumors about the source of smoke, such as that a pizza box was burning in a microwave, but could not verify any of them. "I heard that similarly, but I can't — I don't know that that's fact. Certainly not burning; the fire department didn't find a burning box," he said.
Other students thought little of it because of the false alarms from last year. "I feel like many students didn't take it seriously because people weren't sure if it was real or not," junior Kimora Langford said.
Juli said that he takes any potential emergency seriously. "I'm not going to decide whether it's something serious or not. You smell smoke, you evacuate the building," he said.
Juli warns that the anti-nuisance measures work well. "I had to spend a really long time getting the blue dye off of my hands after pulling the alarm, so people should know that pulling an alarm leads to getting very stained with blue dye," he said. "I looked like Papa Smurf."
The Shakerite will continue to cover this story as it develops.
Editor-in-Chief Brendan Zbanek contributed to reporting.
Comment using your Facebook, Yahoo, AOL or Hotmail account
comments
Leave a Comment