Shaker Students Hold Blackout and Walkout
Both were intended to protest disciplinary action against two Shaker students, who posted derogatory comments made by a third student to social media.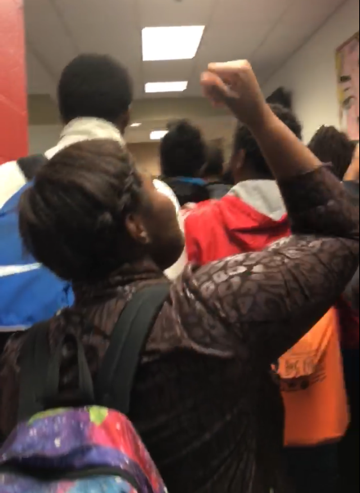 Shaker students held a blackout dress day and planned a 12:30 p.m. walkout yesterday, partly in reaction to the presidential election, but also in protest of disciplinary action against two students.
The students were suspended after sharing, via Snapchat and Twitter, screenshots of texts sent by a third student. The texts made disparaging and broad comments about African Americans.
One of the two students who posted the screenshots tweeted, "Sad that I would go to Shaker with ignorant people like this, why wouldn't you be pro black rights? We're all human."
As of today, the tweet has received 101 retweets and 164 favorites, and has not been taken down.
When word of the suspensions reached students, some planned the blackout and walkout and created a hashtag calling on the administration to "free" the student who relayed and commented on the texts via Twitter.
One popular tweet said that the walkout was "not to be done in revenge against the actions of an individual, but to be done with the desire to positively bring the school together and help everyone overcome these issues, and to help us all grow stronger as a community."
However, one of the suspended students' mothers took to Twitter yesterday at 11:04 a.m. and said, "The Shaker Heights superintendent reached out and is handling the situation in the best interest of all."
Additionally, an announcement was made during fifth period yesterday that stated: "We have been made aware that some students may be planning to walkout at noon to express dissatisfaction with a student issue. However, we want you to know the student issue has been resolved with all parties. Unfortunately, the law doesn't allow us to discuss particular student issues with the public. Teachers and staff, students, please continue to conduct school as normal. Thank you."
By law, administrators are unable to comment about the nature of students' discipline.
Nonetheless, the walkout took place, with students taking to the halls to chant, "F*** Donald Trump" and "We need justice."
Administrators and security guards lined the doors and edges of the high school's campus, leaving only some exit doors available during 6th period lunch.
A story and video were published to Fox8 News, and included an interview with one of the two suspended students. The student who was not interviewed has received multiple comments on her Twitter page, congratulating her for posting the screenshots.
"Thanks so much for speaking out!" wrote Brian Scott Amsden, a professor of communication at Clayton State University. "Despite what your school says, this is not a 'privacy' issue. That's a red herring."
"These kids are the future of journalism and activism," wrote Christian Exoo, a reporter for publications such as Salon and Truthout.
Shaun King, Senior Justice Writer for the New York Daily News wrote: "Two Shaker Heights High School students, were suspended NOT for being racist, but for EXPOSING racism this week."
University of Conneticut Journalism Professor Mike Stanton, who's also a New York Times bestselling author, commented. He wrote that "A high-school student in Ohio posted racist rants online after election & principal punished student who exposed it."
Campus and City Editor Julia Barragate, Media Managing Editor Zachary Nosanchuk and Multimedia Editor Ose Arheghan contributed reporting.
Comment using your Facebook, Yahoo, AOL or Hotmail account
comments
View Comments(1)