Open SGORR Meeting Meets Expectations
Students share feelings about parental, teacher pressure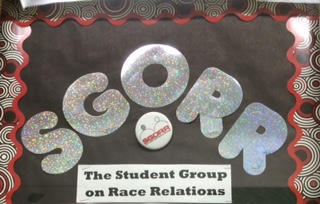 Sometimes it's hard for teachers and parents to see the pressure they place on students.
This was the focus of SGORR's most recent open discussion Dec. 11 in the upper cafeteria.  SGORR leaders Narayan Sundararajan and Lea Kayali hosted the discussion, open to any students, after school from 3-4 p.m.
Students who attended were given an Expectation Gap Questionnaire, comprising 29 true or false questions about expectations teachers set for students, and expectations students set for themselves. The questionnaire offered a range of statements such as, "I am expected to make the most of my education," and, "I am afraid of disappointing my teachers and guidance counselors."  After completing the survey, students discussed each statement and shared their thoughts and feelings.
The idea for this discussion came from SGORR's high school outreach group, who wanted for months to air this idea. The discussion took two months of planning. To CORE member Browning Haynes, deciding to open the event to non-SGORR members was needed.
"I think we as students should talk about it outside of organized discussions. If we talk about it with our friends, teachers or parents, sometimes they don't even know they're pressuring us," said Haynes. "If we bring it up, they'll know. I think sometimes we get so caught up school and drama, but the discussion brought it up to our minds. Now people are more aware."
Sundararajan agreed that open discussions are more constructive. "SGORR is just a small fraction of the many passionate people at this school. There were so many ideas from outsiders, and if we decided to have a closed discussion, there would be less thoughts, and we could not fully understand and appreciate the matter," he said.
Given the opportunity, students seemed eager to air their feelings. Some said they have things to prove to parents and teachers, and saying it aloud and hearing others say it aloud helped them to reflect.  Students discussed what they really feel when expectations are placed upon them.  Their answers depended on whether expectations came from parents or teachers, but many students expressed concern about acheiving them.
"Too often we think about the human gap being the main issue we should tackle in SGORR. But we need to focus on the expectations placed on students," Sundararajan said.  "These expectations determine how a student succeeds."
Haynes ran a table at the discussion and shared her personal experiences. "I'm in AP and Honors classes with lots of pressure on us," she said. When students don't meet those expectations, they can feel like they have let down their teachers. "Whatever class level you're in, you have expectations to reach," she said.
"These expectations determine how a student succeeds,"  Sundararajan said.
The open meeting was a success, according to Haynes. She said, "I think that having an open discussion is very beneficial. If it's limited to SGORR, there is a limited discussion with limited opinions. Lot's of people outside of SGORR came with different opinions and something good to say."
Comment using your Facebook, Yahoo, AOL or Hotmail account
comments
Leave a Comment