Not Cold Enough
Shaker is not alone in holding classes despite negative wind chills
Students are questioning the administrative decision not to close Shaker schools today after eight Cuyahoga County school districts, including Beachwood, Mayfield and Orange, canceled classes.
At 6:53 a.m. the The National Weather Service recorded a wind chill value of minus 3 degrees and zero degrees at 7:53 a.m. It predicted wind chill values as low as minus 6 degrees and a high of 18 degrees for today, as well as an 80 percent chance of precipitation.
Eastern portions of Cuyahoga County have a lake-effect snow warning until noon with an expected accumulation of one to two inches. In comparison, Ashtabula, Lake and Geauga counties could see up to two feet of snow by noon today. Of the county's 31 public school districts, nine are closed today, with Solon City Schools observing a previously-scheduled professional day. The closures range throughout the county but are concentrated on the East Side.
The National Weather Service has, in the past, issued cold weather advisories and warnings about dangerously cold wind chills. Although there was no warning today or yesterday, private and public schools alike have called off school due to low temperatures. Private schools Hathaway Brown, University School, Gilmour, Laurel, Beaumont and Benedictine are closed today, as well as public school districts as far west as Westlake.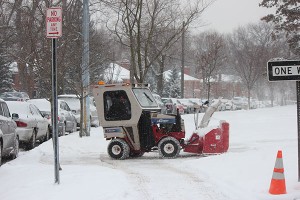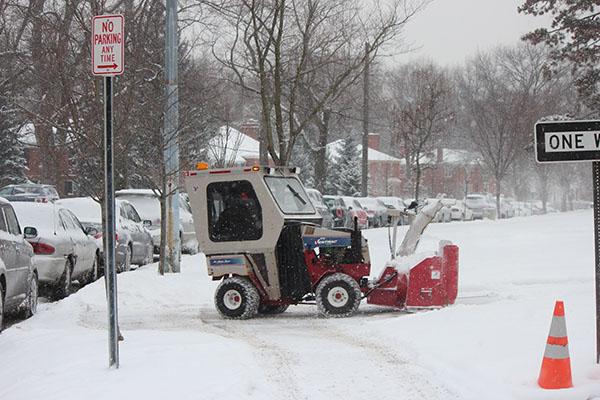 "Just think of all the people that had to walk to school and the kids at the bus stops," said senior Jaunae Bailey. "Shaker has a certain limit, and for other schools it's different."
As of 9:53 a.m., both Communications Director Scott Stephens and Superintendent Gregory C. Hutchings, Jr. were attending meetings and unavailable for comment.
"I had to walk," said freshman Ametriyus Thomas. "It was bad and cold."
Although students who walk to school had it rough, senior Alice Kemp, who drives, said that "we couldn't even see. A lot of people couldn't drive. The roads weren't even all that clear."
"I would be OK with going to school in these kind of conditions if Shaker at least plowed the roads," said senior Justin Bernstein. "It took me a lot longer to get to school than usual, and I really didn't feel safe during my drive."
Shaker Heights Director of Operations John Becker explained the city's plowing strategy. "Using today as an example, at 4 a.m. when two inches of snow came in an hour, we focused on clearing out the main roads — Lee, Chagrin, South Woodland," said Becker. "Our other goal was to clear up the arteries around schools. We were just focusing on opening those areas up."
Hutchings cancelled school for the first time in his tenure Jan. 14, 2014, when wind chills were projected to reach 33 degrees below zero at 8 a.m.
Hutchings has cancelled school 10 times in the last two years because of severe cold. The cancellations prompted the district to adopt a late-start schedule on Feb. 26, 2014, for situations in which weather is expected to improve throughout the day. The schedule has never been used.
Bernstein believes a state- or county-wide standard should be in place when it comes to snow days. "Whether it be an amount of snowfall or a certain temperature, I think there should be a set of standards that warrant a snow day, not just Dr. Hutchings picking and choosing," he said.
Comment using your Facebook, Yahoo, AOL or Hotmail account
comments
Leave a Comment