Mitchell's Victim Speaks
In an interview after the former teacher was sentenced to prison, she recounts her reasons for coming forward
"My main concern was that I didn't want him to be around students anymore."
Former social studies teacher and IB Diploma Programme Coordinator Timothy Mitchell was sentenced yesterday to nine months in prison after pleading guilty to child endangerment. And with that, the victim of his crime was assured that he would not.
In a phone interview yesterday, the woman expressed her feelings about the investigation, the decision and her reasons for coming forward.
Mitchell was previously indicted on one count of sexual battery and pleaded not guilty. A trial date was set for Oct. 2. If found guilty, Mitchell would have been required to register as a sex offender and serve a mandatory prison sentence of one to five years.
However, in a plea agreement, Mitchell instead pleaded guilty to child endangerment, section B(2) of Ohio Revised Code 2919.22, on Sept. 7. He was required to surrender his teaching license as part of the plea and was scheduled for an Oct. 12 sentencing, at which Judge Nancy McDonnell handed down a prison sentence.
Unlike sexual battery, there is no mandatory prison term for this division of child endangerment. Mitchell also will not need to register as a sex offender. As part of the plea agreement, he voluntarily surrendered his teaching license.
The woman read a victim statement during the sentencing hearing. In it, she stated that she did not want Mitchell to be incarcerated.
"I'm not upset with the ruling. It's just not something that I had pursued," the woman said.
The woman said that one reason for coming forward was that she had reached the age that Mitchell was when the incidents occurred. "I tried imagining myself having a relationship with a teenager and just couldn't. It's not something that I could even register in my mind," she said.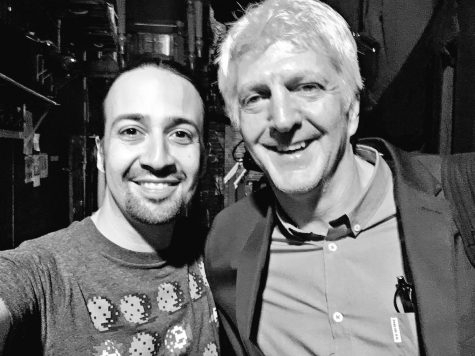 The woman said that another reason for coming forward was a July 9, 2016 Cleveland Plain Dealer article about several of Mitchell's female students working with Mitchell's wife and their peers to secretly collect money to buy their AP U.S. History teacher tickets to the Broadway musical "Hamilton."
"When I saw that in the paper, when I saw how he was being wowed and praised as this wonderful exemplary teacher," she said, " it hurt and it made me angry because I knew the truth behind what he had done."
After the police report dated Jan.19, 2017, the investigation and judicial process took nearly nine months.
On April 24, 2016 the Cuyahoga County Grand Jury refused to indict Mitchell on the original charge of sexual battery. However, two days later in a second decision, Mitchell was indicted.
The woman explained that the second indictment came as a result of her testifying before the grand jury.
"It was difficult because he had actually confessed to the police what had happened, and so the indictment was supposed to be a slam dunk," the woman said.
The woman explained that the rest of the investigation was routine and that the discussion of a plea agreement being made between the defense and the prosecution, which later resulted in the cancellation of Mitchell's trial date, began "fairly early on in the process."
The woman said that she was in agreement with the plea deal. "I didn't want to go through a trial if I didn't need to," she said.
Concern that her experience was not an isolated case was another reason she came forward, "I wondered if there were other victims, or if there would be other victims. No one else has come forward, so it is possible it's an isolated case," she said.
"It's also possible it wasn't, or that people just aren't talking."
For pursuing the case, the woman said she has experienced "a lot of victim-blaming," especially in Internet comments sections.
Some of Mitchell's former students and other community members wrote letters to the court in support of him.
"That was hard, and I wondered, though, if they really knew what had happened, because anyone can write a letter in support of something if they don't know what they've done wrong," the woman said. "The judge said that when she had read the letters, several of the people said that they would trust their teenage daughters with him, and that baffles me … I mean he's able to educate people, and that's great, but that's not the only thing a teacher does."
Mitchell was required to pay the woman $1,265 in restitution.The court may consider judicial release for Mitchell, meaning that if he is an eligible offender according to ORC 2929.20, he may be released from prison before serving his full sentence.
Mitchell will serve his sentence at the Lorain Correctional Institution in Grafton, which houses more than 1,700 inmates.
The woman said that she feels a sense of relief after the sentencing, "I have mixed feelings about it. I'm relieved that it's finally over. It's something that I've been dealing with for the past 22 years. I'm happy to have some closure and for everything to be complete. It's been a very emotional journey, and I'm not elated or anything, but I'm relieved."
Comment using your Facebook, Yahoo, AOL or Hotmail account
comments
View Comments (2)