Kindergartners' New Activity: Exams
State testing extends beyond the high school as the youngest students face more exams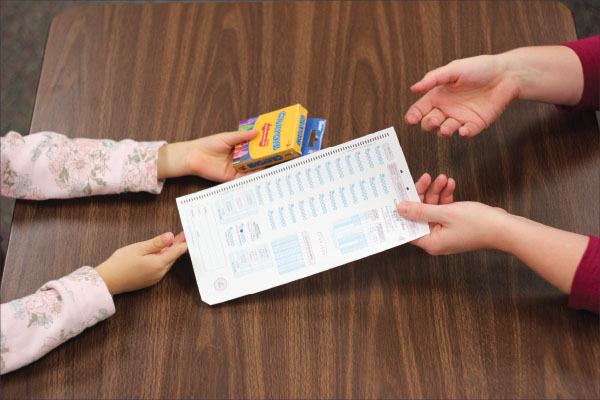 Lomond Elementary School kindergarten teacher Karen Smith has a lot to think about these days.
"I have witnessed firsthand Shaker always trying to do what is best for our students. Now it seems like we just keep getting more to test on, and it is literally squishing our time to teach," she said.
Her students also have a lot on their minds, now that state laws have given standardized tests a prominent role in Ohio's kindergarten classrooms.
Kindergarteners this year must take three different standardized tests: the Kindergarten Readiness Assessment, the Measure of Academic Progress and AIMSweb. Some of these tests are taken more than once throughout the school year.
Kindergarten students took the KRA, a national test, within the first 15 days of school to assess the skills they developed in preschool. These skills included language and literacy, math, science, social studies, motor skills and physical well-being. It replaced the Kindergarten Readiness Assessment-Literacy test this year, which was administered on paper.
This test is diagnostic, therefore the students do not receive a grade.
The KRA is an observational test, so there are not set times for the teachers to administer it to a class. With so many students, finding time for one-on-one sessions creates a new difficulty.
There is "inner stress to constantly find moments to assess," Smith said.
"
I feel they have a lifetime ahead of them to learn the word test, but not in kindergarten."
— Karen Smith
However, Kindergarten Readiness Program staff aids in these assessments and works with children whose performance indicates they are not on track with their skills. The staff helps prepare these students for advancement to the first grade.
Lomond Principal Carina Freeman said that while the KRA is more time consuming than the KRA-L, "one of the positive things is that it gives a more holistic view of the child."
Kindergarteners took the MAP online exam to measure their math and language skills Sept. 3-30. They will take this assessment again March 16-27.
AIMSweb, a written test, measures the kindergarteners' letter and sound fluency, including uppercase and lowercase letter recognition. The students took the test in September, but will take it again two more times.
The next AIMSweb administration will fall between Jan. 21 and Feb. 6; the third, between May 11 and May 22.
When asked about the computer-administered tests she took, Boulevard Elementary School kindergarten student Maya Shrestha said, "They were really long. I like using the mouse, but only for games."
The kindergarten students are not allowed to receive help on these tests. If a kindergartener asks his or her teacher for help, the teacher is only permitted to reword the question.
Abby White
Emily Shrestha, Shaker Heights High School English teacher and parent of Boulevard kindergartener Maya Shrestha, disagrees with the increased testing regimen.
"It's just wrong," she said. "I think the testing that the state and the government are mandating is replacing more valuable tests that the teachers have done for years."
Boulevard Elementary kindergarten teacher Kelly Kunchik agreed. "Given that these children are so young, we do have too many assessments in place," she said. "Not all of these assessments are great, accurate measurement tools for kindergarten students."
The possible benefits of these assessments however, were acknowledged by teachers.
"[The tests] give us knowledge of where each student is at, and it can help us look at the individual student's needs and teach them from there," Kelly said.
Rick Leibovich, a kindergarten teacher at Mercer Elementary School, agreed. "I do think it's good information," he said, "and is no waste of time."
Yet both parents and teachers addressed the negative aspects of testing children at such an early age.
Emily Shrestha said, "If the kids are turned off by the testing, then it's not going to be the same kindergarten experience that people used to have, where it was this nurturing, fun, safe environment. Now you have tests that are going to put you in placements."
Smith said, "The testing must be in chunks, or the students will break into tears. I feel they have a lifetime ahead of them to learn the word test, but not in kindergarten."
Mikkael Sekeres, parent of Boulevard kindergartener Silas Sekeres, said his son "does recognize when he has a test, and he doesn't have a positive reaction to that."
"We should test as needed, but kindergarten does seem rather young to be testing kids," said Brendan Foreman, parent of Fernway kindergartener Ruth Foreman.
The teachers believe that through their young students' eyes, testing does not yet have negative connotation.
"Kindergarten students are just happy-go-lucky kids and they just go with the flow," Kunchik said.
Smith agreed. "Kindergarten students know no difference," she said. "They love doing anything one-on-one with their teacher."
Leibovich added, "The students were unaware of success or failure, and all came out smiling. We treated it as an activity, and they thought of it as a treat."
"
"If the kids are turned off by the testing, then it's not going to be the same kindergarten experience that people used to have, where it was this nurturing, fun, safe environment.
— Emily Shrestha
However, the purpose of these assessments were not clear to kindergartener Maya Shrestha. "I don't know why I do those tests," she said.
Despite efforts from the teachers and district at curriculum nights and parent-teacher conferences, some parents are unaware of the specifics of state-mandated tests.
"Although I read every bit of information from the school and class, and I volunteer frequently, I have no clue about what testing has been done in kindergarten," said Kelly Moody, parent of Mercer kindergartener Finnegan Moody.
Carisa Tilton, mother of Onaway kindergartener Adelie Tilton, seconded Moody. "They haven't told us much about the testing," she said.
Freeman said that at Lomond's open house, "We really tried to address anxiety issues, which we haven't had any. We've been really proactive in letting our parents know what to expect."
Some parents believe that there is an overload of tests on their kindergarteners.
"I have heard about the crazy amount of testing. I think that's too much for a kid that age," said Rebecca Moore, mother of Onaway Elementary School kindergartener Hannah Moore.
"It's too much," agreed Jacqueline Prude, a mother of Fernway Elementary School kindergartener Adeline Prude.
"I think too much time is being taken away from class."
Smith said, "Having taught kindergarten in the Shaker Heights City School District directly after graduating from college since 1979, I've been a part of the many transitions, shifts, strategies and goals in Shaker. I know that our administration understands, but we still have to get all the testing done.
"Part of me every day on the way to work ponders upon, 'I wish we had a full day just to teach!' "
Comment using your Facebook, Yahoo, AOL or Hotmail account
comments
Leave a Comment