Hutchings Updates the State of the Schools
The third State of the Schools Address highlights Shaker's achievements and concerns from the community.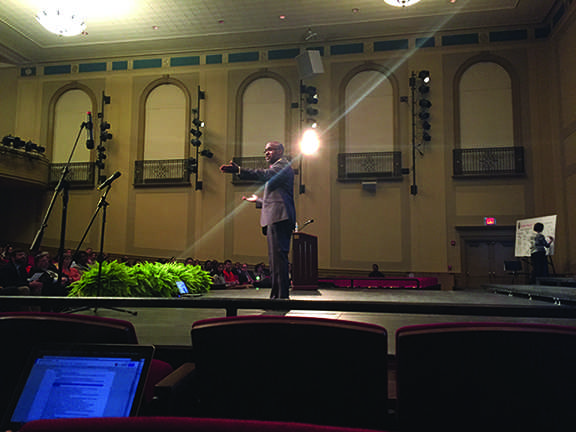 In his third State of the Schools address, Dr. Gregory C. Hutchings, Jr. applauded students, athletes and teachers and restated Shaker's plans for the future.
Hutchings spoke for 35 minutes about the past, the present and the future of Shaker to a crowd of approximately 280. He spoke about the development of the strategic plan, the report card released by the Ohio Department of Education, Shaker's First Class, a summer education program and more.
Hutchings was preceded by Lomond's El Sistema Orchestra and the Chanticleers' performance of "Don't Worry". Senior Alison Kao led the pledge of allegiance and senior Lauryn Hobbes, the national anthem.
The State of the Schools meeting was the second to occur during the district's new five-year strategic plan.
Hutchings began his speech by highlighting Shaker's academic achievements, including college admittance to prestigious schools, AP and IB accreditation and the College Credit Plus program, which allows students to receive college credit for state universities .
Shaker's recent Google migration, which is shifting district file storage and email away from the district server to Google, was highlighted as Hutchings prompted the audience to applaud Technology Director John Rizzo.
"We have modernized the technology in our district," Hutchings said. "Now, every single one of our teachers and our staff members have Gmail accounts. We're going to the Google server so you're not going to have issues with our email being down, our system being down because we aren't on the Shaker Heights School City School's server."
Hutchings said that, beginning next year, students will begin to be issued Gmail accounts.
Upon entering the auditorium, audience members received the district's new flyer titled "It All Adds Up."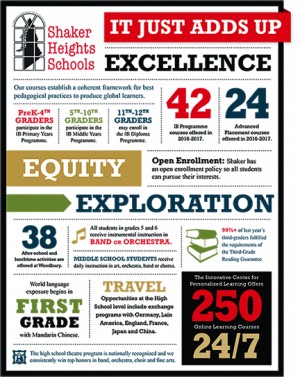 "We wanted to give you all some talking points," Hutchings said.
"When you look at our program and what we have, we look like a private school," Hutchings said. "We are like a private-public institution because we can offer a lot more than our private schools locally as well as internationally with our course offerings in our school."
Hutchings said that the high school currently offers 42 IB courses and 24 AP courses.
"AP and IB can live under one roof," Hutchings said. "There's a myth that we don't have the same amount of AP scholars [as IB scholars]. That's false."
"In 2015, we have the highest number of AP scholars in a decade in Shaker Heights High School," Hutchings said.
Hutchings explained that in 2015 the high school had the highest number of AP scholars in a decade. He also said that since the 2012 pilot year of the IB Diploma Programme, the number of students enrolled has doubled. He accredits this growth to the district becoming one of eight schools in North America to have a K-12 IB Program.
"I'm impressed that we're moving forward on so many fronts. I'm excited that we're expanding our offerings for AP," parent Jeff Isaacs said.
Hutchings then gave an explanation for the state report card the district received in 2015. Shaker Heights Schools received a D for their "Letter Grade of K-3 Literacy" according to cleveland.com.
"I'm not asking for the state to not hold the school district's, superintendent, principals and teachers not accountable for student's education. However, we're causing chaos and confusion because we can't really talk to families and explain how we get the report cards that are issued," Hutchings said. "[The grades] are still coming from one test — the PARCC Assessment — that we no longer have. Before we look at a report card, let's think about what are kids here are actually doing in their classes.
"That report card does not define who we are as a district," Hutchings said.
Hutchings commended federal lawmakers for passing the Every Student Succeeds Act which  "reauthorizes the 50-year-old Elementary and Secondary Education Act (ESEA), the nation's national education law and longstanding commitment to equal opportunity for all students" according to the U.S. Department of Education.
"Finally our federal lawmakers are putting children first in making these decisions," Hutchings said.
Shaker's ESSA Task Force, which is led by Assistant Superintendent of Curriculum & Instruction Dr. Terri Breeden, will give state legislatures recommendations on how to apply ESSA to the school district as well as other Ohio districts.
Hutchings next highlighted Shaker's new two-year preschool education program for 3 year olds, called "Shaker's First Class." Hutchings said that only five of 32 slots remain for children to enroll in the program.
Pamela Anderson is a Shaker resident whose children attended Shaker schools. "I wish they had that when my children were here," Anderson said.    
To highlight Shaker's theatre arts program, Hutchings congratulated senior Lauryn Hobbs on receiving the National YoungArts award, which "identifies and nurtures the most accomplished young artists in the visual, literary, design and performing arts and assists them at critical junctures in their educational and professional development".
"Do you watch 'Scandal'? Olivia Pope? The person that played her, Kerry Washington, won the same award that Lauryn did," Hutchings said.
Hutchings also commended last week's Sankofa performances as well as the diverse cast of the 2015 fall production of "Romeo and Juliet." "We had everybody represented in Romeo and Juliet," Hutchings said.
Hutchings also highlighted the African-American Male Teacher Initiative, a partnership with Howard University to bring male, African-American teachers to the district. He expressed a concern that only approximately 3 percent of teachers at Shaker are African American — reflecting the nationwide numbers. He hopes to bring that number to 6 percent in the near future.
An audience member questioned the purpose of the initiative."Isn't it more important to hire the best person for the job rather than somebody because of their race?" the question read.
"We have always hired the best and the brightest, but it is important to us to put on a lens to look at a small population of our hires," he responded. "We want to make sure we retain the top quality candidates that we recruited last year."
"I was shocked by the number of African-American male teachers we have," parent Hallie Stewart said.
 Hutchings touched on some of Shaker's notable athletes, including the women's cross country team, senior cross country runner Justyn Moore, junior field hockey player Meagan Mitchell, who was named cleveland.com's player of the year, freshman diver Lyle Yost and the hockey team, which recently won the district semi-final.
An audience member submitted a question regarding the success of the recent schedule changes at the middle school, specifically, the difficulties for students taking two languages. With last year's schedule changes, middle school students who opt to take two world languages are required to take PE and design during Raider Time, an after-school period.
"We are talking about a small number of students being affected," Hutchings responded.
An attendee asked about busing for the high school. "I don't know why," Hutchings replied. "Driving down the street, seeing high school students walk to school is really exciting."
One submitted question about the hoods-up act last Friday when students, against school policy, put up their hoods in commemoration of Trayvon Martin — an unarmed black 17-year-old who was shot and killed on Feb. 26 four years before. "I commend our students for their advocacy," Hutchings said."I also commend the district on compromising with the students."
Parent Betsy Potiker saw room for improvement in the issues presented throughout the meeting. "I don't think it's perfect," Potiker said. "We're not addressing the needs of everybody," she said, "but we're trying."
"I thought it was really interesting; this was the first time I had seen one of these, so I was really impressed by how many community members turned out to listen," senior Senior Saeesha Pimplikar said. "I thought that the stuff he was talking about was really interesting."
"He answered the questions very well and there weren't really too many general answers. Everything really gave a real answer in my opinion," guidance counselor David Peake said. "I feel like he glossed over the achievement gap, and I would say that's the most general thing he gave. I don't think he gave many specific solutions and the solutions he gave focused on the overachievers, not the underachievers. All in all, it was a great presentation."
Hutchings ended his speech by stating what he hopes will be accomplished by this time next year.
"I hope by next year this time we're talking about what the future of Shaker will look like in regards to our facilities in all of our buildings throughout the district," Hutchings said. "We also want to talk about the increased philanthropic efforts that we hope will be made with many of our supporters, not only within our district and the greater Cleveland area but also across the country and the world. We hope to be sharing all of the wonderful parts of Shaker."
Investigations Editor Ose Areghan and Copy Editor Sarah Grube Contributed Reporting
Comment using your Facebook, Yahoo, AOL or Hotmail account
comments
Leave a Comment