Computer Science Introduction Excites Students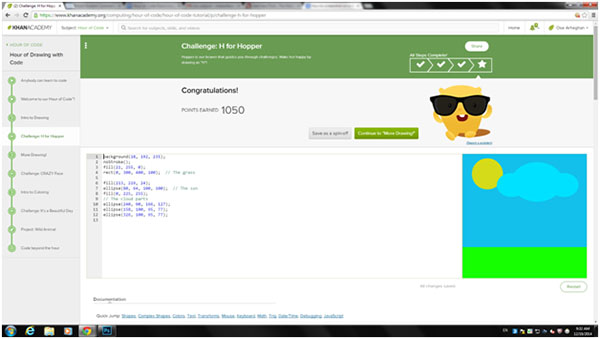 Shaker students recently joined the 15 million students worldwide who have completed the Hour of Code.
Code.org, a non-profit, created the introductory computer science activity to give students all over the world the opportunity to learn coding basics. The organization hopes to spark an interest in students to discover coding on a deeper level after completing the hour-long activity.
Woodbury, the middle school and two high school science classes spent an hour in the computer lab completing the task during the week of Dec.15.
The district does not offer any computer science courses at any of its schools.
The program teaches students the bare basics of coding, which include creating shapes and manipulating colors and other functions.
Travis Cox, a physical science teacher at the high school, had his students partake in the activity.
"
It's very important because a lot of jobs are based on programming, some you don't even need a college degree for.
— Travis Cox
"Some of them never realized that the apps and programs on their phone had codes behind them," Cox said.
Cox said that while the very specific way of typing code can be frustrating to students, "they feel a sense of accomplishment when they get something right."
Freshman Nolan Juaire felt that accomplishment. "Having success while coding is a satisfying feeling," he said.
Fellow physical science teacher William Scanlon heard of the program from Cox and decided to have his students participate as well.
"I wanna make sure I can open as many doors for my students as I can," he said. "Someone would never have any idea they were interested in coding until I exposed them to that opportunity."
Code.org urges students to pursue more advanced computer science tutorials, including those offered by KhanAcademy, which feature app and website creation.
"What's great about Khan Academy is that is has things for you to keep going with coding," Scanlon said.
Cox and Scanlon's students responded well to the activity.
"It was interesting to see all the things you can do with coding," freshman Margaret Bartimole said.
"Not that many people get to learn to code, and it's always good to learn new things," freshman Blanton Tolbert said.
Cox emphasized the benefits of developing programming skills in high school. "It's very important because a lot of jobs are based on programming, some you don't even need a college degree for," he said.
Students also noted the job possibilities that coding skills could present in the future.
"I wish we could've done more with it because it can help us find a job, and it's really fun," freshman Will Hilbert said.
"It was very interesting how we could make images with the computer," freshman Drew Hubbard said. "It can also help us later in life."
Below is a Code.org promotional video, which features celebrities and other public figures who have completed the Hour of Code, including President Obama.
Code.org
Comment using your Facebook, Yahoo, AOL or Hotmail account
comments
Leave a Comment