Computer Science Classes Could Return to Shaker
Adding AP courses, encouraging minority, female enrollment are district goals as jobs proliferate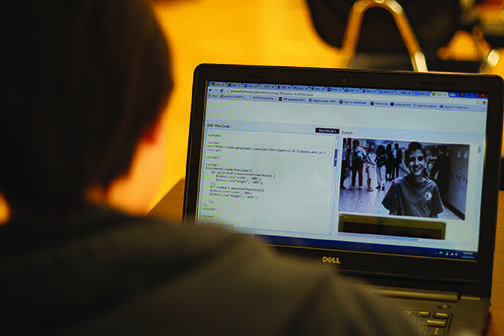 The last time a student could study computer science at Shaker Heights High School was in 2007.
2016 may be the year this increasingly important course is revived.
In an interview last April, former Principal Michael Griffith explained that the course's absence was due to "ebbs and flows of interest and commitment to it over the years.
"We had it for a long time all the way through AP for coding courses, focused more on C++ and Pascal and other languages of that time. But then the interested students didn't sign up for Java or C++, so the courses kind of went away, and the teacher who was the spearhead for that retired," Griffith said.
The district is now looking to tap a renewed interest in this subject.
At the Nov. 9 faculty meeting, Interim Principal James Reed shared an article titled, "Still No African-Americans Taking the AP Computer Science Exam in Nine States."
By sharing the article, Reed wanted to emphasize the lack of representation of minorities and females in computer science courses.
"I was particularly interested in the minority part of it because we're always looking for ways to break barriers and…eliminate an opportunity gap," Reed said. "For me, I thought it was an opportunity to kill two birds with one stone. It would help us bridge our achievement gap, and it's a course that is the way to the future for students in high school today."
Reed also said he was aware of interest that already existed in the course. "One of the first conversations I had with a parent back in July when I came here was about why we don't offer a computer course," he said.
In the article Reed shared, The College Board released detailed demographic data from the 2015 AP Exams. The data revealed that in nine states, no African Americans took the AP Computer Science Exam, and in 10 states, fewer than 10 females took the AP Computer Science Exam.
Ebony Johnson began working as a data scientist at the Cleveland-based IBM company Explorys in 2011. She said she experienced under-representation of women in science, technology, engineering and medical fields firsthand.
"When I first came to Explorys, it may have been five women here and two women in the computer science profession. One of them, beside myself, was an African American. This was out of 50 people," Johnson said. "That statistic is accurate and it reigns through what I've seen [in my career]. I think now the statistic is growing because females have been exposed to STEM programs. Hopefully we'll see that number rise, but I think it's just getting females exposed to that as a profession."
Katie Ek, a data scientist at Explorys, explained how being a female in a computer science field can be advantageous. "It really does help when you're looking for a job because your resume stands out a little bit."
Ek believes that being female in a computer science field stands out on a social basis more than a professional one. "People don't really expect me to be a data scientist," she said.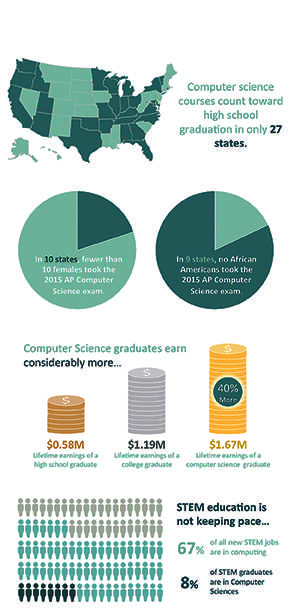 In the absence of computer courses, students interested in computer science have found ways to learn independently.
"I have been coding for a little over two years now. I was first introduced to it by my dad and later began learning different computer languages on my own," senior Liyang Feng said. "I learned by reading books, taking online courses, through YouTube tutorials and online resources."
Feng said he also collaborated with others. "I know a couple of people in this school who also do this, and I started an app development business with my friends," he said.
Senior Braden Meyerhoefer had similar experiences. "I've always loved computers and technology, so a couple years ago I started teaching myself some programming after building my own computer," he said.
Meyerhoefer plans to continue his pursuit of computer science into college. "Once I decided that computer science would probably be my major, my counselor and some other people in the field that I talked to said it would be good for me to get some experience before going to college," he said. "I continued learning on my own using the Internet and did a cyber security camp at Champlain College."
Sophomore Jocelyn Ting found learning independently through on online computer science education company was an unsatisfactory opinion. "I've been trying to learn independently over about three years using Code Academy with little success, since I only go on when I have lots of free time," she said.
Students shared the importance of the course and how it may have benefited them if it had been offered during their time at the high school.
"I think the school should definitely start a computer science course and I would have taken it had they offered one when I started high school," Meyerhoefer said. "Computer science is an important field in today's world, and introducing it at the high school level would expose students to it before they get to college."
"
I believe that Shaker is on the cutting edge of a lot of different academic offerings for its students and [Computer Science] is an appropriate thing for us to offer."
— James Reed III
Feng agreed. "I would totally take a computer science class if it was offered at Shaker. It would help me a lot with learning it if I had a instructor to help me when I am stuck," he said. "I think computer science is very important because it is all around us in this technological world we live in today. Computers help us accomplish so much, and it wouldn't hurt to learn how they work."
Ting said there is enough interest to justify offering the course next year.
"I know tons of people who share an interest in this. Even just in my grade there would definitely be enough people to fill one or two classes," said Ting. "If there was a Computer Science course at SHHS, it would be the most amazing thing. It's so important, and once you know one language it is pretty easy to learn others."
Evelyn Ting ('13), Jocelyn's older sister, is a computer science major at Amherst College. "Knowing computer science is like knowing how to write," she said.
"I've personally allowed so many social initiatives to happen on campus by coding for them," she added.
According to Assistant Superintendent of Curriculum and Instruction Terri Breeden, student interest needs to be assessed before the course is presented to the Board of Education in January, which approves what classes can be added or removed for the 2016-2017 school year.
"They are planning," Breeden said. "You can put anything in the course book, but if students don't sign up for it, we don't offer it."
At a Nov, 30 PTO meeting, Superintendent Dr. Gregory C. Hutchings said, "AP Computer Science is what the department is looking at right now, and since we're talking about AP Computer Science, IB also offers computer science. We're having discussions right now about adding the AP and IB courses. I still stand behind the fact that AP and IB can live under one roof and I think that is the uniqueness about Shaker Heights."
International Baccalaureate offers computer science as both a Standard and Higher Level course. The curriculum features programming and computational thinking.
"To the administration I would say that a computer science course would benefit many students in the high school as it promotes logical thinking skills, and a course in this field would give students an opportunity to explore new fields of study," Feng said.
Reed explained what the process of creating the course looks like. "There are some prerequisite courses that teachers have to take in order to give those AP offerings. We're in the process of doing that, then we'll go to the board, the district level."
The teaching positions for the courses are looking to be filled by existing staff. A potential candidate is current science teacher James Schmidt.
Schmidt explained in an interview that there would be a course offered to tenth graders that focuses on computer applications. The AP course would focus on programming with Java.
"If you are interested in computers, engineering as a career I think having that exposure, whether or not you take the [AP] credit, can definitely give you a leg up. Having the ability to take a class and show a college you have experience in it gives you a competitive edge."
Statistics show that jobs in the computer science field are continuously greater in number than computer science graduates.
According to statistics from code.org, there are currently 21,026 open computing jobs in Ohio (3.6 times the state average demand rate) and 1,079 computer science graduates. Ohio is one of the 27 states where Computer Science counts as math or science credit.
"Initially, when I began my career, computer science was a new thing. But now, computer science is used in almost every job that's out there," Johnson said. "The market for computer science is plentiful and it's such a shortage in these types of roles that it's almost scary."
Ek, who graduated with a degree in computer information systems from John Carroll University, said, "When I was looking for a job out of school, I had three opportunities that I had to chose from and I know that's pretty rare."
"
The market for computer science is plentiful and it's such a shortage in these types of roles that it's almost scary."
— Ebony Johnson
According to a Computer Science Education fact sheet released by The White House, "By 2020, more than 50 percent of Science Technology Engineering Mathematics jobs are projected to be in computer science-related fields. If current trends continue, 1.4 million computer science-related jobs will be available over the next ten years, but only 400,000 computer science graduates will be added with the skills to apply for those jobs."
Johnson explained how students can use a two year degree in computer science to find a job. "Community colleges have programs where high schoolers can get a two year degree upon completion, and that two year degree could definitely be in computer science and allow for them to have a great career at the age of 20. It would place them in a salary range where they could continue growing."
Initiatives to attract more students to computer science have made waves in that field in recent years.
Last year, Shaker students participated in the Hour of Code. Code.org, a nonprofit, created this introductory computer science activity to give students all over the world the opportunity to learn coding basics. The organization hopes to spark an interest in students and encourage them to discover coding on a deeper level after completing the hour-long activity.
Reed said, "I believe that Shaker is on the cutting edge of a lot of different academic offerings for its students and this is an appropriate thing for us to offer. That's the new wave of jobs in the future and there's no reason why Shaker should not be involved."
"The internet and computers probably aren't going away any time soon. The usage of them in everyday life and businesses is going to continue to grow as it has," Ek said. "I think it's extremely important to get students involved in computer science a lot earlier."
Johnson said, "Computer science is a major game changer for our future. We really need to tap into that profession. If we want to see women, if we want to see our future children have a solid career, computer science is the way to go. There are so many opportunities and gainful insight that you will get from computer science, it's just amazing. I really wish it was the big thing in high school."
Comment using your Facebook, Yahoo, AOL or Hotmail account
comments
Leave a Comment