Back in Block
No changes to high school schedule next year
Mondays, odd days and even days will return with students in August.  
Principal Eric Juli said sticking with this year's seven-period schedule is important because students have faced so many changes since the onset of COVID-19. 
"There are students here, rising seniors, who have had a different schedule for their first three years here, and the first two were because of COVID. So one of the big advantages is to just have the same schedule so that it doesn't change four times in four years. I think that's the biggest advantage," Juli said.
During the 2019-20 school year, there were 10 periods with seven classes, all in one day. Lunch occurred over three periods: 4, 6 and 8. That schedule was revised when the COVID-19 pandemic prompted asynchronous online learning starting March 13, 2020.
The 2020-21 school year was fully remote until Jan. 2021, when students could choose to go to school in person two days a week. Shortly after, students choosing to go in-person attended four days, with Mondays remaining online. 
Last year, school was fully in-person, with eight periods, split evenly in a block schedule with A and B days, four periods each day. 
This year, there are three different schedules per week, as well as three unique ending times and lunch periods. The schedule comprises seven class periods – four periods on odd days (Wednesdays and Fridays) and three periods on even days (Tuesdays and Thursdays). All class periods meet on Mondays. 
Sophomore Nate Milgrim said he prefers to have seven class periods instead of returning to the eight-period schedule of the 2021-22 year. "Changing the schedule is just confusing everyone, and it's making everything way more complicated. Leave it at seven," he said. "I got my classes, but I also had enough time with the Flex Block periods to be able to get my work done, to rest up before my athletics, and all of that sort of stuff."
On even days, with only three class periods, and a 30-minute crew period, the high school uses the extra time at the end of day for Flex Block, in which students can attend conferences or participate in extracurricular activities.
At the beginning of each semester, students can sign up for a variety of activities, some of which were not available last year. Having certain clubs and activities during regular school hours is new this year. 
Juli said he believes Flex Block allows students to engage in their interests. "The whole point of Flex Block is to connect as many students as possible with opportunities to apply their learning and figure out what they are interested in, and what they're not interested in," he said. "So that means having more internships in the community, it means having more community partners, it means hearing from students what they would be interested in doing." 
Monday classes are fifty minutes long. On Tuesdays through Fridays, classes are eighty-five minutes long. 
One reason for keeping this schedule next year is for consistency, according to Principal Eric Juli. COVID was the main reason the schedule switched to a block schedule. "With kids at home, and some kids in school, all of the COVID things really impacted the schedule," Juli said.  
Senior Jed Skilken said he would prefer to keep the same schedule. "I liked the schedule I had freshman year the most, where we had eight periods everyday. I wish they would've kept that schedule and were more consistent."
Juli said another reason for keeping seven periods is to reduce the number of students taking a study hall and teachers supervising a study hall. "We have a ton of classes at our school, but what happened last year when we had eight periods is that we had more kids in study hall than we've ever had before, and it meant that I had to take an English, a math, a science, a social studies, a world language teacher, an art teacher, and take them out of teaching their subjects and make them cover study halls. And I don't think that's a good use of our great teachers," Juli said.
"
I liked the schedule I had freshman year the most, where we had eight periods everyday. I wish they would've kept that schedule and were more consistent.
— Jed Skilken, Senior
While Flex Block is a component of the current schedule that will continue into next school year, it did not affect the decision to keep the schedule. "We're not keeping seven periods because of Flex Block. That has nothing to do with the decision to have seven periods," he said. "We're keeping seven periods because of the consistency in the schedule and because we don't want to have half the school in study hall with the eighth period which is exactly what happened last year," he said.
Juli said he wants to return to an eight-period schedule. "It gives students more opportunities to take more courses," he said. "So, we need to put some stuff in place over the next year to make sure that when we go to eight periods, there's classes for everybody so that we don't have to have so many kids in study hall."
"We want to improve on as a school, and we don't have to change the schedule to do that. Flex block is starting out, it's got great potential, there's things to improve upon, and let's not change everything. Let's keep on growing what could be a really good program for students," Juli said.
Juli said he would prefer to implement eight periods in the future. "I would like to get us to eight periods, because it gives students more opportunities to take more courses," he said. "My hope is that it would be a year from now, but there's no promise, but I really do want to have eight periods. I just think the consistency and the study hall issue is the reason not to yet. But I really do want to get to eight periods."
Comment using your Facebook, Yahoo, AOL or Hotmail account
comments
Leave a Comment
About the 'Riter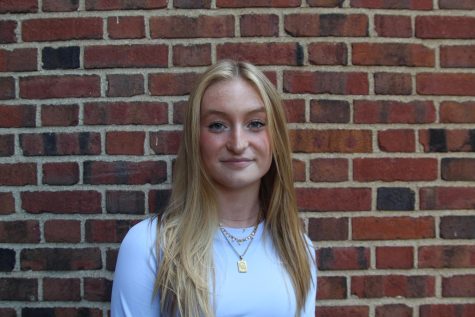 Mahoney Hill, Investigations Editor
Mahoney Hill ('25) is in her second year with The Shakerite and is currently the Investigations Editor. Last year she wrote about the unfair and inconsistent dress code rules toward girls in Woodbury. Outside of The Shakerite she plays field hockey and is a member of the Debate Club. In her free time she works folding towels and spending time with friends.