A Full Return to In-Person Learning
Journalism I students report on changes this school year post COVID-19 in their first published stories
Back on Stage
Shaker Theater Arts makes their post-COVID debut
The Shaker Theater Arts Department is performing Cyrano de Bergerac, its first in-person play since March 2019.
Rent, the last in-person play Shaker attempted to produce, was cut short due to the COVID-19 pandemic.  The cast had rehearsed and were just a few days away from opening night.
This year Scott Sumerak, director and theater teacher, chose to produce Cyrano de Bergerac, because it is one of his personal favorite plays. "If you're a student of mine, it is no secret that this is my absolute favorite play," Sumerak said. He explained that he had read different versions of the play over thirty times. "There is something about the story that I think is deeply human and deeply relatable, no matter where or when you happen to fall into the world. This idea of wanting something so badly, but not being able to figure out the way to pursue it and then having that anxiety shut you down from pursuing the things you desperately want, I think is a very relatable idea," he said.
Senior Gabe Marusic, who will be playing the title role of Cyrano, found his character to be very bold but not perfect in any way. "He is the driving factor for the story but I feel that he also allows the audience a way into the story as he is flawed," Marusic said. He also explains that people should expect to see his character be quite fun and daring.
Senior Henry Harte plays Comte De Guiche, the villainous character of the play. Harte's character affects this story and quote drastically. "He's the villain of the play. He's trying to prevent Roxanne from marrying Christian so he sends the heroes off to war in a suicidal battle," he said. This leads to major changes in the plot and character relationships.
Senior Madeleine McKenney, who plays Roxanne, the love interest, expects to see the pandemic become a large obstacle to work around. "I think working around COVID will be a challenge throughout the making of this play because we haven't had our space [the stage] in a while and then working with the relatively heightened text," McKenney said. 
Freshman Skye Clunie, who is a part of the show's ensemble, thinks that this show will be very enjoyable for viewers. "I think people will be excited to see this play. It's a fun play with a sort of modern take on it," Clunie said. Heath Thompson, who was cast as Christian, also believes that the performance will be quite entertaining for all those considering to attend. Thompson said, "With all of the characters and all of the cast members who are going to be in it, I feel that this is going to turn out very well, and that everyone should definitely try to come!" 
Lucy Horrigan, Vaughn Ullom, Gloria Ndukwe
---
Shaker Heights High School Hosts its First Activity Fair Since 2019
Clubs return after a year of  hybrid learning
The Shaker Heights High School Activity Fair took place Sept. 23, for the first time since the start of the pandemic.
The activity fair was from 6:30 to 8:00 p.m. and it was packed, despite the fire alarm scare that happened earlier that day.
"The fair is an annual event for primarily new students to learn about clubs," the student and campus activities coordinator, Sara Chengelis said.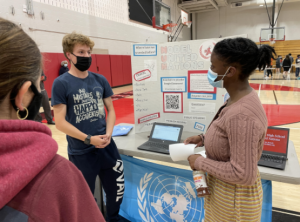 Upon arriving at the fair, the environment was exciting, friendly and lively. There were brightly colored posters and rows of decorated club tables spread across the North Gym. Enthusiastic student leaders encouraged those at the fair to join their club.
"Ninth and tenth graders have been missing out," Principal Eric Juli said. "Clubs and activities are a way to meet new people." Freshman Jenna Englander seems to agree.
"You can meet new people through clubs and also it's just different facets of learning new things," said Englander, who's already involved with several clubs.
While many at the fair were excited for clubs and activities now that more people have gotten Covid vaccines, the staff supervisor of the Youth Ending Hunger (YEH) club, William Scanlon, expressed his belief that Covid still may affect clubs this year.
This comes as the delta variant is spreading throughout the rest of the country with delta variant cases comprising most of the COVID cases in the United States according to the CDC.
About YEH, Scanlon said, "I don't think it will get a lot of people this year because it seems like the numbers for the pandemic are getting worse."
Solomon Cover, Ingrid Holda, Duncan Lockwood, Rachel Stringer
---
New Levels of Lockdowns
Stay-put procedures are introduced
Since late 2019, the high school has begun implementing new lockdown procedures. For students that chose to remain online for the entire 2020-2021 school year, these procedures are all new.
Lockdown procedures are divided into three types: stay-put, shelter-in-place, and full lockdown. Stay-put procedures are meant to keep students in classrooms when there is something going on in the hallway that students should not interrupt. These procedures are most often used to address medical issues, but can also be used to keep students safe during significant altercations. They usually last around 10 minutes. 
Shelter-in-place procedures are meant to protect people in the school from potential dangers outside, including hypothetical chemical spills or crimes. These will not be used often, according to Principal Eric Juli. 
Full lockdowns are meant to take place when a threat to the school requires extensive measures to keep students and staff safe, such as with a hypothetical unknown intruder. 
"We had a lockdown for a reason that was medical, and Juli said we don't have anything in place to say: 'Hey, do me a favor, just don't go in the halls, stay where you are, keep doing what you're doing, but don't come out in the halls, and if anybody's in the halls, they should clear the halls.' And I said 'Well, we should come up with one.' So that's the birth of the medical one," science teacher James Schmidt, who helped create the idea of a stay-put procedure, said.
"A lockdown really does sort of, especially among teachers who might have been here during one where we were concerned there was someone in the building who was being dangerous, convey a sense of fear that doesn't need to be conveyed. And that is the reason that Mr. Juli put that in place. He wanted to let everyone know, 'everything's fine, I just need you to stay out of the halls for the next few minutes until I say it's okay to come out into the halls,'" Schmidt said. 
Shelter-in-place procedures were made in order to conform to the standard types of lockdowns. These are "community-based, and not school-based," Juli said. 
Full-on lockdowns are simply the type of lockdowns that used to be used for everything. 
The different types of procedures are meant to be simple and situational. "Ninety-nine percent of the time, I'm just using the stay-put situation. Almost everything can be handled with just people in class for a little bit longer," Juli said. The inclusion of the new types are meant to streamline the process without scaring students.
Students seem to be uniformed about lockdown procedures. Freshman Theo Chaney said, "They didn't really tell us about it, I would like to know more."
Ezra Ellenbogen, Ryan Lenahan, Mahoney Hill
Comment using your Facebook, Yahoo, AOL or Hotmail account
comments
Leave a Comment