You're in town, 'Urinetown'
Theatre Department brings the musical story of restrooms and revolution to the stage Dec. 1-3
The fall show, "Urinetown" "is a crazy, wacky, satirical musical in a town that's having a water shortage in which people have to pay to pee, so a guy named Bobby starts a revolution," freshman Colin Frothingham said.
The musical comedy differs from past fall productions and will premiere Dec. 1.
"There's this misconception around the show that because the name is a little bit provocative of the show, that there is some controversy and that the show is going to be something that is really racey for high school," said Scott J. Sumerak, Theatre Arts Department chairman.
"The story of itself incredibly PG-rated. There is really nothing in the show that is questionable or objectionable. There's no swearing, outside of a couple of fourth- grade bathroom jokes, because they talk about peeing in it, other than that it, is very high-school friendly," Sumerak said.
Senior Gus Mahoney will play Officer Lockstock, the narrator of the show.
"I don't think it's necessarily an intentional thing that Sumerak picked a modern show. The thing about high school theatre is that you really have to take it year by year," Mahoney stated via text. "My sophomore year we did the epic 'Les Miserables' because we had the people and the resources to do it well. 'Urinetown,' a new modern classic, is a show that is just right for right now.
"Not only because of the students and the resources, but also because of the new arise in activism and the fight against environmental destruction, corporate corruption and classism," Mahoney stated.
Sumerak said area high schools have performed "Urinetown." "I know Solon did it, I think Orange did it. It's been done by youth theaters in the area. There are specifically programs for kids to do theater," he said.
The Theatre Department paid $2,000 to $2,500 for royalties and rental of show rehearsal books and rehearsal score. The show will be a little bit more money than "Romeo and Juliet," but less than "Les Miserables." Music Theatre International owns the rights.
"It's funny, it's different… Every school tends to do the classics, so I think it really took a special turn because we wanted to do something different, more hip," said Frothingham, who will play Hot Blades Harry. Sophomore Kevin LaMonica and seniors Mahoney and Sydney Fiesler will play the main characters.
"Urinetown" won three Tony Awards, three Outer Critics Circle Awards, two Lucille Lortel Awards and two Obie Awards.
"I love this show. It's so smart and funny. It's also really poignant to what's going on in our time. I think it's the kind of show that you laugh through but then you get home and you're like, 'Oh, my God, this could actually happen to us,' " Mahoney stated.
Sophomore Caroline Kiker said, "The type of comedy is what makes it so unique and interesting." As a member of ensemble, she performs in all of the group songs throughout the show, portraying different characters. The ensemble sings, dances and creates an environment around the main characters.
"I tend to not like shows much earlier than 1960. The old-school musicals like "The Music Man and The King," they're great, but I don't find them particularly challenging, or honestly as interesting with a group of modern teenagers," Sumerak said.
"I love the show. It is so hilarious, while dealing with very serious topics, and the best part is all the characters take what they say so seriously. The music is amazing, and the characters are all so unique and have little quirks to them," freshman Olivia Rood, who plays Dr. Billeaux and is a member of the ensemble, stated in a text interview.
"'Urinetown' is one of the few truly original musicals not based on existing source material. Greg Kotis got the idea for "Urinetown" while traveling in Europe. A traveling student on a budget, he encountered a pay-per-use toilet and began writing shortly thereafter, joining with composer/lyricist, Mark Hollmann, for the journey to Broadway," the Music Theatre International website states. Reviews were enthusiastic and the show transferred to Broadway at The Henry Miller Theatre, running 25 previews and 965 performances from 2001-2004.
Sumerak said the show is not hard to stage. "The costumes are a lot of the stuff we can just find out on our own stock. We don't have to rent a lot of stuff. Scenically, we don't have to build a ton. The set for this is going to be mostly scaffolding, and the props are all found objects. So we don't have to go out and buy fake rifles or special hats," he said.
"I definitely think the show will be successful. It is such a funny script and it really sets itself up to be successful, plus everyone is working so hard. I think the turnout will depend on how successful the PR will be on the show. I think we have a lot of great ideas for promoting it and hopefully people react well to our ideas," Mahoney stated.
The Shaker production will cast about 30 people and 15-20 people in management positions.
"There are a lot of people involved. There are the principal characters and then an ensemble, not to mention the huge backstage crew. There are also all the music elements involved, like the pit and [Mario] Clopton as the music director," stated Rood.
Nurse Paula Damm noted the dangers of holding your pee. "Besides being uncomfortable, you could get irritations, infections and possibly kidney problems," Damm said. "Your bladder holds about 15 ounces, so if you hold it for too long, then you are more apt to get a bladder infection."
Journalism I student Allie Sweeney contributed reporting.
Comment using your Facebook, Yahoo, AOL or Hotmail account
comments
Leave a Comment
About the 'Riter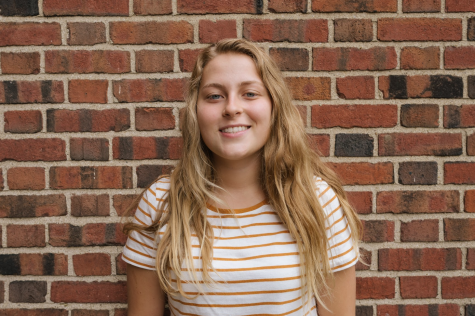 Mae Nagusky, Editor-in-Chief
Mae Nagusky ('20) is in her fourth year with The Shakerite. She is currently Editor-in-Chief, running and overseeing coverage for shakerite.com and the quarterly print issues. Mae was The Shakerite's Web Managing Editor in her junior year, and Campus and City Editor sophomore year. In the past, she has covered topics such as systemic inequity and disrespect toward teachers. Mae participates in high school softball, and she enjoys listening to podcasts and dancing.