Open House: Ups and Downs
Parking and late night aside, teachers and parents connect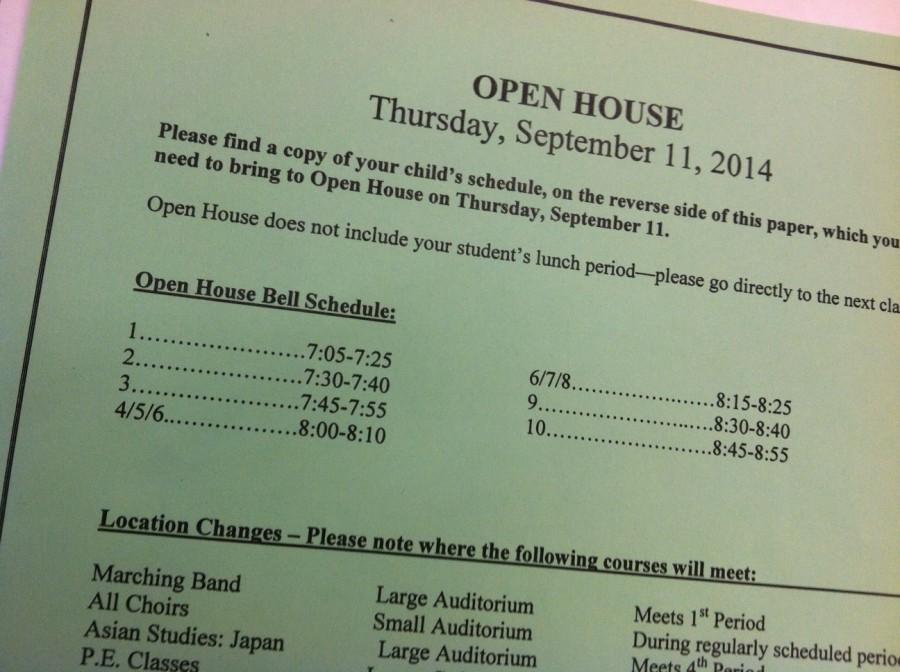 For three weeks, you told them that Mr. So and So is mean, and Mrs. So and So is nice, and so on.
Now they have their own opinions.
Open House was Sept. 11. It was pretty simple. There were a few words from administrators. Parents followed your schedule, except each class was 10 minutes long. Then the parents came home to you.
Here comes the awkward part.
You hope that they will agree with your opinions of your teachers. Later in the year, when you complain about the hard homework or long projects they assign, it will come in handy.
But they may disagree with you, leading some awkward moments when parents return.
Freshman Brian Ford has seen his parents' opinions changed by Open House.
"It was one time in seventh grade," Ford said. He explained that his parents were skeptical about one teacher before they attended Open House. When they came home, however, they told him they liked the teacher.
Faculty, such as English teacher Valerie Doersen and Spanish teacher Adam Cohen, said Open House was well attended and that they like Open House because they can see parents and make connections.
That opportunity brings challenges, however. Both teachers said the event keeps teachers out late and prevents them from seeing their kids.
Cohen said that Open House this year was mostly the same as his five other years at Shaker but explained that he saw more parents than usual in his classes.
He also noted that first period during Open House was 20 minutes long, rather than 10, to accommodate parents who have trouble parking. "Parking is always a challenge," he said.   Nevertheless, he said, the long class can be (and was) uncomfortable.
Doersen agreed that there was a "good turnout." But she said as well that the bells were ringing in the middle of periods, and she was sad to tell parents how many books and assignments teachers will have to cut from the curriculum this year because of newly mandated testing.
Comment using your Facebook, Yahoo, AOL or Hotmail account
comments
Leave a Comment