Vive La Révolution
Students bring 1830s France to Shaker stage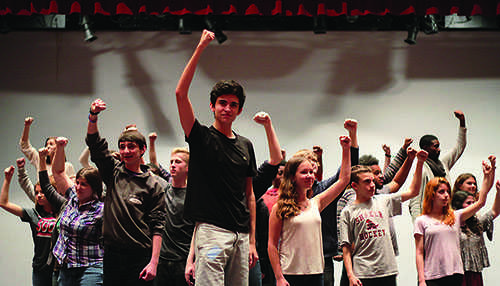 Do you hear the people sing? You will Nov. 19, 20 or 21, when a talented cast of Shaker students revives a famous, 29-year-old musical spectacle, "Les Miserables".
"What's scary about 'Les Mis' is everyone knows it, so you can't mess it up," said sophomore Gus Mahoney. He is playing Inspector Javert, the ruthless law enforcer and main antagonist of the musical.
Many factors came together in making "Les Miserables" the top choice for the fall musical this year. The show's director and the Theatre Department's Chairman, Scott Sumerak, explained the process of choosing "Les Miserables." "There are a lot of variables that go into [choosing a show]," he said. "It's not just the show we think would be cool to do."
"We have to think about who our students are," said Sumerak. "Last year and this year, we have a bubble of students who are really musically inclined, so we sort of broke our pattern this year by doing two musicals in a row because we have a student population that is suited for that." In previous years, the Theatre Department has done a three-year cycle of musicals, plays and Shakespeare, rather than performing a musical every year. Last year, they performed "Once on This Island."
"Les Miserables" fit for more reasons than just student population, Sumerak said. "First of all, it has name recognition. It's back on Broadway right now, [and] in a weird bit of scheduling, Great Lakes Theater downtown is doing the show as well, and they close two weeks before we open. We got special permission from Great Lakes so that we could do the show."
"
The musical training has been more intense than I expected, but it's been good to have the experience of a full choir."
— Kate Voyzey
"It was kind of a perfect storm," Sumerak said. "We have the right students for it, it's a great title, it's right out in the middle of the community right now because of Great Lakes and it being on Broadway, and we have some students who have recently touched on the show. Everything sort of came together at once, and it's awesome."
Sumerak has not previously worked on "Les Miserables," but he is very excited for the opportunity. "Up until just recently, it's been exclusively for professional theater companies, and it was just in the last couple years that the high school version was released."
The high school version cuts down some music to an appropriate length for young performers.
"The original production is three  hours and 15 minutes long," said Sumerak, "and that doesn't include the intermission. It's a full opera, and it's beyond epic."
The high school edition "is easier on the students and the audience of family and friends," he said.
Choir Department Chairman Robert Schneider echoed Sumerak. "Les Mis is truly an opera. It is non-stop music. The vocal roles are difficult and challenging."
"Actually, there are very little differences" between the original and high school version, said Schneider. "They only trimmed perhaps 20-30 minutes of music from the original three-hour production."
Cast members predict Shaker's production of "Les Miserables" will be memorable.
"It will be a challenge to accomplish a show as difficult as 'Les Mis,' but Mr. Sumerak has great vision and many talented actors," said sophomore Kate Voyzey, a member of "Les Miserables'" ensemble.
Sumerak agreed that "Les Mis" has many challenges.
"First of all," he said, "the music [is challenging]. It being an opera, and everything being sung, we have to approach it in a way that is healthy for our singers . . . It's different from doing other musicals, because then you can take a day off from music and just do a day of book scenes, or take a break all together and do a dance day."
"The second thing," said Sumerak, "is there are a ton of location changes." He explained that the plot of 'Les Mis' jumps from one location to another in minutes. "We have that giant thrust stage in front of the audience, but because of fire codes we can't build scenery on it," he said. "Making [things] work in the space that we have becomes a challenge."
However, Sumerak emphasized his optimism. He is especially at ease because of the talent and hard work of the cast.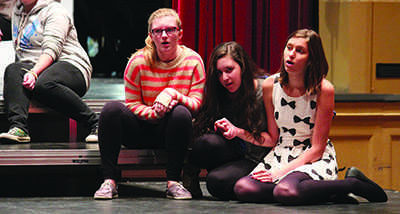 "We have some wonderful . . . people, that really fit their character, who in the silly parts can definitely bring the comedy, and really think about what they're doing," he said.
Senior Klara Hricik, who portrays Madame Thenardier, said that her role "has been a complete blast! It has been a bit odd to be the comic relief in the middle of such a sad show."
"The students have been wonderful coming prepared to our rehearsals," said Schneider. "The students know the show well, which is a great help to pulling it all together.
Schneider described rehearsals as "Fantastic. I often start rehearsals feeling a little tired at the end of a long school day and I always leave rehearsals excited and full of energy for our show," he said.
Both Mahoney and Voyzey are new to Shaker theater productions.
"I wasn't expecting it to be this professional and amazing of a program. It's so interesting to see so [many] different people come together to make something so beautiful," Mahoney said. He has performed locally with the Fairmount Performing Arts Center, Heights Youth Theater and the Hathaway Brown Theater Institute.
Mahoney also described the Shaker theater program as having "a supportive atmosphere. Other places I've done theater are more cutthroat. This is a healthy way to grow as a student and actor."
Voyzey agreed. "The first time we sang the song 'One Day More' through, it was so good and came together perfectly. It was amazing to see how committed the leads were, because they all sing different parts. It was amazing to see how good we sounded on such a complicated song without having rehearsed before."
"The musical training has been more intense than I expected, but it's been good to have the experience of a full choir," she said.
Sophomore Ensemble member Mimi Ricanati agreed. "I like being able to be around good actors. It's very pleasantly challenging," she said.
This challenging musical features a colorful background.
Written as a French historical novel by Victor Hugo in 1862, and earning the nickname "the Brick" for its immense length, Les Miserables — the story of a minor French revolution — was adapted into a musical by Claude-Michel Schonberg, Alain Boublil and Jean-Marc Natel in 1985 as well as multiple movies, the most recent starring Hugh Jackman and Anne Hathaway in 2012.
"Les Miserables" chronicles the journey of ex-convict Jean Valjean as he is released from prison, then breaks his parole to start his life over. Valjean becomes mayor of a town, all the while being chased by the fanatical Inspector Javert. After a confrontation with Javert, Valjean raises a young girl named Cosette, the child of factory worker Fantine, who died and asked him to care for her daughter. In the second part of "Les Miserables," Cosette grows up in time for a minor French revolution that is featured centrally in the second half of the musical.
Staging a musical that features such an extensive history and following does not worry Mahoney.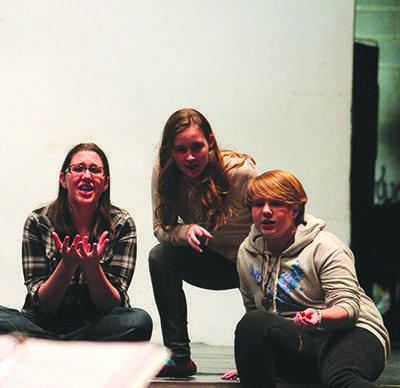 "I would be nervous to be Javert except that this is such a supportive environment," he said. "Mr. Sumerak is giving us room to grow and discover on our own. I don't think doing 'Les Mis' will be hard because it's a collaboration between many parts of the school, like choir and orchestra."
Likewise, even the audition process was less pressured. "It was a very welcoming experience," Ricanati said.
"The auditions were really exciting," said Sumerak. "We had a ton of people show up. We had somewhere around 70 or so students audition. We took, initially, a cast of about 40, and then over the last few weeks we're finding out about conflicts."
Sumerak went on to explain the audition process. "Audition happened over two days. For the initial audition, everyone got up and sang a small piece from the show. There was a choice of characters — three selections for the guys and three for the ladies. Based on that, Doc Schneider and I went back and trimmed it down to about 16 people that we needed to see back for specific roles."
Voyzey said, "It's really intimidating to sing in front of all your peers. It was really good to learn that I have to go for it sometimes and display my talent."
Sumerak explained why auditionees sing in front of one another. "What we don't want to do is create an environment where people imagine some sort of favoritism," he said. "We want everyone to . . . know that when the cast list goes up, you saw why those people were picked."
"Sometimes people have this strange idea that doing theater is some shadowy little community of people huddled in the dark with the fancy seats, and it's really not," said Sumerak, "It's a big, open community. By letting everybody sit in on the audition, we're kind of throwing the windows open and saying, 'Look, we have nothing to hide!'
Hricik agreed. "The auditions were a great process because it is such a comfortable space. No one should ever not audition for a show at our school because the people in this program are so welcoming and open to all people," she said. "This company is like my family."
Despite the complexity of "Les Miserables," Sumerak said that "I think [the audience] can come to the show without knowing anything about it."
"The message of the show is about pushing through life by maintaining hope. The title literally means, 'The Miserable Ones,' so lots of people think that it's going to be a down and depressing show. While there are very sad moments, at the core of it, each character manages to move ahead because they won't let go of hope for something better. I think that's something that really makes it a universal show."
This story appears in Volume 85, Issue 2 of the Shakerite (November 2014) on pages 19-22.
Comment using your Facebook, Yahoo, AOL or Hotmail account
comments
Leave a Comment