Straws Out, Lids In
Starbucks aims to create change in the environment
It took 24 years, but finally, it's the last straw for Starbucks.
Starbucks began selling cold drinks and straws in 1995, and since then, usage has skyrocketed. Americans use 500 million straws a day, some of which end up in the ocean and threaten the ecosystem. According to a Quartz article, each Starbucks store sees around 500 customers a day, and there are 14,606 Starbucks in the United States. That means about 7.3 million plastic straws are thrown away each day, and that's only for Starbucks. Plastic straws can only be used once and then they are thrown away and end up in the landfill.
Starbucks announced July 9 that they would adopt a new plastic lid for cold beverages by 2020. The new lid does not feature a perforated hole for a straw. Instead there's raised plastic spout. The lid reminds users of children's sippy cups designed to prevent kids' drinks from spilling.
Freshman Paige Pulver tried the new lid. "It's a good idea but was hard to drink my drink," Pulver said. "I think that the new lid will help the straw issue, but the cup is still made of plastic. It's a good start, but after they should change the plastic cup, too."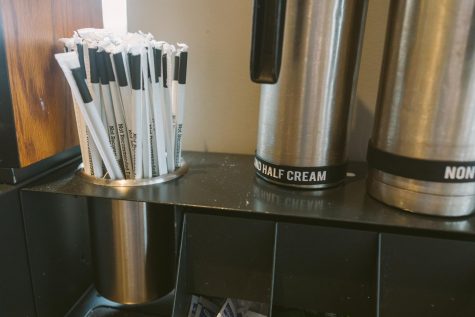 Media reports about the change include confusion among customers about how they will enjoy their drinks now that they use something similar to a sippy cup. If customers are unhappy, they may revert to straws.
One Starbucks customer at the Cedar Road store in Beachwood said it will be hard to change. "To be honest, I prefer straws," she said. Another customer disagreed. "I think Starbucks has a great idea, and this will inspire other restaurants and stores to stop selling straws," she said. 
Straws negatively affect the ecosystem. Recently, in the Philippines, a whale was found dead with 40 kilograms of plastic bags in its stomach.
Math teacher Carmela Mostardi often orders Starbucks drinks and has used the new lid. "I love starting my day with a cold cup of coffee from Starbucks," Mostardi said. "A few times my drink came with a straw-less lid. I couldn't give up using a straw, but wanted to help the environment. [So] I started using metal straws."
Freshman Olivia Landever enjoys the new lid. She said, "The new sippy cups make me feel like I'm becoming a kid again."
Comment using your Facebook, Yahoo, AOL or Hotmail account
comments
Leave a Comment