Leading Us Through History
Since summer, Sankofa performers and alumni have been writing, choreographing and rehearsing the annual event
It has been over a year in Trump's America and one year since Shaker's last Sankofa performance.
Now, students are wondering what topics from the past year — such as kneeling to protest police brutality, equating white supremacists with counterprotesters or defunding Planned Parenthood — will be addressed during one of the high school's most anticipated student events.
"Sankofa is an outlet for any frustrations, questions — any pressing issues that we want to ask our audience through the story," junior Madison Wilson said. Wilson will perform a spoken word piece in the annual celebration of African-American history and identity March 2 and 3 in the Large Auditorium.
Sankofa means "go back and get it" in Twi, a language of Ghana.
The performance has been staged annually at the high school since 1998, and it has always taken place during February to honor Black History Month.
"The symbol of Sankofa is a bird that flies forward while looking back, so it tries to keep progressing and also reflecting on the past and our history — African-American history and heritage — and we try to celebrate that to the best of our ability," Wilson said.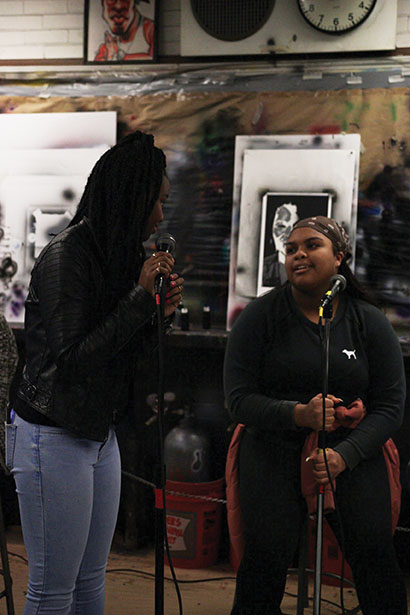 Sankofa is a student-run group advised by art teacher Keaf Holliday and Shaker alumni Hombre Thomas and Sydney Connors, who have been planning the show since summer with junior Sankofa leader Adonis Fryer.
They have worked throughout the year to stage an original performance with the help of the students and leaders involved.
Sankofa performers auditioned for dance, music, drama or spoken word roles in October and have continued to practice since. They attend weekly rehearsals for their specific art forms, and when the show nears, they dedicate more time on weekends to perfect the performance.
Seventy students are working on Sankofa this year, including performers, stage crew, band and leaders.
"We've built Sankofa on a paradigm of leadership, ranging from multitask leaders to main leaders to co-leaders, so there's a lot of leadership grooming," Holliday said.
Each role a student assumes comes with its own forms of leadership. Students decide what topics they would like to portray and how they would like to present them. Other times, students will become leaders in their divisions of Sankofa.
Junior Nya Christian and senior Makiya Ashe have participated in Sankofa for three years and this year have taken on the responsibilities of dance leaders, which include helping with choreography and precision, and ensuring that students attend rehearsals.
Holliday also brings in Shaker and Sankofa alumni, such as  Thomas and Connors, to supervise students and the writing of the script.
Wilson said that each performer is passionate about Sankofa. "Everybody is so talented, and everybody is so determined to get the message across, no matter what it is, and each year it's something different. But we always make sure we go back to the roots," she said.
"Sankofa is the time around Black History Month where we're able to embrace cultures and put that as a priority," junior Ludiah Bagakas said.
"I'm appreciative that we do have Sankofa because it is such a big meaning in itself that it can still make an impact whether or not it's in February," she continued.
Bagakas will play the cello and perform all original pieces in the upcoming performance. She has participated in Sankofa for two years.
This year, students have devoted more time to writing the script and incorporating multimedia to connect each performance to history or current events.
Holliday also wants to incorporate string instrumentalists for the first time, such as a cellist and violinist.
Students said the cast gets along very well, but according to sophomore Jared Christopher, who will participate in drama and spoken word pieces, the cast can become competitive because they aren't assigned their scenes. According to Christopher, members have to "battle" for them.
This will be Sankofa's third year  performing for the middle school. Holliday said that middle school students who watch the performance come to the high school and join Sankofa.
While the origin of Sankofa is consistent, its significance varies among students.
"Sankofa is a family of students who each have their own talent, and we all have one goal of telling people about black history and what it means to us personally," Christian said.
"I feel like it sends a message with black culture all around. It shows people's talents and it's a good thing for the school to see," Ashe said.
"It's hard because sometimes African-American heritage is not reflected in textbooks and the curriculum of the school," Wilson said.
"It's not a play. It's much more than that. It's a celebration. It's us filling in the blanks in textbooks and rewriting them for ourselves — and trying to raise awareness for different problems that African-Americans face," she continued.
This is the first year that Sankofa will not be held during February, which is Black History Month.
The performance typically occurs on the last Friday and Saturday of February, and this year, February ends on a Wednesday.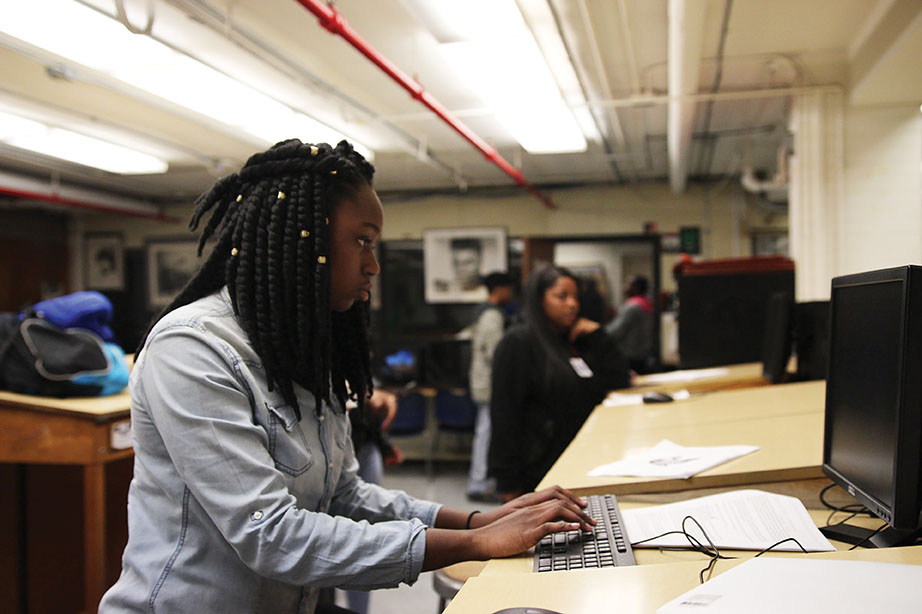 According to Shaker Theatre Arts Department Chairman Scott Sumerak, he and Holliday decided to schedule Sankofa at the end of the last week of February, which means it will be held March 2 and 3, and "Carrie: The Musical" will be held Feb. 22-24.
"I felt like [February is] the one month where we put black identities and really embrace their cultures as a priority," Bagakas said. "So, when they were replacing it with the school play, it's almost like they put something else as a priority before that, and I didn't understand why."
"At first I was upset about it, but I realize as a country, we try to put all of our black history achievements and everything into February," Christian said. "I think that the fact that Sankofa is in March kind of shows that we can still celebrate it outside of the month."
"Black History Month shouldn't be limited within the bounds of February, because black history is world history. The fact that we even get to do [Sankofa] is a blessing in itself," Wilson said.
The performance represents African-American history and culture through the students' passion for their preferred art forms, such as dancing, playing an instrument, rapping, singing and speaking.
"I think it is important to the school because it gets everybody involved in what has happened [throughout African-American history] and what is happening now, because just talking about it in a boring lecture isn't enough," Christopher said.
"You get people invested while having rhythm to it, to get people into it," he continued. "The more you draw their attention, the more they'll listen and the more they actually know what's happening."
The content of the annual performance is typically influenced by politics and current events.  Two years ago, Sankofa was titled "Dear Black America." It included a 10-second silent observation with a "Hoods Up" demonstration to commemorate the fourth anniversary of Trayvon Martin's death, and to address the rising activism in the Black Lives Matter movement.
The show also tapped other topics, including teen pregnancy, slavery, black achievement and B.B. King. Its theme was, "We have no limits."
During the week leading up to Sankofa that year, students also organized a day-long "Hoods Up" protest throughout the school, a display that violated school policy banning hoods for security reasons.
Last year's performance delivered expected references to the newly-inaugurated president, Donald Trump, the Black Lives Matter movement and the story behind the movie "Hidden Figures."
The program followed the story of a young man facing adversity, comparing what his life was to what it could have been. The theme of this show was, "Overcoming: See me not as I am, but what I will become."
"I remember my friend Maximus recited this scene, 'What do you want from me?' " Christopher said about last year's performance.
He said, "It basically talked about what a black person might say to a white person, like, 'You want me to fail?' 'You want me to not succeed?' "
"
We're gonna come at you. We're gonna scream it in your face.
— Jared Christopher
This year, students anticipate Sankofa will address the controversies that have emerged during Trump's first year as president.
"We are dealing with some of the Trump backlash, of how President Trump is making some rash decisions that are affecting the community as a whole and how it affects not only black America, but America in general," Holliday said. "We will be having some type of spoken word or scene that deals with those issues, current issues."
Ashe said that the dancers are performing '90s -inspired pieces along with tap routines, and that this year, the dance pieces will be longer and more precise.  According to Holliday, the show's theme is not revealed until the performance, though the basic structure remains consistent.
"Black history is so plentiful, so we can always find new material," Holliday said. "It's still going to have the same monologue-dialogue approach. We're not going to lose that structure, so it's always going to have some of the same resemblance as far as format, but the material always changes."
"People know that when they come to the show, they come to listen, they come to reflect, they come to soak in everything," Wilson said. "As a performer, I think it is important that we get to bring our audience into a different realm."
Christopher said, "Expect us to get into some serious topics, and we're not really going to be slow about it. We're gonna come at you. We're gonna scream it in your face."
Journalism II Reporter Katie Cronin contributed reporting.
A version of this article appears in print on pages 42-47 of Volume 88, Issue II, published Feb. 8 2018.
Comment using your Facebook, Yahoo, AOL or Hotmail account
comments
Leave a Comment