Pull 'em Up! Richardson's Here
As mentor or administrator, Hank Richardson motivates students to hike their pants and raise their grades weekly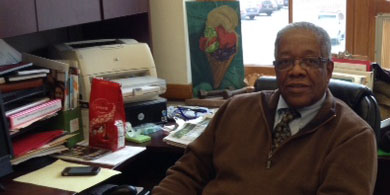 "You're late!" Henry Richardson informs gaggles of students in the halls between classes. "Pull up your pants!"
Richardson, who visits the high school weekly to mentor students and substitute for administrators, retired in June 2006 from his position as director of gifted education at Painesville. "I commuted daily for 12 years. I realized, I think I want to retire," he said. A short while later, he found himself standing in for administrators such as Assistant Principals Frank Wessinger and Eric Hutchinson.
"I was asked to help out," he said. "[My retirement] didn't last long."
Every Tuesday, Richardson can be found mentoring 12 ninth-grade African-American males. Some of them are repeat ninth graders.
The goal is to "get them to be successful in a high school setting," said Richardson. "It is quite different for some kids coming from middle school. Expectations are different."
Richardson founded the mentoring program at the high school in 2013. Incoming ninth graders who are candidates for help are referred to him by their guidance counselors. The parents of the referred students must agree to the mentoring.
One sophomore, who wished to remain anonymous, started working with Richardson part way through last year. He met for mentoring every Tuesday but now goes less often.
"He would explain . . . why grades are important," said the student, "and give you a lot of encouragement."
Specifically, Richardson encouraged him to "work and stop being lazy," the student explained. As a result, the student has begun performing better academically.
Richardson said students are sometimes reluctant to participate.
"If kids say they don't want help–that's a facade," he said. "It's easier to say no and be resistant than to try."
At first, "I was resistant," said Richardson's sophomore mentee. "I just continued going because I liked him after a while."
The students chosen for mentoring may be struggling academically because of home life, "personal issues with peers" or a lack of understanding on "how to develop a strong plan," wrote guidance counselor Cathy Szendrey in an email interview. Richardson mentors them individually "by discussing their personal and academic goals," she said.
"
Richardson is a TOTAL asset to Shaker.
— Catherine Szendrey
Richardson explained what he tells students they can do to succeed. "Come to school ready to learn," he said. "Pay attention in class, do homework, take notes, pay close attention to review and if you don't understand something, ask for clarification."
Richardson said helping students who face challenges has proved rewarding over the years. He recalled a student he worked with in Painesville. "She was always in trouble," he said. After the student graduated, Richardson received a call from her. She told him that there were students skipping school and hanging out around her apartment.
"They should be in school," she told Richardson.
"For her to turn around and be this responsible adult–those are the kinds of things that gladden your soul," he said.
So what is Richardson doing right? "You have to really like students," he said, "and have the ability to work with them . . . We try to cut down on repeat offenders."
"Richardson," Szendrey wrote, "is a TOTAL asset to Shaker."
Richardson notes that much has changed since he was in high school.
"Prior to the civil rights movement in 1963, opportunities were limited for African-Americans," he said. "There was education — social work, pre-medical, pre-dental and mortuary science . . . We had black medical school. We had black dental school."
Richardson grew up in Cleveland. His father worked in a factory and his mother was a nurse.
"After the civil rights movement, you could major in anything," he said. "Things have changed. They've improved greatly."
Education was "something I always wanted to do but couldn't afford to," he said. Starting in 1965, Richardson worked at General Motors Corporation. He soon went on to work at the National Broadcasting Company, creating and producing the shows "Here It Is" and "I'm So Happy." The latter went on to win an Emmy Award for children's education program.
Between 1978 and 1981, Richardson owned and operated The Sandbox Restaurant on one of the U.S. Virgin Islands, St. Croix. After that, he was the general manager at Telecable Broadcasting of America, a job that he described as unfulfilling.
In 1991, Richardson began working at Kent State University as a graduate assistant. His primary job was to help teachers and students use Microsoft programs in the curriculum. By 1995, Richardson was at Painesville. "I'm glad I eventually came around to education," he said.
The many careers Richardson has pursued have left him with a "wealth of experience" and an "amazing perspective," said Szendrey. "He wears many hats."
Richardson describes his own education as being devoid of technology. Authorities were less relaxed, too.
You never wanted to go to the office or for a teacher to call home, he said. "We were afraid to death of teachers!"
Richardson might bring an old-school approach to teaching, but, unlike some authority figures when he was in school, he doesn't want to appear formidable to students. He tries to be "more visible . . . approachable." In Painesville, he ate lunch with high school students in order to "get a different feel" for them.
"You don't want kids to quake when they see you," he said. "But be firm."
Richardson believes that some things haven't changed. "Kids are basically the same," he said. "They are all trying to find where they fit, who they are.
"The students at Shaker Heights High School are wonderful," he said. "It's a wonderful educational opportunity to matriculate here."
The mentored sophomore described Richardson as "nice, smart and optimistic . . . he's cool."
Above all, Richardson believes that any student can succeed in high school. "The only limitations placed on you," he said, "are those you place on yourself."
Comment using your Facebook, Yahoo, AOL or Hotmail account
comments
Leave a Comment