Promoting A Look of Danger
'Thinspiration' Tumblr blogs celebrating thinness send young women an unhealthy body message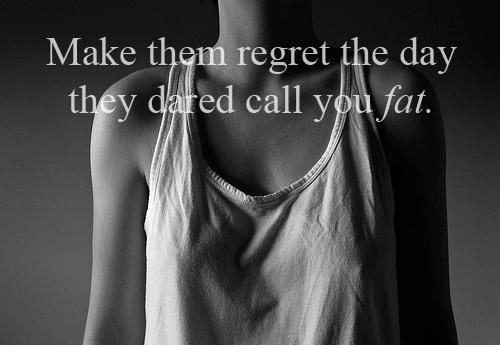 "Make them regret the day they dared call you fat." "Be strong and get skinny." "You won't regret not eating." "Feet together. Thighs apart.
These are just a few of the messages plastered across images of stick-thin female figures typical of Tumblr pages known as 'thinspiration' blogs. Protruding collar bones, emaciated rib cages, and wide "thigh gaps" are frequent aspects of the troubling images.
A website where users can blog and share photos, Tumblr is home to over 130.5 million blogs. A portion of these blogs have thinspiration, or 'thinspo' themes, where young women blog obsessively about extreme weight loss aspirations and document each pound shed. While the internet can be a positive tool for documenting nutritionally conscious weight loss and creating a support system, thinspo pages go far beyond what's healthy.
Junior and Tumblr user Carter Lamb has come across the site's thinspo pages. "I actually find the sites disturbing. I will never understand why anyone would aspire to look like that because it's unhealthy looking," Lamb said. "More than half of the girls on Tumblr are models. You should be happy and comfortable in your own skin."
While anorexia and other eating disorders have been prevalent among young women for quite some time, the online aspect of the disorder adds all kinds of unique  issues. "Part of [eating disorders] are learned behavior," high school psychologist Sagar Patel said. "When middle school kids have access to internet, they might very easily perceive it's the norm. It's very easy for young girls to fall into the idea that this what they're supposed to do," Patel said. Whereas before girls compared to solely classmates and friends, now that obsessive comparing can expand to include other women all over the world via the internet. With thinspiration websites, the intensity of anorexia's impact can thus be magnified several times over.
And indeed, thinspo websites and images have a powerful way of impacting already-insecure girls. The immense number of photos that appear when one simply searches "thinspo" could be enough to persuade a girl to try and unhealthily lose weight. Upon seeing a handful of thinspo images, Patel said, "That's mental illness. That's body dysmorphia. And we just need to emphasize the importance of a healthy lifestyle."
Patel identified some of the disorders associated with self-deprecating slogans as seen on thinspo blogs. "Eating disorders are internalizing disorders, because they deal more with the self. External disorders are just the opposite," said Patel. "And in some cases there can be multiple disorders going on at once, and we call that comorbid. At times anxiety and depression go hand in hand."
Some websites go even further than featuring images by providing specific instructions on bulimic and anorexic behaviors. The site Pro-Thin includes the following steps:
"Once you think you are finished purging, drink a big glass of water, do a couple of sit-ups and go for it again. MORE food will come up!"
"Having trouble getting those last bits out? Punch yourself in the stomach HARD — it works wonderfully!"
Pieces such as this are troubling, and can be found easily just by perusing thinspo blogs online. With such dangerous ideas existing on the internet for girls to find, how can we counteract the effects of thinspo sites? As a solution, Patel stressed the need for action. "Just being proactive about it. Nowadays it's important to have a preventative conversation. Because at this point we really can't control what media is getting to our kids," Patel said.
A version of this article appeared in print on 19 Feb. 2014, on page 23 of The Shakerite. 
Comment using your Facebook, Yahoo, AOL or Hotmail account
comments
Leave a Comment