Local Experts Bring Ferguson Into Context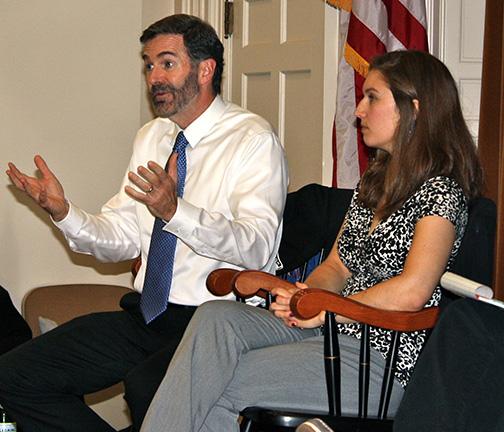 The Aug. 9 shooting of Michael Brown in Ferguson, Mo. left Americans with many questions.
More than one month after Brown's death, teachers brought their classes to the high school's Small Auditorium Sept. 18, also known as Constitution Day, to hear panel speakers answer some of them.
Organized by social studies teacher Sarah Davis, the panel was an attempt to create an interactive Constitution Day lesson.
The panel consisted of two speakers, Tom Merriman and Emily Grannis. Merriman, a former journalist, works for a Cleveland law firm and has previously been arrested for protesting. Grannis was editor in chief of The Shakerite in 2005-2006 and has an Ohio University journalism degree. She is also a graduate of Case Western Reserve University Law School and has worked for the Reporters Committee for Freedom of the Press on First Amendment rights.
The panelists answered questions asked by both students and teachers, ranging from 'What happened in Ferguson?' to 'Why are my rights restricted by my age?'
The panelists also discussed the arrests of two journalists, Wesley Lowery of The Washington Post — editor in chief of The Shakerite in 2007-2008 — and Ryan Reilly of The Huffington Post, in a McDonald's in Ferguson. Police claimed they made the arrests because Lowery and Reilly did not pack their bags and leave quickly enough.
Grannis posed the question of whether it was reasonable for the police to tell the journalists arrested at McDonald's to pack up and leave in the first place.
"Police are able to create reasonable restrictions, but who gets to decide the reasonable restrictions? The police?" asked Grannis.
Merriman asked whether the arrests of journalists in Ferguson violates the first amendment, which protects freedom of press, or the 14th, which provides all American citizens equal protection under the law.
Grannis explained that because the reporters were released after being detained, there is no way to challenge it. The police, she said, are using the arrests as a way to scare journalists away.
"Journalists do not have any extra rights. Everyone has the right to film or photograph the police doing their job," she said in response to questions about the media response to the Ferguson shooting.
"When bad stuff happens to the press, people notice," added Merriman. "Never turn off the camera, because it is the most powerful tool we have."
"I hope it's a reawakening for local police departments to remember their responsibilities and for local city councils not to make laws which discriminate against a percentage of their residents," said Davis. "The civil rights movement is over, but the need to enforce civil rights is not."
Spotlight Editor Nora Spadoni, Campus and City Editor Sara Messiano and Opinion Editor Ella Shlonsky contributed reporting.
Comment using your Facebook, Yahoo, AOL or Hotmail account
comments
Leave a Comment