Drawing On Instinct, Outrage and Passion
John "Derf" Backderf recounts his journey from young comic enthusiast to bestselling author and cartoonist
Author and cartoonist, John "Derf" Backderf has been drawing for 54 years, but through three career transitions, one alt-weekly and three graphic novels, his passion for cartooning hasn't retired.
Shaker resident and author of critically-acclaimed book "My Friend Dahmer," Backderf grew up in Richfield,  a small town outside of Akron. It was there, in his hometown, where he picked up his first comics from a drug store on the corner.
"I've always drawn cartoons, since I was, like, 5 years old. I don't know what it is. Something about it just attracted me to it, and I've done it ever since. It's just almost a compulsion," Backderf said.
Backderf's nickname, "Derf," earned when he was working on a garbage truck at 19. "There was another guy on the truck who had an equally preposterous Germanic surname that ended in dorf, so they called us Derf and Dorf," he said.

Besides doodling, Derf played the tuba in the Revere High School band, wrote for the school paper, acted in sketches and was a member of "The Dahmer Fan Club," a name his friend group adopted. Backderf acted in comedy sketches in the school's annual variety show and even played Adolf Hitler in one.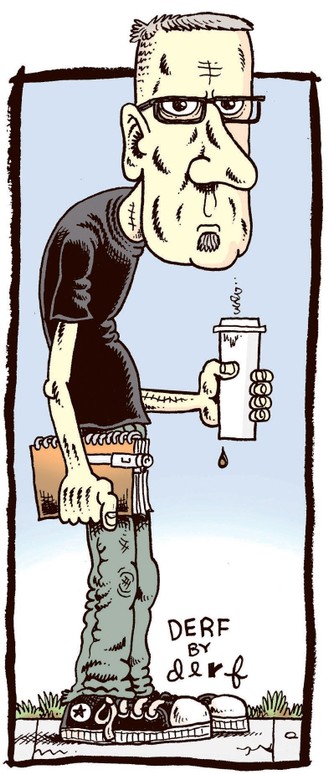 Before making cartooning his profession in 1983, Backderf secured his first paying cartooning job at The Ohio State University, where he is now featured at the Billy Ireland Cartoon Library and Museum. Ohio has a long history of cartooning; there are more cartoonists from Ohio than any other state. Two notable cartoonists from Cleveland are "Superman" creators Jerry Siegel and Joe Shuster. Backderf was also the featured guest last fall at the Cartoon Crossroads comics festival in Columbus.

Although Backderf is well-known through his comic strips, he also has published three graphic novels.
Backderf wrote "Trashed," "Punk Rock and Trailer Parks" and his best known work, "My Friend Dahmer," about his childhood friend who killed, raped and cannibalized 17 men and boys from 1978 to 1991. It was recently turned into a movie, starring Ross Lynch as Dahmer and Alex Wolff as Backderf.
Backderf said behind the festival, there was a pre-screening of "My Friend Dahmer." When tickets went up for sale they sold out in 10 minutes and the waiting list exceeded the theater's capacity. "After the film screened, I was sitting in the back room, watching all the credits roll for the film by Marc Meyers, and then the next thing came up — based on the graphic novel by me — and the whole place just burst into applause. I felt like a rock star. I was just one of those amazing moments I'll never forget," Backderf said.
According to Caitlin McGurk, associate curator for outreach and assistant professor at the Billy Ireland Cartoon Library and Museum, the museum chose to feature Backderf's work because of his influence on the cartooning community.
"Derf is a friend of our library and an OSU alumnus. When he was in school here, he did cartoons for the OSU student paper, 'The Lantern,' which we have in our collection. At that time he took classes with our founding curator, Lucy Shelton Caswell, who had a big influence on him. We love Derf's work and are proud to have been part of his journey as an artist," McGurk stated in an email.
Backderf said he would not be where his is today without the education he received at OSU.
Although Backderf was first officially paid in college for cartooning, he was paid for drawing much earlier. A classmate commissioned Backderf to make a naked drawing of his sixth grade teacher. He was paid two dollars for it.
Backderf wrote and illustrated a long running alt-weekly cartoon  called "The City," which first appeared in "The Cleveland Edition" in 1990. It has since run in more than 100 newspapers. "The City" has a series called "True Stories," in which he documented things he would see, from gun shows to flea markets, to Coventry, an area with restaurants and shops, in the 1990s.
"Something would happen in front of me, and I'd just start laughing — and write it down as fast as I could, because I knew it was gold," Backderf said.
English teacher and Shaker Heights Teacher Association president John Morris is a big fan of "The City." "I was always struck by how unique the black and white graphics were, how funny and kind of grotesque and exaggerated but really spot on, as far as the types of people that you'd see in places like Coventry, especially in the '90s. He was just spot on with his depictions of various countercultures or unique personalities in that part of the city," he said.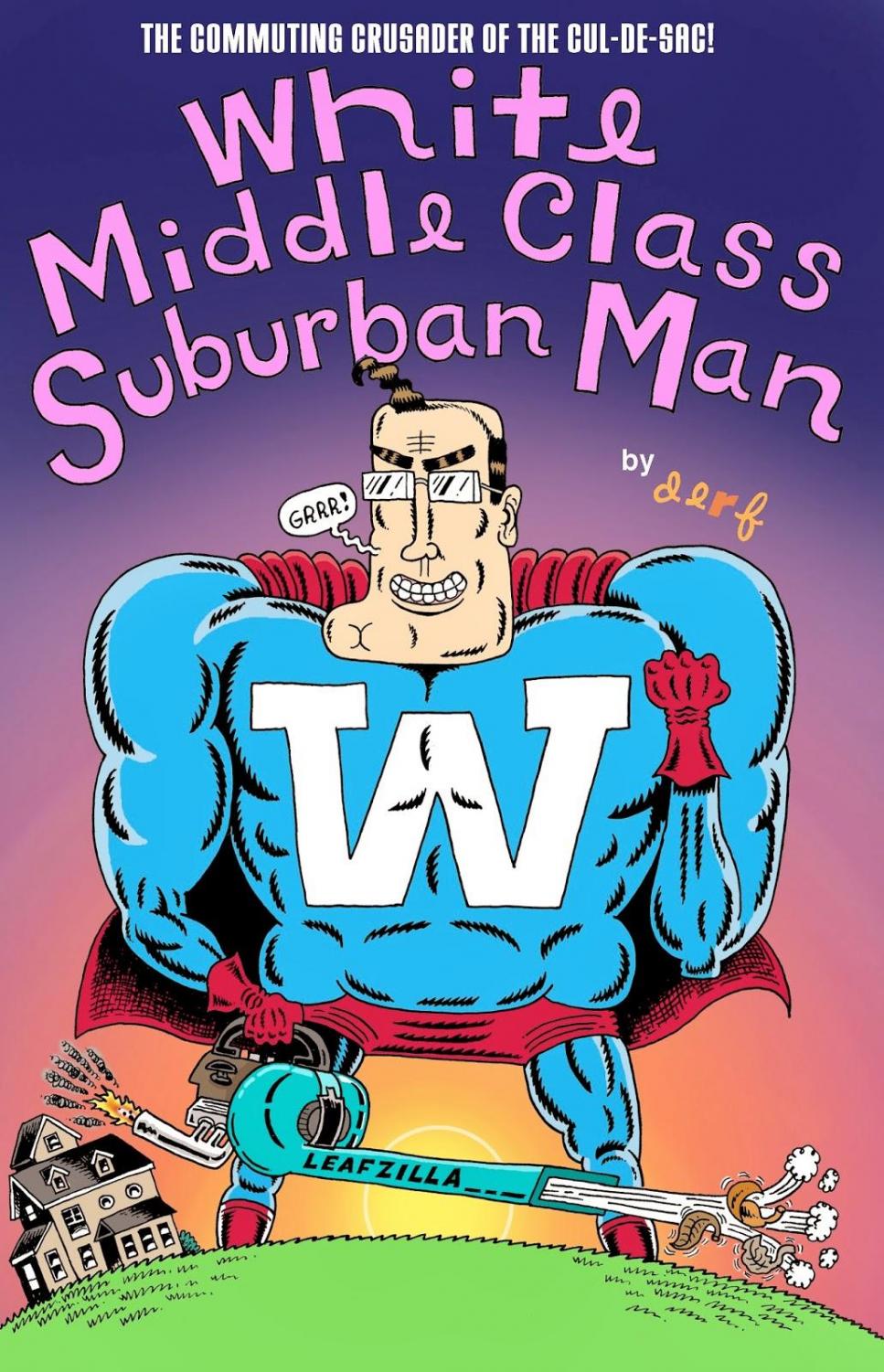 Backderf also has a series called "The White Middle Class Suburban Man," which has caused controversy.

For example, Backderf worked on political cartooning right after graduation, but was fired shortly after. "The editor fired me for 'general tastelessness,'" he said in an interview on columbusalive.com.
"People said it was reverse discrimination and that sort of stuff, and it's like, 'Well, I was a white, middle-class, suburban man.' So, under the rules of comedy, you can make fun of your own. So, I kind of brushed those off," Backderf said.
Backderf received the Robert F. Kennedy award for political cartooning in 2006. He has since stopped producing this kind of cartoon. "I find it very difficult to maintain that outrage. I like telling stories a lot more than I liked being a political cartoonist. I only did it for short periods of time, and then that was enough," Backderf said.
Backderf said even though political and editorial cartooning is dying out as a profession, it will survive, possibly as protest art. He attributes this downfall to the declining newspaper readership.
According to NPR, in 2008, The Des Moines Register, in Iowa, was the last American newspaper with a front page cartoon. "I feel a little like Mikhail Gorbachev at the end of the Soviet Union,"  Ted Rall, head of The Association of American Editorial Cartoonists, told Sylvia Maria Gross of NPR. "I feel a little like I'm presiding over the beginning of the end here."
Backderf also talked about being portrayed in the film version of "My Friend Dahmer." "[It was] very strange, very surreal, to see your own life being acted out in front of you by movie stars. It was bizarre. It was filmed here. It was filmed in Bath, and some of the scenes were filmed in Cleveland, too," Backderf said.
Even though seeing his high school career reenacted in front out him was strange, Backderf isn't really affected by it anymore.
"Everything about this story is weird and has been for a long time, so at this point, it's just one more weird thing that happened. I just shrug and say, 'Well that's weird,' and move on," Backderf said.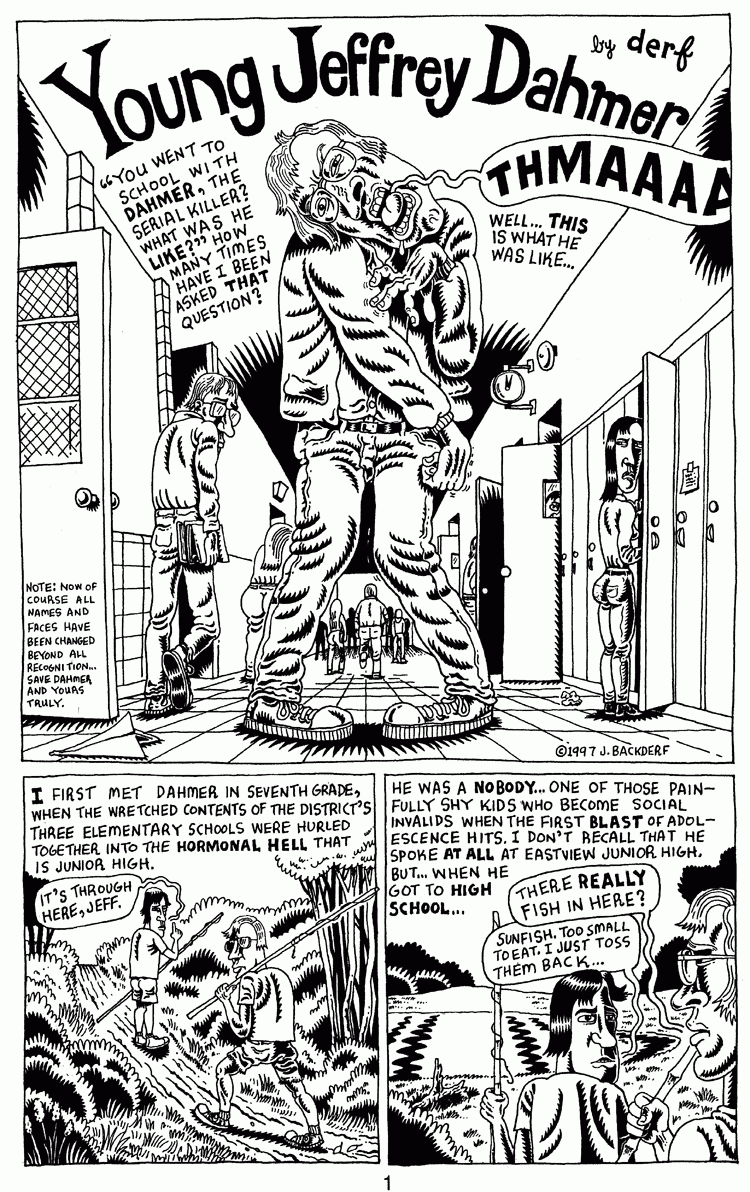 Backderf said the filmmaker reached out to him because he was drawn to the book. Backderf said they talked for a bit and met in New York City, yet it took a couple of months before he agreed to let them adapt his book for film. He had been approached by filmmakers in the past, but nothing ever happened. Backderf is pleased at the outcome, and think the film remains true to the book.
Backderf said Lynch bears an uncanny resemblance to Dahmer.
"He looks just like him," he said. According to Backderf, when they were filming at the Dahmer house, Ross walked over to Backderf, and they started talking. "I just said, 'Man you gotta take those glasses off. I can't talk to you looking just like Dahmer. I can't do it.' And he laughed and took the glasses off. He really liked that. He's recounted that story several times."
In addition to his American fans, Backderf has attracted significant support in Europe. In 2014, he received the Prix Révélation at the Angoulême International Comics Festival in France. He also received two Eisner awards, also known as "the Oscars of comics."
Although he is not being published daily anymore, he is still working. Backderf said, though he is slower at drawing now, his passion has not waned. He still enjoys the excitement of seeing his work in the world.
Backderf said, "It's a big thrill, the first time you're published. It's incredible. You see a pile of things with your name on it, and there's your work, and then it's an amazing rush. And I've been chasing that buzz ever since."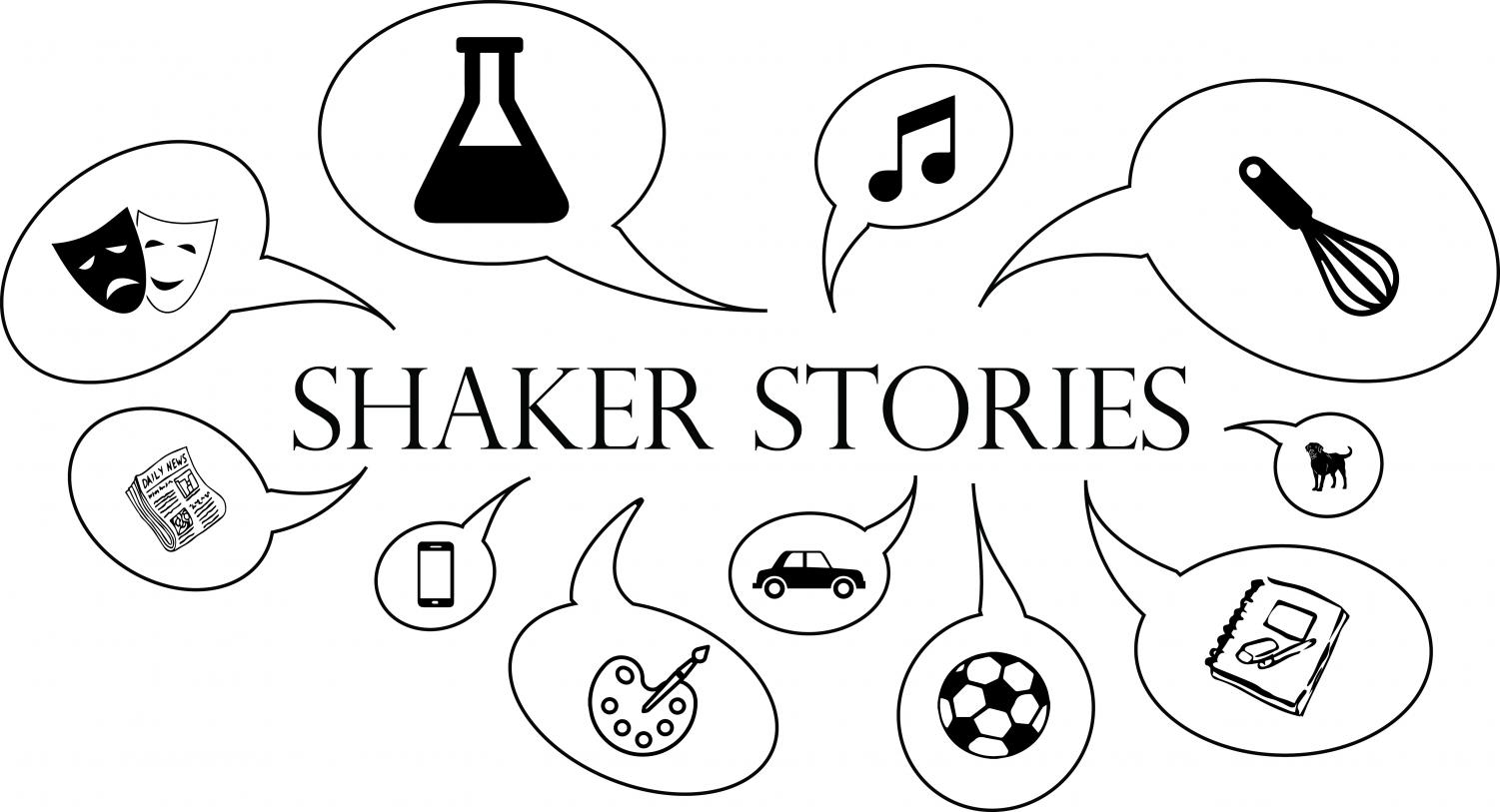 This profile of cartoonist John "Derf" Backderf, written by freshman Journalism II reporter Danielle Krantz, is part of the profile series we call Shaker Stories. In a novel activity, 42 Journalism II students — two juniors, one sophomore and 39 freshmen — devoted the third quarter to researching, reporting, drafting, editing and revising profiles of Shaker students, teachers, coaches, residents and alumni. Shakerite editors and Journalism II students suggested people they considered noteworthy. Journalism II students chose their subjects and invited them to participate. 
Subjects who accepted agreed to at least three, 20-minute interviews, suggested other sources to be interviewed, submitted photos — and endured dozens of follow-up questions. Journalism II students completed research as necessary to portray their subjects' subcultures, whether Irish dancing, competitive cube solving or editorial cartooning.
Over the next six weeks, The Shakerite will publish the products of this unprecedented effort. We invite you to read, enjoy and share these profiles widely. We thank everyone who cooperated with this enormous effort. We also encourage you to suggest more people whose Shaker stories we should know.
Comment using your Facebook, Yahoo, AOL or Hotmail account
comments
Leave a Comment