The Answer Man
Dean of Students Greg Zannelli approaches discipline unconventionally
The Answer Man: responsible for mopping up floors, filling in as athletic director and even covering classes when a substitute does not show up. Although his formal title might be dean of students, Greg Zannelli's job at the high school covers all of the above. His mix of responsibilities and daily duties always changes, but that's just how he likes it — Zannelli loves being a part of such a large school community.
This is the core of his personality — the belief that everybody belongs to a family. "You don't give up on family," Zannelli said. "If you have a family member who has faults, makes mistakes — when they do well, it brings you so much joy and it is so much better." Before anyone can judge his character, you should know that Zannelli does not embody any stereotype you could make of him. As he said, "We see that so many times in media that things are stereotyped and tailored to the audience."
Zannelli lives in Perry, on three acres, 40 minutes away from the high school.
This is a long commute, but Zannelli's wife, Lindsay, works as a teacher for the Ashtabula Area City School District. By living in Perry, they split the milage.
Zannelli has two sons, Obi and Luke. He loves spending time outdoors, playing the guitar (although he acknowledges that he does not play very well) and doing anything with woodworking. "I built a bowling alley recently. It's a half-scale bowling alley in the basement. I really enjoy building things outside for my boys: treehouses, big cone slides, a zipline. I come up with these little, wacky ideas," Zannelli said.
Adam Thomas, one of Zannelli's closest friends and math teacher at the high school, noted that Zannelli is optimistic and a family guy. He said that Zannelli and his family "are big Star Wars fanatics. I was asking Star Wars trivia to his kids and they are very fluent."
The Ashtabula area doubles as the place where Zannelli grew up.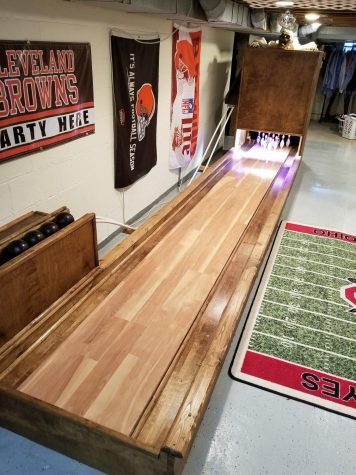 He lived with his mother and sister. They were on public assistance and government housing, provided to eligible, low-income families.
"It made me realize you had to work for everything you had. I came from nothing, and I'm at Shaker. If I were to visit myself 30 years ago, it wouldn't have crossed my mind that I'd be here," Zannelli said.
Zannelli uses his childhood as a way to build relationships with students. "I come from a place where I can connect with some students and the difficulties they may have," Zannelli said.
Zannelli said that any similarity he shares with a student helps to create relationships — it's a good way to introduce himself and create topics for conversation.
His desire to establish relationships was evident when I interviewed him in his office. Instead of answering my questions from behind his desk, Zannelli pulled up a chair and sat across from me so that the interview could be more like a conversation. In fact, Thomas said that Zannelli "greets everybody by name."
Although he enjoyed Ashtabula and created many memories there, like the time he lip synced "Monster Mash" in the second grade talent show, Zannelli wanted to see the world.
Once he graduated from Ashtabula High School, Zannelli enlisted in the U.S. Navy. He joined the military to make it his profession — a ticket to success. Enlisting was a fairly common choice following high school in Ashtabula.
Zannelli initially went to boot camp in San Diego, then sailed to Bathe, Maine. He started his first cruise to the Persian Gulf out of San Diego as a petty officer in the second class.
The basis of his job as a petty officer was to manage the Navy's ships, aircrafts, weapons systems and personnel. He also worked as an operations specialist. Zannelli said a big part of his job involved figuring out how to work a radar system, called 49 SP Radar, which only he could figure out how to use.
Around this point in the interview, a teacher interrupted us, reaching out to Zannelli to report a phone being stolen during conference periods. Zannelli calmly stood up, walked over and solved the problem.
Then, he continued to talk about his time in the military. "It was a small part of my life — it didn't totally define it. When you share it with someone, they view it differently. Well, that was between my ages of 18 and 23, so that was a long time ago, and I'm a different person," he said.
In such a liberal community, the majority of students would agree that people should be allowed to kneel during the National Anthem or burn the flag. But our one blindspot might be that military culture is not a large part of Shaker's culture.
According to the United States Census Bureau, there are 27,448 residents of Shaker Heights, 1,279 of them being veterans, making up 4.66 percent of the population.
"It's stereotyped through popular culture: this is what a military person is," Zannelli said. "All walks of life join the military, so what it boils down to, is the people I knew in the military were so vastly different, and they aren't stereotypical. But we tend to, as a society, label people."
Because he does not fit that military stereotype, Zannelli said, "people are surprised when I'm not offended at people kneeling or at flag burning. You have to do it for the right reasons."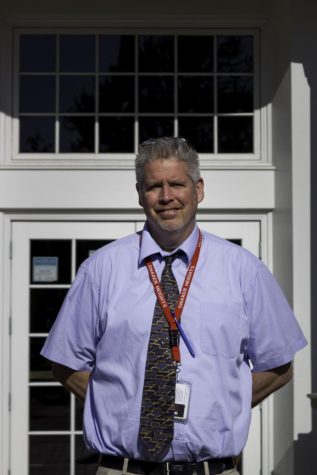 As the military increasingly identifies with the Republican Party, veterans in a liberal community are becoming less common. According to the American National Election Studies, the gap between veterans for Republican candidates over other candidates grew to almost 20 percent.
"It's fine," Zannelli said. "I don't want to be recognized for my service because I got more from serving: my personal growth, the ability to pay for college, the friends I made. I don't need a pat on the back or be recognized."
Thomas said that he thinks Zannelli's time in the military influences his work. "The military establishes morals and viewpoints in people," he said. "It kind of sheds some light on some things — being able to help all students."
After his Navy service, Zannelli decided he wanted to go to college and traveled back to Ashtabula, his hometown.
He attended Youngstown University, where public speaking class was a requirement. Zannelli said his speeches were so entertaining that his professor approached him and asked what career Zannelli was pursuing. Once Zannelli responded that he wanted to become an automotive engineer, his professor said, "You have to go into education, because you can keep people's attention and keep them interested."
According to Zannelli, a teacher should embrace that role as an entertainer.
Zannelli accepted his first job as a teacher for Ashtabula High School, where he served as an athletic director for three years and a track and cross country coach for 12.
He loved working with the students, teaching them about family and building teamwork. "Sports are all about family," Zannelli said. "You have to rely on your entire team not only for a race, but for workouts. You solve problems together like a family. You can be the fastest runner in the state, but your team will not do well unless your fifth runner does well, too."
Sports were a big part of Zannelli's life. He ran up to 75 or 80 miles per week "in his prime." Now that he has kids, Zannelli makes sure they love Cleveland sports teams as much as he does.
"He loves to talk about the Browns and different sports like that. He's a die-hard Browns fan," Thomas said.
Zannelli said being an athletic director was exhausting. He spent nights working late, and compromised family time to fulfill a job's requirements. When he saw an opening for dean of students at the high school, Zannelli's interest sparked.
Zannelli said he was thankful to have a shot to work at a school like Shaker. He thinks his honest and realistic attitude got him the job.
Now that he holds the position of dean of students, Zannelli battles the stereotype of authoritative adults controlling a building full of teenagers. 
"
He has the same expectations for everybody and thinks that each student should have the ability to behave and learn in the environment of Shaker Heights
— Adam Thomas
Take the movie "Ferris Bueller's Day Off" as a reminder of popular culture's depiction of dean of students: an vengeful administrator set on proving a teenager wrong just to make a point. The words 'dean of students' can provoke negative feelings and be considered a euphemism for an adult who punishes trouble makers and relishes in their pain.
As dean of students, Zannelli cannot avoid interacting with students in a disciplinary role. He oversees Saturday School, to which students are assigned for detention-level behavior, like having too many tardies or disrespecting a teacher, for example.
Freshman Matt Kirchner said, "I feel like the reason kids don't like him is because they have to interact with him, which means that they are in trouble."
But if students looks past punishments and instead see Zannelli's beliefs, they might see that he would rather find a solution and repair a relationship.
According to Thomas, Zannelli wants everyone to have an equal chance of succeeding, no matter what class they are in. "He has the same expectations for everybody and thinks that each student should have the ability to behave and learn in the environment of Shaker Heights," he said.
Zannelli does not expect a school to be run like the military and said that classical military values are at odds with those of Shaker. He does no expect students to conform to one norm in which the group interest trumps one's own.
Thomas said that Zannelli considers every student individually. "There was a student that was in trouble a lot, and Mr. Zannelli was constantly an advocate for this student. Throughout the time we knew him, and acted with him, it was an individual who wasn't doing very well at his classes and was missing a lot of school," he said. The student improved, thanks to Zannelli's intervention.
Although Zannelli never wants to punish a student, he knows those situations come up. Zannelli puts himself in the shoes of a parent so that he can discipline the student considerately.
In fact, Zannelli helped to implement restorative practice policy at the high schools. According to Thomas, this policy encourages students to make improvements to themselves instead of concentrating on being punished when they violate a rule.
Kirchner acknowledged that Zannelli, "just seemed kind and open. He's a figure of authority, and his job is to punish kids, so that will make you enemies. It might not be fair, but it's going to happen."
Zannelli knows that disciplinarians are not always popular; but he views the high school community like a family. He said, "If you don't like me, that's fine, but we have to work together to find a solution to help you be successful."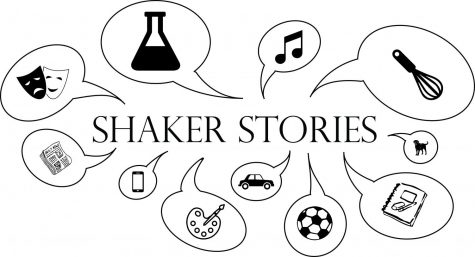 This profile of Greg Zannelli, written by sophomore Investigations Budget Reporter Hilary Shakelton, is a part of a series we call Shaker Stories. In a novel activity, forty-two Journalism II students — two juniors, one sophomore and 39 freshmen — devoted the third quarter to researching, reporting, drafting, editing and revising profiles of Shaker students, teachers, coaches, residents and alumni. Shakerite editors and Journalism II students suggested people they considered noteworthy. Journalism II students chose their subjects and invited them to participate. 
Subjects who accepted agreed to at least three, 20-minute interviews, suggested other sources to be interviewed, submitted photos — and endured dozens of follow-up questions. Journalism II students completed research as necessary to portray their subjects' subcultures, whether Irish dancing, competitive cube solving or editorial cartooning.
The Shakerite will publish the products of this unprecedented effort. We invite you to read, enjoy and share these profiles widely. We thank everyone who cooperated with this enormous effort. We also encourage you to suggest more people whose Shaker stories we should know.
Comment using your Facebook, Yahoo, AOL or Hotmail account
comments
Leave a Comment
About the 'Riter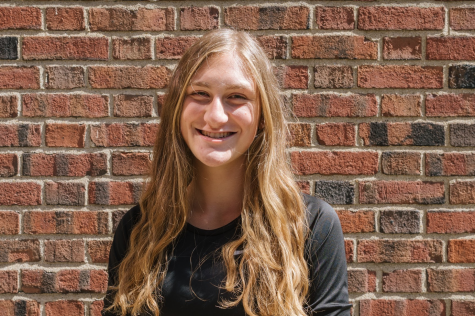 Hilary Shakelton, Executive Managing Editor
Hilary Shakelton  ('21) is in her fourth year with The Shakerite. She is currently The Executive Mentioning Editor overseeing coverage for The Shakerite. She also is a part of the Editorial Board. As an Investigations Reporter sophomore year and a Web Managing Editor her junior year, Hilary covered school ranking systems, the issues regarding unpaid internships, and the faculty response to multiple investigations within the district regarding administrative leave. Hilary runs track and plays both field hockey and basketball. She is also a member of the Student Group on Race Relations and STEM Ambassadors.