Freshman Show Prepares to Spook Audiences
From superheroes to horror stories, the 2015-16 Ninth Grade Theatre Experience Show, entitled "Spooked" promises a parody on predictable horror films.
Each year Shaker Heights High School freshman students work with Theatre Arts Department Chair, Scott Sumerak, to create an original show written and managed entirely by high school students.
"The Ninth Grade Theatre Experience is a fun, fast-paced project that allows both the newest students in our department and ninth graders who have never been onstage before, a change to claim ownership of a unique show that has never been performed before, and will never be performed again," Sumerak said.
After discussions with last year's cast about strong writing material and exciting ideas, horror movies came into the conversation, and the idea blossomed from there.
"We took the most basic idea of the horror genre at it's core, and ran with it," freshman Fisher Ilijasic said.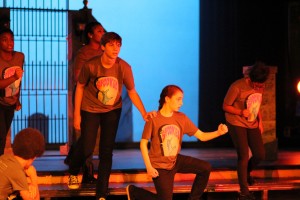 "We held a writing workshop for four days just before winter break. We have worked three or four days a week since returning from break. This is a very short amount of time to write, stage, and rehearse a show," Sumerak said.
The cast and crew of The Ninth Grade Theatre Experience is comprised entirely of theatre students, whose jobs range from costumes and props to marketing and managing.
"There are 18 freshmen cast members and over 25 upperclassmen working on production elements," Sumerak said.
Sophomore Sarah Augustine was excited to work on the show again. "Helping out with the show has been wonderful. I was in it last year and I just knew that I was a part of something special and I wanted to be able to do something with the show again," she said.
"Being a part of the Ninth Grade Theatre Experience Show has been great. Everyone has been supportive and we've really created a show like no other," freshman Harlan Friedman-Romell said.
Sumerak noted that this year's show has a lot of scene work, and more dialogue than in previous years. "While we take the work seriously, we don't take ourselves too seriously. I want the audience to see how much fun the cast is having on stage and join in on that fun," Sumerak said.
"It's really fantastic seeing your stuff being transformed with everybody's as a play that we'll get to show people and be proud of," freshman Miles McCallum said.
Performances start with a free student preview on Feb. 4 and official performances run from Feb. 5-6. Tickets can be purchased online at www.tix.com.
Comment using your Facebook, Yahoo, AOL or Hotmail account
comments
Leave a Comment