Shaker Freshman Takes Diving to New Heights
Lyle Yost's passion for diving has taken him to Cuba as a member of the Junior Pan-American Championships Team
Every parent's fear made Lyle Yost a star.
"He kept trying to do backflips and jump off playground equipment," said Tina Yost, Lyle's mom. "And we thought it's better to do something a little safer than break a bone."
"My parents were afraid I was going to break my neck," said Yost, a freshman at the high school. When he was about 8, they gave him two options: diving or gymnastics. Lyle chose diving.
What began as a weekend hobby soon developed into an intense passion, which has now earned him a spot on the Junior Pan-American Championships team. Lyle departed yesterday for a series of high-profile diving competitions held in Cuba, which promise to provide a rigorous challenge.
Lyle's coach at American Flyers Diving, Marc Cahalane, has watched Lyle's transformation over many years working with him. "He truly enjoys flying through the air, performing fun tricks and being able to do intricate moves that 'look cool,'" Cahalane said. "I think that is what has made him so good and kept him involved for so long."
Yost mainly competes in springboard (ranging from 3 to 10 meters off the ground) and platform (diving from a concrete block) events. In August, at the USA Junior Diving National Championships in Orlando, Florida, Yost blasted the competition in the semi-finals and finals, earning second place in the competition and a spot on the Junior Pan-American Championships team. Out of 24 divers on the team, Lyle is one of five Ohioans.
"In Cuba, Lyle and all the athletes will have a few days of training to not only focus on diving but to get a feel for the surroundings," said Cahalane. "After a few days, the competitions will begin. Lyle's three meter event is towards the end of the competition week . . . He enjoys the atmosphere and is proud of knowing he is being a part of something large and able to help team USA in its goal."
Despite such a high stakes competition, "I think [Lyle] is in a good state of mind," said Cahalane.
Yost looks forward to the competition with excitement and support for his fellow divers. "I definitely feel part of a team," he said. "We all train together, and if one person's scared of something, the rest of the team helps them out. It's got the mentality of the team sport without competing on a team."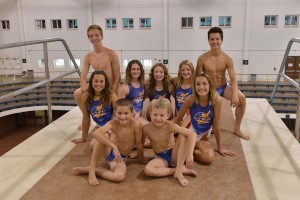 "I'm really excited for Cuba. It's not something that a lot of people from around here are gonna do," he said. Plus, "I get to miss a lot of school."
In Cuba, Tina Yost will "strictly be in the stands," she said. Diving "scares me to death."
Now that Lyle competes at a high level, diving "can be massively taxing mentally and physically," said Cahalane. "It can be a major mind game to push on and keep going not only through a meet but every day practices as well. The dedication it takes is huge but without the love for it, it just plain isn't worth it . . . falling 33 feet from 10 meter and hoping everything goes right is a bit nerve wracking. Jumping off three meter, Lyle gets about 15 feet in the air, couple all the physics of rotational force on top of that, if things go wrong, it gets horribly painful."
Lyle explained his mental process before a dive. "You sorta just have to slow down and think about one dive at a time," he said. "If you screw up one dive, some people let it ruin their whole meet don't let other dives go well."
"It's not a cutthroat environment," said Tina Yost. "It's very friendly . . . The people that he dives with have become extended family."
Lyle has formed lasting bonds with his fellow divers. "They're some of my best friends ever," he said.
Why diving? "It's not wildly popular," said Yost. "When you're doing something like soccer with a ton of people, it's really hard to be great because there are so many people."
"I'm not saying it's easy because it not," he added.
Talking long-term goals, Lyle mentioned that "the Olympics are definitely a stretch goal. 2020 is going be in Tokyo, which would be sick."
But, "I'm not gonna beat myself up over something that I can work towards. It's not necessarily something that at the moment is realistic," he said.
"I think it takes a really special dedication to be an Olympian," said Tina Yost, "and a lot more sacrifice, more than anybody realizes until they already start down the path." However, "if [Lyle] wanted to go to the Olympics, we would support him," she said.
Cahalane agreed. "The overbearing and potentially "unattainable" Everest of a goal such as the Olympics starts looking like a potential reality," he said. "It can now be a goal we realistically strive for. If he is ready for that goal, then yes I think he can do it."
Above all, however, Cahalane stresses that Lyle's passion for diving keeps him pushing forward. "I would say Lyle has more of a love for the sport than a drive to be a great diver . . . He is learning how to maintain a serious focused attitude all while being able to still have fun and stay in love with it for the right reasons."
Tina Yost summed up the essence of diving. "Diving," she said, "is pretty incredible."
Comment using your Facebook, Yahoo, AOL or Hotmail account
comments
Leave a Comment