Conferencing in Room 109? Put Your Party Hat On
To determine which students are theirs, teachers look for polka dots or purple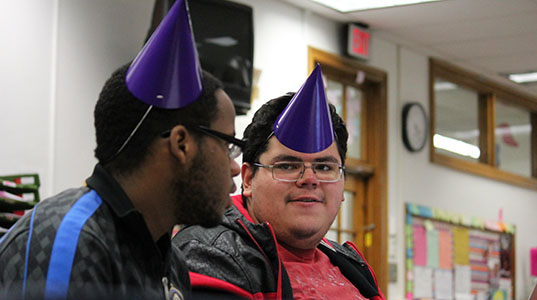 The atmosphere was perhaps a little too party-like in Valerie Doersen's and Emily Shrestha's after-school conferences.
So now, students are only allowed to come if they wear — or at least display — a hat. A purple (Doersen) or purple polka dot (Shrestha) party hat, that is.
According to Doersen, Room 109, which is a computer lab, "becomes a very chaotic environment. Other students were coming in that were not in our classes.  We decided to code the students. Now students will wear a polka dot or purple hat depending on if they have me or Ms. Shrestha."
"When kids come to conferences, they check in with their teacher and get a party hat," said Doersen, who teaches Anatomy of Writing and English 9 Honors. Shrestha teaches Anatomy of Writing and English 11 Honors and CP.
Many students believe the hats are helpful. A lot of them believe the policy gives them a chance to get more individual attention.
"This is definitely a helpful policy," said junior Sydni Davenport. "Students get a lot more individual time with teachers. Many troublemakers do not show up anymore."
Davenport, who is Shrestha's student, said her teacher does not make students wear the hats. "My friends think it's fine because they don't have to wear them on their head. You just need to have them around you."
Other students have a different view. "I think the use of party hats in conferences is pointless. I don't belive it will solve the problem of overcrowding," Shrestha's student Marissa Brown said.
Doersen said that this policy will remain in place. "I will be out because I am having a baby and there will be a sub," she said. "We will continue it for her so things won't be as chaotic."
Comment using your Facebook, Yahoo, AOL or Hotmail account
comments
Leave a Comment