Cleveland Serves Up a Crazy Crowd at Fed Cup Tennis Tournament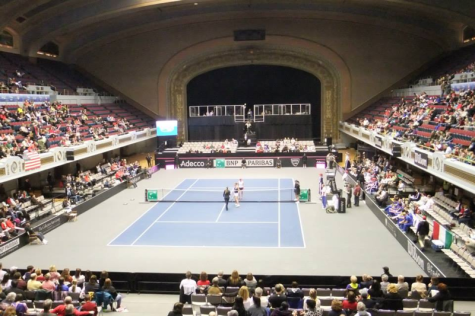 "The crowd was much more pumped than I expected a tennis match to be," junior Landon Richardson said, regarding the Fed Cup International Tennis tournament. This isn't something you hear every day. It's common for Shaker hockey or basketball games to have a wild side, but most tennis matches are sparsely attended.
Shaker students brought their school spirit to the national level, with some students even trying out for ball girl or boy duty. Senior Izzi Nejedlik represented Shaker's spirit at a successful ball girl tryout. Describing the tryout, she said "[There were] lots of drills. They made us do catching, running and throwing….It was very competitive."
But she wasn't the only high school student to seek this opportunity. "The entire team was made up of very experienced year-round tennis players from different clubs and high schools across Ohio," Nejedlik said.
Ball boys and girls at tennis tournaments retrieve balls for players from both teams in order to reduce the amount of inactive time for the athletes. Mateo Burrull, an avid tennis fan and Shaker tennis player, touts the value of the up-close experience with professional players.
"It was an amazing experience. It's not every day that you get the chance to see world class athletes, only at a fingertip away." Burrull said.
The first round of the tournament was between the 17-time champions, United States, and Italy. Saturday, Feb. 8 was the best-of-five match series between the No. 1 player from each country against the other country's No. 2 player. Sunday consisted of two "reverse single" matches, where the No. 1 players play each other and the two No. 2 players of the U.S. team and the Italian team. Tennis players Madison Keys, Lauren Davis, Christina McHale and Allison Riske represented the United States in the tournament. After many long  matches, the U.S. team fell short to the Italians 3-1 in the first round of the Fed Cup.
That didn't deter the buzz of the stands, however. Familiar Shaker faces, juniors Andre Lowery, Sam Hasselman, Landon Richardson and Peter Evans worked the tournament, leading spirit at the court with red, white and blue face paint.
Comment using your Facebook, Yahoo, AOL or Hotmail account
comments
Leave a Comment