Class of 2016 Student Council Raises Money Through Taping Superintendent
Students reflect on Dr. Hutchings' taping to the wall April 20.
Class of 2016 Student Council gave students a chance to tape Dr. Gregory C. Hutchings, Jr. to the wall in the egress from 3-4 p.m. April 20. Students paid $1 for a piece of tape and all proceeds went to the Class of 2016.
Attendees favored a positive view of the fundraiser. "I think it's a creative way to raise money because everyone wants to tape their superintendent to the wall," said junior Caroline Murphy. "It's fun."
Sophomore Mysharia McGinnis agrees, "I think the kids enjoy it and they'll pay to tape [Hutchings] up."
Junior Allison Kao, Class of 2016 president, explained that setting up the fundraiser and getting Hutchings to agree did not pose a huge challenge.
"We just emailed him and asked 'do you want to participate in our fundraiser?' and he said yes," Kao said.
"I'll do what I need to do for the kids," said Hutchings. "I would do it again."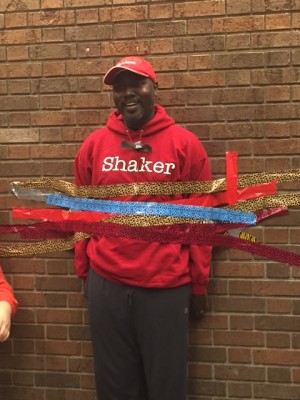 "I think people are really enthusiastic about the idea," Kao said.
However, this is not the first time Shaker students have had a chance to tape their administrators. In a schoolwide event two years ago, Principal Michael Griffith agreed to be taped to the cafeteria wall during lunch. This year, the taping went on after school as a more convenient time slot.
According to Hutchings, the students taped him well.
"It feels pretty sticky, sticky and tight," Hutchings said. "I'll humiliate myself once in a while for my kids. They're worth it."
Comment using your Facebook, Yahoo, AOL or Hotmail account
comments
Leave a Comment