Channeling Passion into Political Action
May 10 forum and open house to highlight ways to get politically involved on all levels of government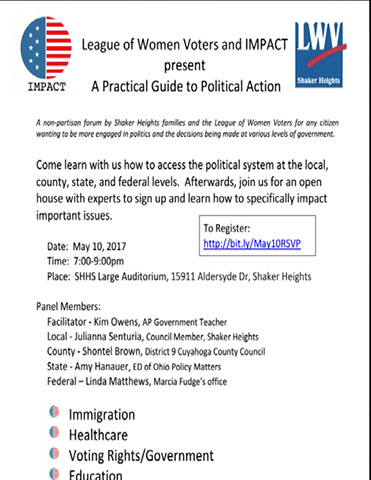 Shaker Heights community members assembled at a table after the 2016 election. They decided, that to engage the Shaker community in political action, they needed to teach them how to do so and who to ask. They created IMPACT (Involve, Motivate, Participate, Advocate, Commit, Teach) whose first goal was to hold a forum and open house on political action.
The May 10 non-partisan forum and open house, co-hosted with the Shaker Heights League of Women Voters, will include speakers on the local, county, state, and federal government who will speak on political action and how to get involved. In addition, the high school's own Kimberly Owens, a government teacher, will facilitate. As Owens said, participants will learn to "get involved in issues that matter."
Julie Hertzer, a Shaker community member who helped organize the event with IMPACT, believes that it will increase political action, which is essential to democracy. "It is important to remain politically active because our government is elected by the citizens and needs to hear from us. Elected officials are in a powerful position and need to remain true to their constituents. That is how you prevent a consolidation of power," she said.
"
We should all be active at some level if we care about the future of our country."
— Lisa Bugenske
The representative from local government, Vice Mayor and City Councilwoman Julianna Senturia, believes that the event will teach people that small actions can add up and lead to big progress. "It might not seem like a big deal to make one phone to an elected official, but when many of us do it, the impact is strong," she said. "Making the day to day efforts to be an upstander creates real change."
However, small actions are not everything. Said Senturia, "Let's be in it for the long haul because we're better when we work together on improving our communities. That means pacing yourself, taking time out to learn about other viewpoints, and building relationships that support involvement."
Amy Hanauer, executive director of Policy Matters Ohio, a nonpartisan nonprofit that does research on how state policy affects communities, will represent state government. "It's a crucial time to re-engage and help our community understand what our elected officials are doing in our name, and how to support or oppose it," she said.
Shontel Brown, who represents district 9 on the Cuyahoga County Council, will speak for county opportunities. Linda Matthews, office manager for the office of U.S. Representative Marcia Fudge (D-OH), whose district includes Shaker Heights, will represent federal government.
The event will describe diverse ways in which the community can become involved, according to Hertzer.
"There are so many ways that we can help our neighbor, community, and country. We each can figure out what we believe strongly about and then go to work to improve policy, raise awareness, remind our politicians what is important to us," Hertzer said.
Lisa Bugenske, a Shaker community member and another founding member of IMPACT, believes the issue is our complacency in democracy. "We should all be active at some level if we care about the future of our country," she said. "Everyone should leave [the event] feeling better prepared to get more engaged."
"
Get informed, get together with people, and make your voice heard."
— Amy Hanauer
The forum is to be hosted with the League of Women Voters to represent this aforementioned diversity of opportunities.
Senturia, herself the former LWV board president, said her work there inspired her to run for city council. "I started out observing and writing about Council meetings. After a couple of years, I started to think, 'I have some ideas of how to do it differently.' Soon after that, I decided to run for office," she said.
Hanauer thinks that a mixture of long-standing organisations such as the LWV and newer, younger groups leads to effective activism. "New groups — like Indivisible — have sprung up and meet here in the community, as have long-standing stalwarts like the League of Women Voters," she said. "So get informed, get together with people, and make your voice heard. And do it in a way that stands up for your point of view, but that is respectful of what other people think."
All of the event leaders believe that it is essential for our future as a community and a country.
"I think people should attend because not only are they are learning about how to become politically active, there will opportunities at the Open House to actually sign-up ​and volunteer for issues that matter to them," Owens said.
As Senturia said, "when you stay involved, your perspective is widened. Democracy works best when we commit and connect."
The "A Practical Guide to Political Action" forum and open house will take place May 10, 7-9 p.m., in the Shaker Heights High School large auditorium.
Comment using your Facebook, Yahoo, AOL or Hotmail account
comments
Leave a Comment