Sewing Up a Sweet Line
Senior Caroline Walsh uses her design skills to build a business and challenge beauty standards
Ask anyone who knows Caroline Walsh to describe her, and you'll hear that the senior is kind, creative, dedicated and skilled in fashion.
"I have never met someone so thoughtful and who thinks so much about other people," said senior Veronica Prause, a friend of Caroline.
However, she is not just a kind person. Caroline has also created an Instagram clothing business called Sweet Line, won art awards for works created in Portfolio class, competed in track and cross country meets and created art that critiques social standards on women's dress.
Caroline has lived in the Onaway neighborhood with her parents, Molly and Dan Walsh, and her brother, Griffin, since she was born. As a young girl, Caroline participated in activities such as jewelry-making and soccer, but she was always most interested in the arts.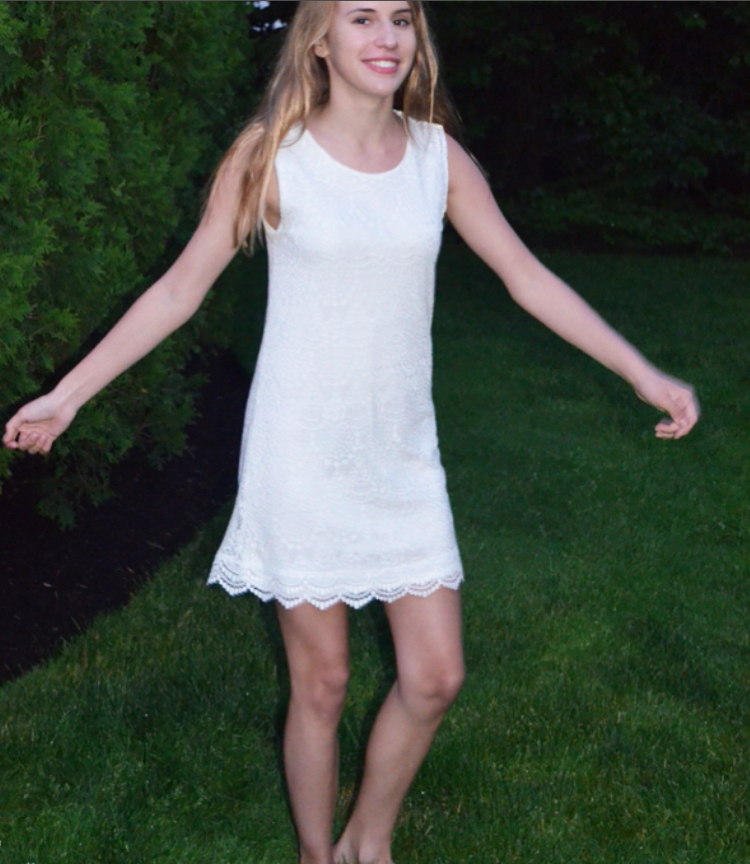 Her mother strongly believes Shaker schools have helped Caroline. "I think the Shaker Schools have really given her a solid foundation, both academically and artistically. I also think she's a very open-minded person, in general. I think that the Shaker schools enhanced and encouraged her open-mindedness," she said.
"I have access to people of so many different backgrounds and diversities and everything. I really like my experience at Shaker; it is a truly one-of-a-kind place to grow up in," Caroline said.
Early last summer, Caroline decided to start a clothing company through Instagram. She named it Sweet Line, as a pun, with her name, Caroline. She said she had been sewing for a while and had a lot of unfinished projects, so she fixed them up a bit and made an Instagram account to sell them.
Caroline first sews an item, has her friends model it and then uploads the pictures to the Instagram account. Caroline said she takes pre-orders from people and can make or alter anything a customer requests.
"
I really like my experience at Shaker; it is a truly one-of-a-kind place to grow up in"
— Caroline Walsh
She has made items ranging from dresses to T-shirt quilts. She typically makes tops, pants, dresses and skirts ranging from casual to fancy. Her favorite project so far has been a t-shirt quilt that she made as a gift for a Shaker graduate using shirts from the plays he was cast in.
Running a business while taking classes can be difficult. "It hasn't grown as much as I'd like, because I'm always busy with school and sports. I am planning on growing it more this summer when I have more free time," Caroline said.
Instagram has been a successful platform for Caroline so far. Prause said that Instagram companies are getting really big — In fact, many businesses are solely run through Instagram. "I like how she is really on the modern curve of that. You can sponsor it so everyone can see it, and it really gets the modern crowd and trends," she said.
Next summer, Caroline plans to give Sweet Line a web presence. "I'm hoping that if I establish a website and gain a larger following, I could make it bigger and more well-known," she said.
"I hope to take it beyond just my community and my friends and spread it to more people. It's great how, through the internet, you have the opportunity to reach a lot more people who are farther away," Caroline said.
Caroline said she has received help from her friends and family for Sweet Line and that they always have been supportive of her. She said that her friends have spread the word for her business and always send customers her way.
Her mother said that she and Caroline's father have only helped Caroline with small things here and there. "Sweet Line was mostly her. We just helped her with things we had experiences with, and that she did not yet — mostly business stuff and talking through ideas," she said.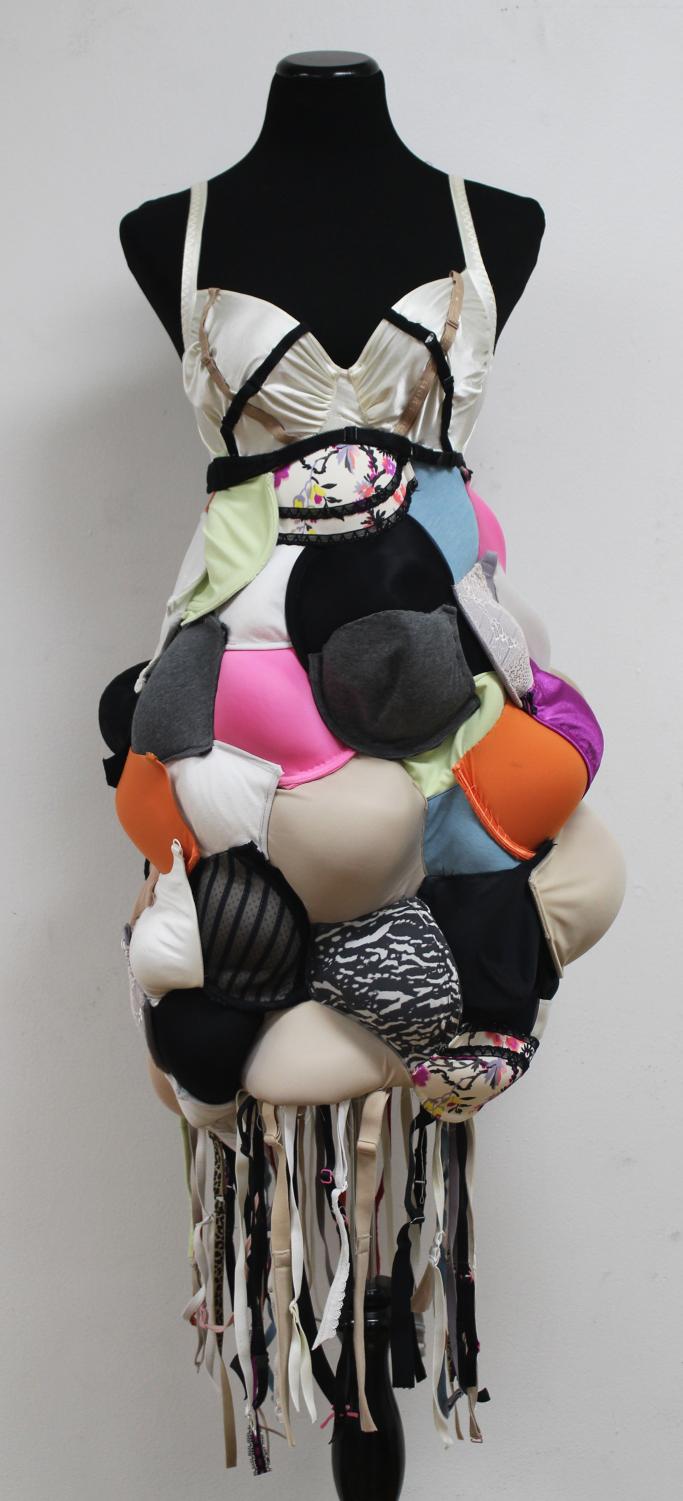 She started her fashion career in sixth grade, when she attended a Beaumont School sewing camp during the summer. She described immediately falling in love with sewing, and taking sewing lessons throughout the years. Today, she is more advanced. "She can take an idea and make it into a whole thing. Sometimes she doesn't even have a pattern or a drawing, and she just takes an idea and makes it into a cool product, which is really neat," her mother said.
Caroline also attended summer programs in New York City and Chicago, which really helped her learn more about the industry. "I also appreciate how, in the fashion world, people have their own styles — like, really unique. I met a lot of cool people at the programs," Walsh said.
Caroline plans to attend college to study fashion in business. In 10 years, she sees herself working in a big city for a major fashion company, with the ultimate goal of her own clothing line or business.
She is most proud of a dress she created at the beginning of this year that was made entirely out of bras. "The Bra Dress" is made using old bras from friends and family to create it. Walsh said she considers it her best piece because of its message about beauty standards and all of the attention and discussion it attracts.
Caroline said she wrote her extended essay for the International Baccalaureate program on social change in women's clothing during the 19th century. She researched the girdle, corset and bra and how restricting and different they were. "I am really interested on how they have developed over time and evolved. I wanted to make the bra dress to show how the times are changing and women's dress isn't as restricted anymore," she said.
Prause thinks women's fashion has evolved into something new. "Especially now, they are not afraid to wear whatever they want. It doesn't matter what men think. We are dressing for ourselves and not for anyone else," she said.
"The Bra Dress" is currently on display at the The Ohio Governor's Youth Art Exhibition, an exhibition open to all schools in Ohio. It is chartered by the State of Ohio Department of Education. It's objective is to give art students opportunities and to raise support for the art. This is a high honor; out of 11,500 entries from 15 different regions, only 300 are selected. 
Caroline received the Scholastic Gold Key regionally for her bra dress. The Gold Key is the highest honor a student can receive in the Scholastic Arts and Writing Awards. She was also nominated at a national level for the American Visions Award.
IB Portfolio is a double-period art class for seniors that prepares them for college. Caroline is enrolled and it is an independent class instead of a typical art class, which is project-based. Students create five works for their portfolio, which they can submit to colleges. Caroline takes it at an IB level, but it can also be taken at an honors level.
Karen DeMauro, Portfolio teacher and head of the art department, said that she works with students one-on-one during the class. "Students will explore independently into mediums and styles and then create a series of work that they are passionate about. This is their fourth year of art, so they are very passionate about the arts," DeMauro said.
Each student's work focuses on an underlying message that is important to them. Caroline's works comment on beauty standards and women's fashion. She comments on the perception that all models and styles have to look the same. Her works are a commentary on beauty standards and how people should be able to express themselves with their fashion statements.
"
I think the only thing we want to see is more"
— Veronica Prause
Caroline is doing her series of works on dresses, which she sews herself. "She's a student who just comes in, gets right to work and is always focused," DeMauro said.
"I think the arts can express people's views on life, or they can make a statement on issues. It's not always just about looking at the beauty of it, but it can also have a lot of meaning behind that. It is a great way for students to use an outlet to express themselves," DeMauro said.
Caroline ran cross country for three years and track for four years and said that both taught her to be dedicated and have a work ethic. "It really impacted the social aspect of my high school career because I made so many friends from that, and it also taught me to be hardworking and committed," Walsh said.
Prause said she thinks Caroline has a lot in store for her future. "I think the only thing we want to see is more," she said. "More of her clothes and designs out there."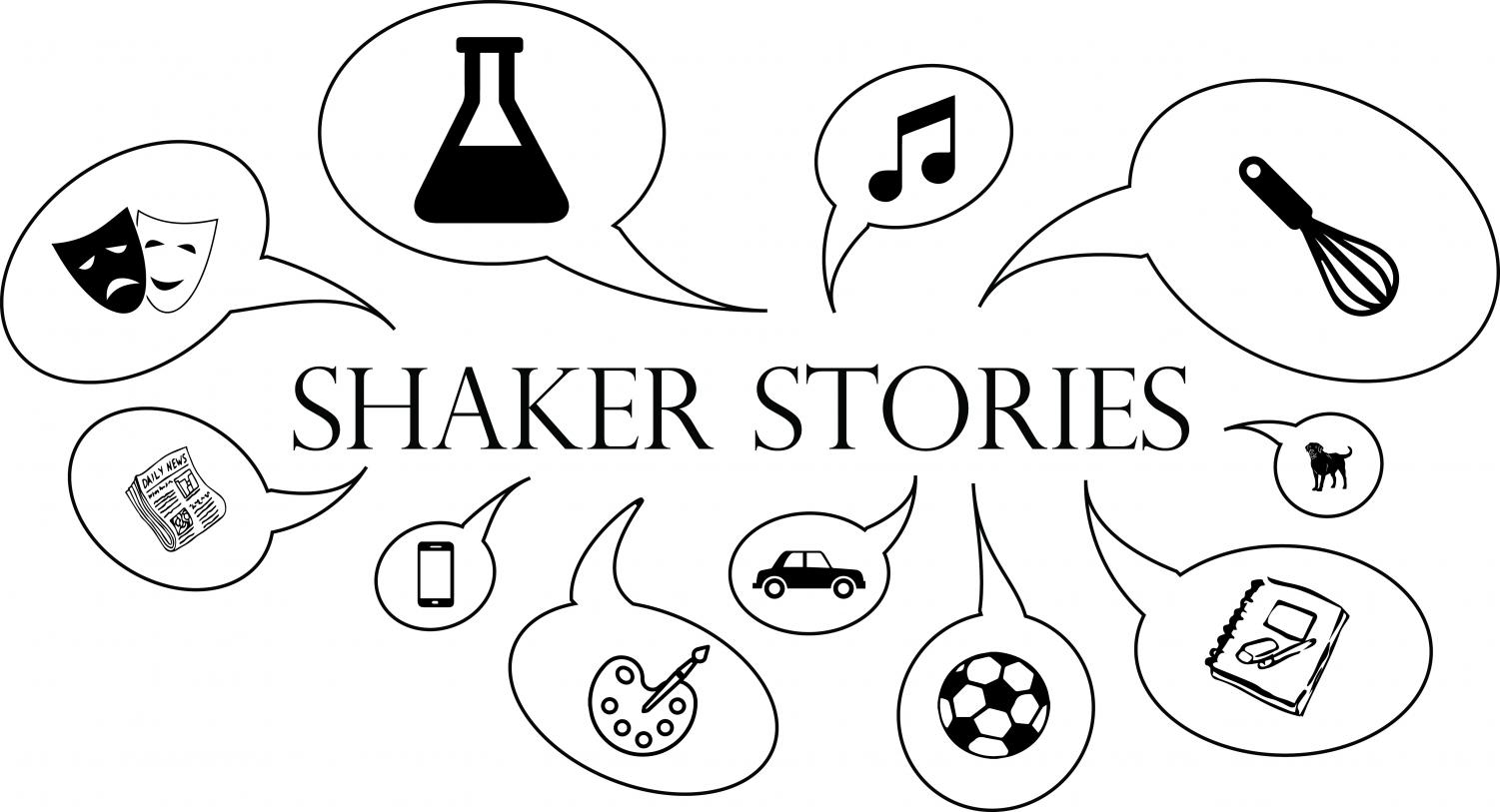 This profile of senior Caroline Walsh, written by freshman Journalism II reporter Lily Camp, marks the start of a series we call Shaker Stories. In a novel activity, forty-two Journalism II students — two juniors, one sophomore and 39 freshmen — devoted the third quarter to researching, reporting, drafting, editing and revising profiles of Shaker students, teachers, coaches, residents and alumni. Shakerite editors and Journalism II students suggested people they considered noteworthy. Journalism II students chose their subjects and invited them to participate. 
Subjects who accepted agreed to at least three, 20-minute interviews, suggested other sources to be interviewed, submitted photos — and endured dozens of follow-up questions. Journalism II students completed research as necessary to portray their subjects' subcultures, whether Irish dancing, competitive cube solving or editorial cartooning.
Over the next six weeks, The Shakerite will publish the products of this unprecedented effort. We invite you to read, enjoy and share these profiles widely. We thank everyone who cooperated with this enormous effort. We also encourage you to suggest more people whose Shaker stories we should know.
Comment using your Facebook, Yahoo, AOL or Hotmail account
comments
Leave a Comment