Insecurities Fuel Body Image Concerns
Critical comments and unrealistic expectations are not unusual among students
After a parent told the Board of Education that an employee criticized her daughter's weight, body image has become a focus of discussion at the high school.
Girls everywhere grapple with body image insecurities every day. According to a survey done in 2004 by Washington University, of girls ages 9-10, 40 percent have tried to lose weight. Girls are told from a very young age how to look based on media portrayals and peers.
Lisa Damour is a psychologist and author who focuses on adolescent girls. "We are in a culture where girls are told how to appear," Damour said. "I've encountered many who are made to feel uncomfortable with their bodies by society."
Nancy Schaumburg, a social worker at the high school, said people tend to be averse to the discussion of appearance. "I think people hide the fact that they are insecure about their body image," she said.
Schaumburg said that body image teasing and taunting stems from personal insecurities. "People in general, and maybe most people in adolescence, don't really know how to be vulnerable with someone," she said.
However she's not sure others are solely responsible for people's body image insecurities. "People already self deprecate," she said.
People who speak negatively about their bodies may do so because they think others will. By criticizing themselves, they can take away the sting of someone's comment. Or, by putting themselves down, they may encourage other people to say something nice. 
"
So, like, I've always felt the need to diet. I've just had to tell myself I was beautiful and my size is OK.
— Rielle Hubbard
The National Eating Disorders Association says more than half of teenage girls and almost one third of teenage boys use unhealthy methods such as fasting, skipping meals, smoking cigarettes, vomiting and taking laxatives to lose weight, according to a 2014 study.
"In general, we don't recommend dieting to anyone," Damour said.
Schaumburg said dieting "is a no no. We need to focus on health and wellness and not on weight; dieting isn't healthy."
Freshman Rielle Hubbard has experienced conflicting feelings over dieting. "So, I've always felt the need to diet," she said."I've just had to tell myself I was beautiful and my size is OK."
Sophomore Mikiyah Rogers said she's conscious of diet. "I've considered changing my eating habits," she said.
An incident at the high school with a Shaker cheerleading coach and a student involved the coach suggesting the student attempt dieting to fit into a uniform.
Laylonnie Dowdell, the junior who accused the cheerleading coach of misconduct, told Cleveland 19 News Oct. 12, "I know I'm pretty, I know I'm beautiful. But, when I look in the mirror I'm not as skinny as the next girl, or I can lose a few."
Cheerleaders declined to be interviewed for this story.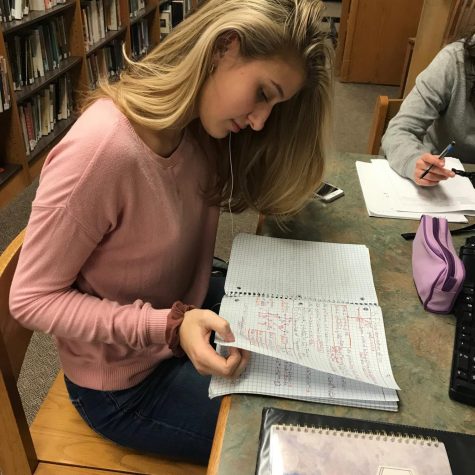 Both coaches resigned, and new coaches have been hired. They are head coach Denise Johnson and assistant coach Khadeja Sherrill. Their hiring was announced Dec. 14.
Hubbard said she received a lot of comments when she was on the cheerleading team. "People would comment on my body and laugh at me," she said. She said her coach was accepting of her size, which she found really helpful.
However Hubbard did not try out for the cheerleading team after her experience in the seventh grade. "I didn't try out in eighth grade because I was afraid to try out because of seventh-grade experience. I also haven't tried out for high school because it would've been worse," she said.
Senior Hannah Braun said the incident could have affected other girls' insecurities. She said it's a "ripple effect. If someone says something negative, even if it's not directed to you, when you hear it, you internalize it, and I think that it's really detrimental." Braun added, "I think that there's a different standard put on women from a really young age."
Senior Katja Rode agreed. "I mean, just from the beginning, girls are supposed to be all these things and supposed to conform to all these stereotypes."
However, junior Trent Jones said he also experiences body image insecurities. "Every day my head is too big and my legs are too skinny," he said.
Rode said body image insecurities will remain prevalent. "It's so ingrained in today's society. I just don't see it ending anytime soon."
Comment using your Facebook, Yahoo, AOL or Hotmail account
comments
Leave a Comment