A Life-saving Gesture, 12 Years in the Making
After declaring herself a bone-marrow donor as a high school senior, Sara Joyce was matched with a recipient last August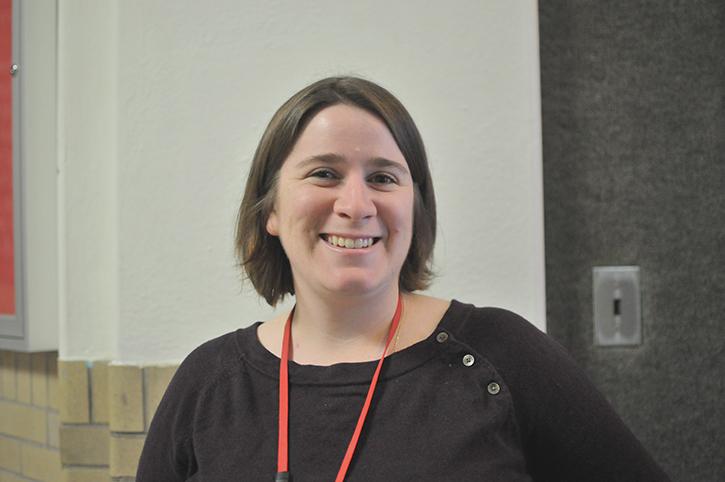 Assistant Principal Sara Joyce made a life-saving donation to a complete stranger last month, completing a mission she began 12 years ago.
Joyce donated bone marrow to a 55-year-old woman she has never met through a process called peripheral blood stem cell collection. Joyce is part of a worldwide donor registry called Be The Match.
Be The Match is a worldwide organization dedicated to saving lives through bone marrow and cord blood donation. The Be The Match registry started after the first successful bone marrow transplant from an unrelated donor in 1979. Since then, the organization has grown from small beginnings in an American Red Cross office in St. Paul, Minnesota, to an international registry with more than 135 transplant centers in the United States alone and 20.5 million potential donors worldwide.
Joyce became involved with Be The Match in 2001, when she was a senior in high school. "There was someone in my high school community — I think it was an alum — who needed a bone marrow transplant," Joyce said.
At that time, people were asked if they wanted to get tested to see if they were a match so that person could get bone marrow. Although no match was found for the alumnus during that drive, Joyce and her friends did get tested.
"They drew a couple viles of blood and asked 'If you don't match this person, would you like to be added to the National Marrow Donor Program?' which is now Be The Match.
"I've been on that list since 2001… it's one of those things you kind of forget about, but it's in the back of your mind. Like when you go to get your driver's license out, you're like, 'Oh, here's my National Marrow Donor Program Card. I wonder if I'll ever get called,'" Joyce said.
Only 0.5 percent of people on the registry even receive an initial call. Last summer, Joyce was one of them.
"I did get a call in June saying that I was a preliminary match for a 55-year-old female somewhere in the United States, and would I be willing to go get further blood tests checked out so they can make a decision," Joyce said. At that point, a few other people were also asked, and all were tested so the patient's doctor could choose the best match.
Joyce didn't hear back from Be The Match until mid August, when she received a call saying she was the preferred match. "Out of the 0.5 percent that receive an initial call, there is only an eight percent chance of being a true match and going on to donate," said Joyce. "At that time they told me the way they would collect the bone marrow."
Joyce explained there are two ways to donate bone marrow. "The way people think about it, because this is the way it's been done the majority of the time, you have to have a surgical procedure where they take a big needle, which they insert into your pelvic bone, which can be painful. You can have lower back pain for a while. There's lots of marrow in your pelvic bone though, so that's why they do it that way," Joyce said.
"There's another way, which is the way I did it, called peripheral blood stem cell collection. In that process, they gave me an injection of a drug that sometimes they give to cancer patients. What it does is stimulate blood stem cells to form in your bones, and since they're being jam packed, they come into your bloodstream," she said.
The drug, called filgrastim, is injected in donors four days leading up to the donation to stimulate blood stem cell formation. The filgrastim injections caused Joyce to feel tired and experience aching bones and headaches.
"I had to travel to Pittsburgh for the procedure," said Joyce. "They had to put a central line in, and that central line was hooked up to a big machine called an apheresis machine. The blood would come out of my body through a tube and went into a machine," said Joyce. "The machine is a big centrifuge where the blood would go in and get spun and separated into layers like plasma, white blood cells and red blood cells. The stuff the patient was going to receive went into a collection bag, and what was left from the centrifuge went back into my body.
The process was lengthy.
"I think I was hooked up for about six hours for them to collect enough of what they wanted," said Joyce. "Whoever the recipient was would receive it as a transfusion within 36 hours."
Joyce received a patient update 45 days later, which is Be The Match policy. The update brought good news.
"The person was doing very well, and was discharged 14 days after the transfusion, and in six months I'll get another update," said Joyce. "After a year, if both the recipient and the donor want to interact, they can learn the other person's identity."
Joyce said she would like to meet her recipient one day.
Betsy Murray, an administrative assistant in Room 110, was surprised to find out she and Joyce had something in common.
"I didn't know she was on the registry until she actually did it," said Murray, who is also on the Be The Match registry. Murray said she has never been called to donate but thinks Joyce's donation is really great.
"This type of donation is really important to me and my family," said Joyce, whose father has a kidney disease and received a kidney transplant when Joyce was freshman in high school. The transplant was successful for nine years, but stopped functioning about five years ago. He was placed on the transplant list again and is now waiting for another transplant.
Joyce said her aunt and uncle were also on the Be The Match registry, but were removed from the list once they reached the maximum age of 60.
Joyce encourages everyone who is eligible to find out more about Be The Match and become part of the registry.
Someone is diagnosed with blood cancer every four minutes, and a person dies of blood cancer every 10 minutes. Thanks to the Be The Match registry, patients have a 66-93 percent chance of finding a donor match.
"If you can increase the number of people on the list, that means the people looking have a better chance of finding a match," said Joyce.
Comment using your Facebook, Yahoo, AOL or Hotmail account
comments
Leave a Comment