A Far Cry From Boiled Pumpkin
Mashed potatoes, pie rate high among students' Thanksgiving favorites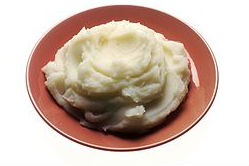 In 1621 the first Thanksgiving dinner took place.
The pilgrims ate fowl, deer, berries, fish, clams, plums and boiled pumpkin. Not many of those foods appear on Shaker's Thanksgiving tables these days.
Freshman Billy Seguin's favorite Thanksgiving food is mashed potatoes. He said his mom makes them but that he thinks of them as a way to eat gravy.  "The gravy is my favorite part about the mashed potatoes," he said. "And my Nana makes the gravy."
Katie Muller-Girard, a freshman, also loves the mashed potato. "It is like heaven in my mouth," she said.
Security guard Cheryel Jennings is fond of turkey breast at Thanksgiving. "I use pepper and garlic to give it a kick," she said.
Mark Seymore, another security guard, says he favors his wife's honey-baked ham. "I sit in front of the fire watching my wife cook the food," he said, laughing.
However, freshman Caroline Kruithoff goes for dessert when thinking about beloved Thanksgiving foods.  She likes to make coconut cream pie with her mom. "The pie is so sweet and good," she said.
Homemade chocolate pie is freshman Caroline Webster's favorite. "I also make a homemade whipped cream to go along with the pie," she said.
What, no one likes boiled pumpkin anymore?
Comment using your Facebook, Yahoo, AOL or Hotmail account
comments
Leave a Comment