40 Years + an Incalculable Impact
Lori White retires after teaching math to generations of Shaker students
Math teacher Lori White is retiring after her 40th year of teaching at Shaker.
"As much as Shaker has been like a family to me, I'm ready to move on to something different," White said.
Math teacher Abby Goldstein worked with White for 10 years but has known her much longer. "She was a teacher here when I was a student," Goldstein said. "A lot of my friends had her for AP Calc."
White taught history teacher Sarah Davis when she was a student. "She was very energetic and always willing to answer questions," Davis said.
English teacher Carole Kovach has known White since Kovach came to Shaker as a student teacher in 1991. "I got to know a lot of people, and she was one of the most amazing people," Kovach said, "She's somebody who makes a point of knowing other people in the building and really knowing her students."
Goldstein's and White's classrooms are right next to each other, which Goldstein really appreciates. "She and I have an amazing relationship where if I am feeling overwhelmed, I can hop over into her room, and no matter what's going on in her room, we can look at each other, and we can be like 'OK,' and then I'm OK," Goldstein said. "And she does the same to me."
"Some of my favorite moments are when I'm in the middle of doing something, and Ms. White just pops her head in and just goes 'sigh,' and I'm like 'yep,'" Goldstein said. "Her students all know me, and my students all know her, and it's kinda nice to have that person at work."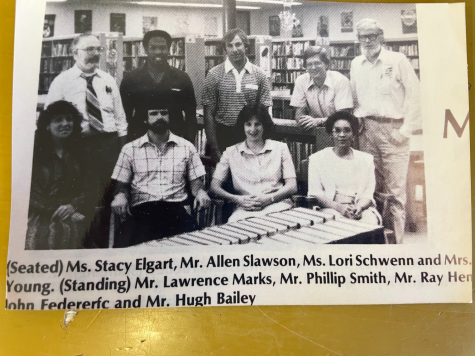 Math teacher Eric Babcock said White has taught him strategies for teaching. "The majority of the way I teach calculus and trig and all of that comes from talking with her," he said.
Goldstein said that White will be greatly missed. "She's had such an impact on so many people: children, adults," Goldstein said. "Mr. Babcock and I joke about keeping her on retainer so that when we need her, we can just reach out to her and ask her any questions."
Babcock said that White's absence will leave a hole in the math department. "Not having her to go ask questions of, 'Is it OK to ask this question on this test? Do you think it's too much for the kids to be able to handle?'" Babcock said.
"I just went and asked on this next test that we're doing, 'Is this problem gonna be too hard?' " Babcock said. "And she looked at it and goes, 'That's a really good problem. But you should probably give them a hint.' "
"Her opinion is generally always correct," Babcock said.
Davis said when she was the director of the Bridges program, White helped with math instruction. The Bridges program is a summer program to support minority students to increase diversity in higher-level classes. "Mrs. White was really doing this work at cost; she could make so much more money as an independent, private tutor," Davis said. "She's a great example of somebody who is never afraid of a challenge no matter what stage of her career she might be in."
Lori White's husband, Robert White, was a Latin teacher at the high school until his retirement.
"For 40 years, she's really, really, really had her students as her top priority," he said.
"When she started a Calc 3 class a couple years ago, she spent pretty much the whole summer getting ready," said White's husband. "She knew the math already, of course. She was prepping to make sure she was able to explain the concepts to her students."
Senior Sarah Marcus has been in White's math classes for three years. "It's definitely the hardest class I've ever taken and my worst class, but she definitely does a great job of teaching the content in a way that makes people understand it, and just supporting her students."
Marcus shared one way that White supported her. "Last year I had an upper cafeteria study hall, and she had a lower cafeteria study hall, which is pretty much her time to do whatever she wants. She said that I could come down, like, every day and ask her questions I had on the homework," Marcus said. "She wants me to succeed."
Senior Hazel Smith is currently taking HL Math II, even though she doesn't like math. "I've taken harder, more advanced classes because Ms. White is such a good teacher."
"She's been very encouraging through the whole process, even if it doesn't come naturally to you," Smith said. "I've spent a lot of time in study circles and conferences with her, and she always wants more questions."
Senior Brian Fox is taking BC Calculus with White. "Sometimes even after the lectures I won't really understand a certain thing, but she's always available at conferences and study circles," he said. "She really will take the time to hash it out with you and make sure that you fully understand."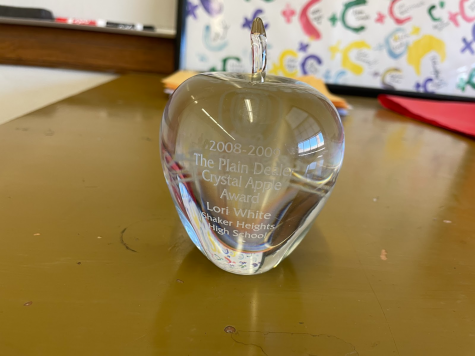 White said her favorite part of teaching is helping students understand math concepts. "My absolute all-time favorite is that 'Aha!' moment, when you hear somebody finally say, 'Ooh! That's what you're talking about!' " she said.
White said that in her time teaching, one of the biggest changes she's seen is in students' workloads. "Before students would take one, maybe two AP classes, and now, students are taking AP classes across the board," she said. "Between that, and then the pressure on the students to be really involved in a lot of activities that have meaning to them, the poor kids are getting spread thin."
As she leaves, White has some advice for students. "Take advantage of all the opportunities that Shaker affords you," she said. "There are so many tutoring opportunities and just opportunities for you to get help or to share what you can do."
White also has advice for teachers. "Try to get to know your students outside of the classroom. Go see their play, go see their concert, go see their hockey game," she said.
"When you're in their class, they're just doing their work," White said. "You see them on the soccer field, and suddenly they're in charge."
Kovach said she often attended Shaker sports games with White. "She is almost as big of a Raider fan as I am," she said.
White explained some of her plans for retirement. "For the first year, probably not much, other than tutoring," she said. "After that, volunteer work." White said she plans on volunteering for the Cleveland Food Bank and Meals on Wheels. "I think people deserve to be able to eat," she said.
"She's, like, really genuine. She really really cares," said Smith. "She's been doing this for 39 years, and you'd think by then, she wouldn't care as much, but it's 39 years later and it seems like she cares more."
Comment using your Facebook, Yahoo, AOL or Hotmail account
comments
Leave a Comment