This Yom Kippur, It's Football or Faith for Some
Scheduling Error Forces Athletes, Musicians to Choose Between Observing Holiday and Playing Their Part Sept. 14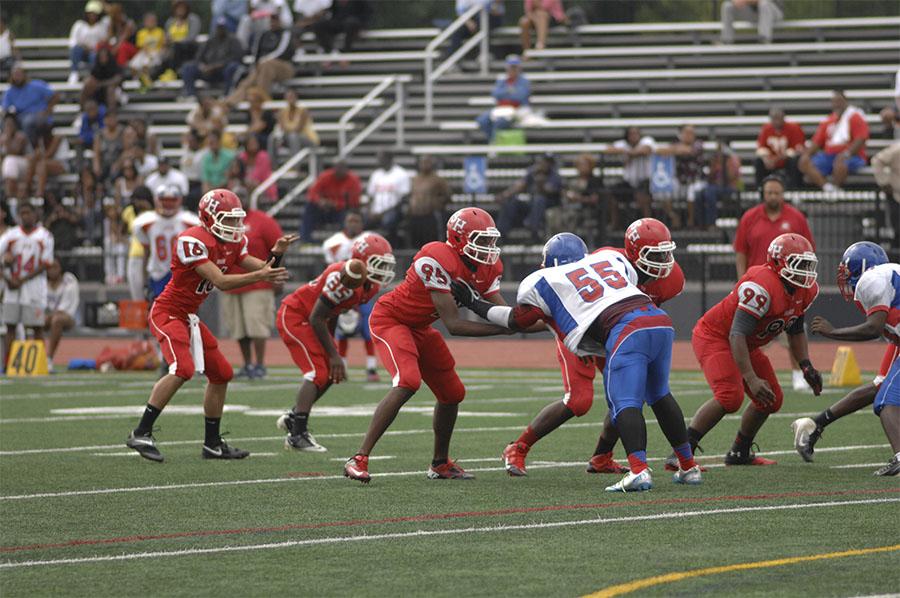 In a departure from district practice, the football team will play a game on Yom Kippur, Sept. 14.
The game is set for 1 p.m. at Cleveland Central Catholic High School.
Rabbi Sharon Marcus, associate rabbi at Park Synagogue and a Shaker parent, called Yom Kippur "the most solemn day of the entire Jewish year."
"Jews worldwide recognize the most significant power of this day," Marcus said. She added that Hall of Fame pitcher Sandy Koufax sat out the opening game of the 1965 World Series because it fell on Yom Kippur – even though he wasn't a religious Jew.
"It's a day that we offer repentance to God for any deed that we've done for this entire year," Marcus said. "It's one of the only two days of the Jewish calendar that we have a full 24-hour fast. It would certainly not be a day for recreation."
In a Sept. 2 email message sent to Shaker staff regarding Rosh Hashanah and Yom Kippur, Principal Michael Griffith stated, "The Shaker Public Schools are responsive to these religious celebrations." The email message, which is sent annually, reminds teachers of the Jewish holidays, explains their significance and asks that teachers not assign homework to be completed over the holidays or schedule tests to be taken immediately upon return.
English teacher Jody Podl is Jewish, and has a son, sophomore Josh Podl, who plays the saxophone in the marching band. She said she was surprised and disappointed at the break in Shaker policy. "This is really inconsistent, especially as we are a district without school on those holidays and honoring those holidays," she said.
Mrs. Podl was dismayed by the discrepancy between the stated policy and the decision to schedule the game. "If you've already made the conscious decision to respect those holidays, I'm not quite sure how it makes sense to turn this around," she said.
"I think it also puts families and kids in a really bad position," Podl said. Her other son, senior Matthew Podl, agrees. "I do think it is somewhat ridiculous and insensitive to have a game," he said. "Like, there wouldn't be a game on Christmas."
Trombone player Ben Robertson, a junior, estimated that about 70 students will have to choose between playing in the marching band or in the football game and attending services to observe the holiday.
"It's an individual decision," said Podl, "but all I can say is that my son and family will not be at the game."
Junior Adin Leibovich, who is Jewish, plays quarterback for the Raiders and will play in the game on Saturday. "My family isn't very observant," he wrote in a Facebook interview. "However, I also know it's a touchy subject with other Jewish people as it's considered one of the holiest days in the year for Jewish people."
Robertson was not eager to place blame for the mistake. "I'm missing the game to go to services, but I think that we shouldn't be too hard on the school about the scheduling conflict," Robertson wrote in a Facebook interview.
"This is the only game when this is happening (as far as I know), and it's not too big of a deal if some members of the football team or band or some fans have to miss one game," Robertson wrote.
As a Shaker parent, Marcus echoed Podl. "I'm really appalled because Shaker is so wonderful in diversity and so therefore, I'm just shocked that [the game] would be scheduled that day," she said.
Non-Jewish students feel the need to respect the holiday as well. "As a football player, of course, all my games are important," senior Gyasi Calhoun wrote in a Facebook interview. "But a religious holiday is more important. But I don't make up the rules or the game schedules. I just play the game."
"[The holiday] doesn't really affect me to play in the game, but I'm aware that for other kids it might be a bigger deal," Leibovich wrote. "Football is my favorite thing, period, so I'll never miss a game unless there is something out of my control stopping me from playing."
On Sept. 6, Griffith published a letter to Shaker families, faculty and staff explaining why the football game coincides with Yom Kippur and apologizing for the mistake.
In the letter, Griffith explained that the conflict occurred because the Central Catholic game was scheduled two years ago as part of a two-year agreement. "When the multi- year contract was agreed to, the calendar should have been reviewed carefully beyond just a single year, so that we might have been able to avoid this conflict. In this case, the review didn't happen."
According to Marcus, the board of rabbis and the Jewish Federation take care to notify school superintendents of the Jewish calendar up to two years in advance and that "we have the calendar 10 years out of when the holidays will fall."
Griffith explained that because Central Catholic, like Shaker, does not have a lighted field, and because Yom Kippur begins on Friday afternoon, the game could only be rescheduled for the afternoon of Thursday, Sept. 12. He wrote that a Thursday afternoon contest would have created academic burdens for students who missed class to participate and that Central Catholic's facilities would not accommodate Shaker students while school was still in session.
Griffith emphasized that there was no disrespect intended toward the holiday or faith. Athletic Director Donald Readance declined comment, saying only that he could add nothing more to Griffith's letter.
In closing the letter, Griffith struck a note of repentance consistent with the spirit of Yom Kippur.
He wrote, "All we can do now is apologize, ask for your forgiveness, and reaffirm our commitment to avoiding such conflicts whenever it is within our power to do so."
Abby White contributed reporting for this story.
Comment using your Facebook, Yahoo, AOL or Hotmail account
comments
Leave a Comment