Students Gain Free Admission to Sporting Events
Athletic Department's new policy aims to increase attendance and equity
Students are now able to receive free tickets to Shaker athletics events through a new Athletic Department policy.
The policy was put in place to make sporting event attendance more equitable, according to Athletic Director Michael Babinec. The student ticket was previously sold for $4, and purchased only by credit or debit card. Babinec said he thinks many students were not able to attend sporting events in previous years due to the cost.
"We found that many kids do and do not have cards, we don't want that to be the main reason they can't support their peers," he said. With a $4 ticket for each game, it would cost $20 for a student to attend every home football game. Four seasonal passes are also sold through the Shaker Sports Boosters ranging from $100 to $1000 which include two adults and three other family members, along with various add ons which allow students or community members to attend any fall sports event, according to Babinec.
Junior Ian Hunter bought the seasonal pass to attend sporting events in an attempt to save money. "I have probably been to 20 or 30 games throughout my high school career, I also bought a pass last year. This year, I don't have to pay," Hunter said.
Fall sports attendance statistics show that the typical game attendance is almost 80 percent students, according to Babinec. Sophomore JV quarterback Sam Luther plays three sports. "I like the vibe of the stadium when the student section is packed," he said.
On the first day of school, every student was issued an ID that bears their name, a barcode and a 14-digit identification number. To get a free ticket, students must input a shortened, eight-digit identification number into the Athletics Tickets website.
Babinec said he wants all students to take advantage of these free tickets. "Five hundred student tickets are sold for varsity football, but there is no limit for every other sport," Babinec said. "So if students are wondering if they can get in without paying, they will be able to."
Hunter thinks a lively student section creates a fun energy during the games, which is beneficial for both students and other spectators. He said, "It provides energy and I'm sure the players love it too."
Comment using your Facebook, Yahoo, AOL or Hotmail account
comments
Leave a Comment
About the 'Riter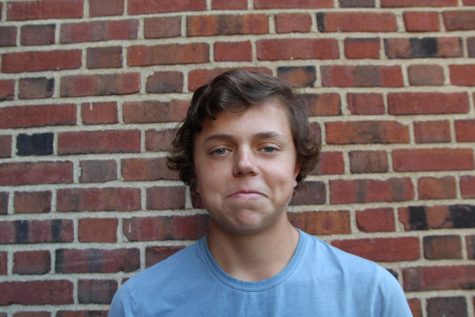 Eamonn Furey, Raider Zone Reporter
Eamonn Furey('25) is in his third year with The Shakerite, and is a Raider Zone reporter. Last year he published stories about sporting events, issues and ticket sales. He is a student-athlete and plays hockey and baseball. Outside of school, he enjoys hanging out with friends and watching football with his dad.