Student Fans Turn Their Spirit Into Work
Athletic Department interns contribute to successfully run games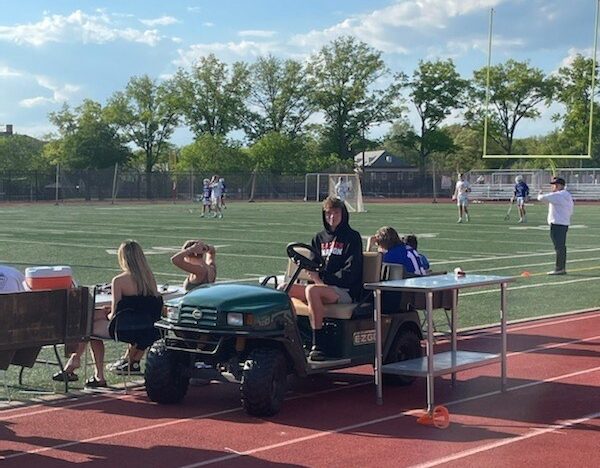 Four years ago, three kids came up to Michael Babinec and Marc Enie and asked if they needed any help setting up for an upcoming field hockey game. 
"We were done for the day and told them to come back tomorrow, and with that unexpected interaction, they just kept coming back," Athletic Director Michael Babinec said. Current seniors Ethan Bryant, Jaedon Sargeant and Andrew Loney began the Athletic Intern position which has now expanded to include more students. 
With 31 teams and only two athletic directors, Babinec and Enie receive help from their student interns who help run the games, organize referee contracts, set up scoreboards, clean up after and anything else they are asked to do.
Junior Henry Sheperd is one of the most influential student interns in the program currently, according to Babinec. "There are times when Henry will literally run an event like an adult, while Mr. Enie and I are in the office working on something else, … and it's literally like having another adult on our staff," Babinec said. 
Before these students, the athletic directors had to set up and run all the games themselves. With the help, Babinec and Enie have more time to organize other events and work through other activities. "We've got so many little tasks we have to do for each game, and having help- it just frees up the hands of Mr. Enie and myself to do bigger things," Babinec said. "These kids have become so important to our department, we can't run a game without the help of Andrew, Henry, any of those kids" 
"Over the course of time their roles have evolved into what they do now, they're doing the announcements before games, setting the gyms up, meeting officials and getting the officials contracts, filling up waters for the officials, doing the DJ-ing at the games," Babinec said.
Loney, Bryant and Sargeant created the new student position in the Athletic Department and "now, four years later, those kids are recruiting their friends to help," Babinec said. The new stream of interns include people like juniors,  Sheperd, Andrew Farkas, Jackson Fowler and more. "Henry just, like, appeared out of nowhere with Andrew [Loney]," Babinec said. 
"I wanted to go to the games for free, and thought it would be a good way to learn about how games are run and what really goes into the planning of the games," Sheperd said.
Their typical job changes consistently with the different requirements for each sport, depending on each game. "After school I go to the athletic event and prepare for the event, watch the game, and clean up after," Sheperd said. 
The recruitment of the job started as a way to get volunteer hours for these students. "We used to plug it as, 'hey this is community service,' but then it became so many hours… so it's nice that they can get paid," Babinec said. The Athletic Department finally convinced the district to pay the students interns for their work, because they are so crucial to the athletic department now, according to Babinec.
"This is the first year the district has agreed to let us pay them… in the past, it was us paying them with gift cards, we would buy them food, give them swag, sweatshirts… Enie and I both said if we want to keep these kids coming back we gotta pay them," Babinec said.
As the number of student interns has increased, the Athletic Department has expressed great appreciation for all the work they do not only for their department, but for the Shaker community as a whole. Babinec and Enie have both expressed the great need to continue the Athletic Intern Program. Babinec said, "It has to continue, because they have become so important to us, and we need the kids." 
Comment using your Facebook, Yahoo, AOL or Hotmail account
comments
Leave a Comment