Shaker Wrestling Returns to States
Two Shaker wrestlers advanced to the state tournament, for the first time in 3 years.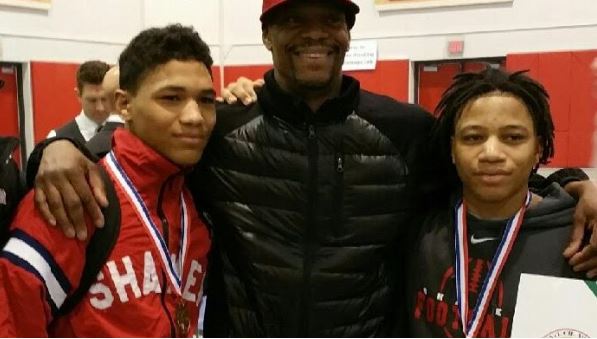 Shaker sent 2 wrestlers to the state wrestling tournament.
Freshman Farouq Muhammed placed 6th at 145 pounds and junior Tyson Long placed 7th at 120 pounds at the OHSAA state wrestling championships.
"It's really cool to have guys that are some of the best in the state in the team because they show the younger guys how to work hard and how to be good teammates," said teammate Sam Meinhart. "They are also extremely humble despite all their success."
At the OHSAA Division I district tournament, Long and Muhammed competed along with 4 teammates. Long won the 3rd place final match and Muhammed advanced to the finals and finished as the runner up.  Their performances earned Long and Muhammed a trip to the state tournament a week later.
"I  finally made it happen after years of falling short," said Long. "I wasn't even expected to make it there. I started the season off unranked."
"I was kind of excited at first but then it was right back into the mindset of there is still more to be done because if I wanted to place at states I would have to work 10 times harder to place at states then I did for districts," Muhammed said.
The OHSAA State Wrestling Championships took place at the Schottenstein Center on the campus of Ohio State University."Tyson goes after it a little bit more and Farouq is more
"Tyson goes after it a little bit more and Farouq is more methodical and has a different approach. Both work hard but in different ways," said Knight.  "They don't miss a lot of practice which is important and they know what task is at hand."
Long lost his opening match but won both his consolation round matches. With an overtime win in the second round of consolation matches Long advanced to the consolation quarterfinals, where he lost. Long went on to win the match for 7th place and finish the tournament with a 42-9 overall record.
Muhammed won both his opening match and quarterfinals championship round. Muhammed faced defending state champion  Dominick Demas during the semifinals and lost. Muhammed ended the tournament in 6th and finished with a final match record of 40-6.
"They had faith in what I was preaching and in the program and worked hard. Hard work and discipline take you a long way," coach Will Knight said.
Muhammed and Long are the first to qualify for the state tournament since 2013, when Kevin Agee ('13) placed 4th at the district tournament to qualify.
"The last state qualifier we had was a senior and it's almost like then you have to start over with the new group. Now [Tyson and Long] are coming back with a blueprint for themselves and the rest of the team," said Knight. "They now have an example of what it takes to get there."
Comment using your Facebook, Yahoo, AOL or Hotmail account
comments
Leave a Comment