Shaker Fights Off Comeback in 35-19 Season Opener Victory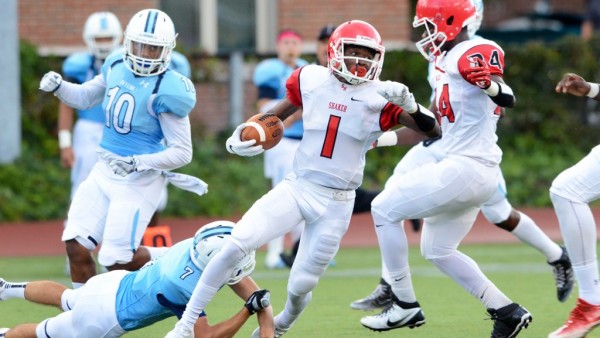 Shaker football let mental lapses get the best of them last year.  
Receiver Clarence Jones said the team's poor optimism last year resulted in their 3-7 record.
"When we were doing bad, everything just going downhill, we just gave up. We need to pick our head up and keep moving forward," he said.
But their season-opening defeat of Ann Arbor Skyline Aug. 26 suggests the Raiders are determined to maintain their focus this year.
The Raiders beat the Ann Arbor Skyline Eagles 35-19 on Aug. 26 at 7 p.m. at Case Western Reserve University.
However, early in the fourth quarter, the Eagles scored a touchdown to cut the game to a one-point lead. Their defense came up with an interception on Shaker's next drive. But, Raider football held off Ann Arbor Skyline and won 35-19 with the help of a safety, a touchdown kickoff return, and a fumble recovery for a touchdown.
On the first play, senior running back Terrance Colvin started the season with a kickoff return touchdown .
Following a pinpoint pass by junior quarterback Jamir Dismukes to junior tight end Billy Dunn for a 70-yard touchdown and a four-yard touchdown pass by AA Skyline, the scoreboard stood 14-7 at the end of the first quarter.
In the second quarter junior punt returner Micah Hills, and Skyline capitalized with a 10-yard touchdown pass. However, the Shaker offense scored a 13-yard touchdown run with 10 seconds left. The score was 20-13 at halftime.
Shaker and Ann Arbor traded punts in the third quarter until Ann Arbor rushed for a 20-yard touchdown early in the fourth quarter. They missed the extra point though, and trailed 20-19.
In the fourth quarter, Ann Arbor's quarterback was sacked for a safety and Shaker took a 22-19 lead. On the ensuing kickoff Colvin returned his second touchdown of the day and Shaker would go on to add another touchdown on a sack and fumble recovery in the end zone. The final score stood 35-19.
The Raiders offense looked very good. Dismukes and Dunn seemed to have great chemistry throughout the game, and the offense mixed in a solid running game with Dismukes, Colvin, and senior running back Jamir Washington.
The defense performed well, too. They did a great job of limiting the big play, both in the running game and the pass.
Last year, Shaker began the season with 3 wins against University School, John F. Kennedy High School and East Tech High School, both JFK and East Tech failing to score any points. Throughout the remainder of the season Shaker lost to teams such as Mentor and Strongsville and ultimately failed to qualify for the playoffs.
This year, the coaching staff has stressed the importance of mental toughness to improve on their performance.
"Every Monday we have a character building series. We have a speaker come in and talk to the team," Coach Jarvis Gibson said.
Gibson shares the same emphasis on performance under adversity as Jones. The strategy for success this year is for the team to be more resilient.
"When you are in a low point you need to be able to pull yourself up from your boot straps," he said.
The 2016 season is met with optimism by Dismukes.
"Our skilled positions are locked down and we have a hungry defense," Dismukes said.
Senior cornerback Charles Calhoun said he's looking forward to the upcoming season as well.
He said, "We have had hard practices and have been working hard every day. I look forward to showing our talent on the field."
Comment using your Facebook, Yahoo, AOL or Hotmail account
comments
Leave a Comment