Shaker Field Hockey Leaves Rough Riders in the Dust
The Shaker Field Hockey team crushes the Kent Roosevelt Rough Riders in an astonishing victory.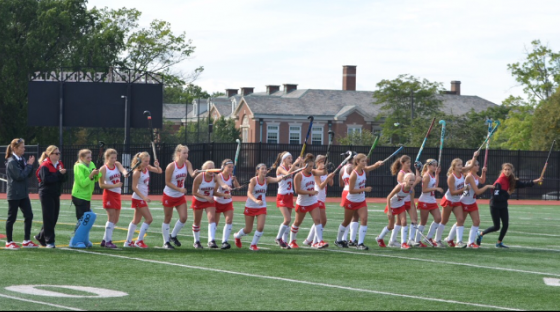 The Kent Roosevelt Rough Riders weren't a step behind Shaker field hockey. They seemed to be a mile behind the athletic Raiders.
The Raiders defeated Kent Roosevelt High School 8-0 on Sept. 8 in a dominant display of speed, passing and defensive pressure.
"I thought it was a fantastic game. Our girls did a fantastic job of passing the ball, playing team field hockey. Our defense did a great job of stepping up," head coach Jennifer Clarke said.
Junior forward Fiona Boyle opened the scoring with 21:39 left in the first half off of a penalty corner. The assist came from senior midfielder and team captain Lori Mack.
Sophomore forward Lora Clarke followed with a goal four minutes later. Clarke stole the ball from a Kent midfielder, and then weaved through multiple defenders to set up a one-on-one against the Rough Riders' goalie.
Goals that followed came from players all over the field. Mack and senior forward Felecia Hamilton scored two each, while freshman forward Lily Camp and sophomore midfielder Reese Pulver added to the count.
Shaker could have tallied a few more goals in the game, but some of their opportunities were mishandled with shots off target.  
Overall, however, Shaker dominated the game with their fast tempo. Pressure from midfielders caused frequent Kent turnovers. When the Raiders possessed the ball, their crisp, precise passing allowed them to create many more scoring opportunities than Kent. Kent's first shot on goal wasn't until two minutes were left in the first half.
Shaker's team chemistry played a vital role in the victory. "Team chemistry is amazing," said freshman midfielder Maggie Carter. "I feel really close to everyone."
The team chemistry showed in their playing style, as Shaker played an unselfish game, distributing the ball well throughout.
Coach Clarke concluded that the key to maintaining impressive displays like the one against Kent is to keep a high intensity during practice and games.
Comment using your Facebook, Yahoo, AOL or Hotmail account
comments
Leave a Comment