Raider Review Sept. 16 – Sept. 21
Women's Soccer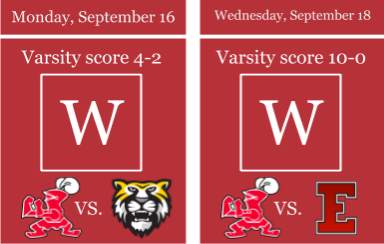 The women's soccer team finished the week without a loss, winning 4-2 on Monday over Cleveland Heights and blowing out Elyria 10-0 on Wednesday. Senior Ryan Skall and junior Megan Roth each scored against Cleveland Heights. In the Elyria game senior Ryan Skall and junior Caroline Brancato each scored four goals with sophomores Samara Lo and Kate Meinhard each adding an additional goal. Their next game is at Avon on Monday.
Women's Tennis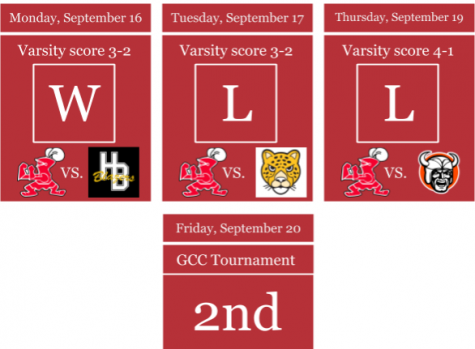 The women's tennis team lost two out of three matches this week, with their lone win coming on Monday versus Hathaway Brown. Shaker also finished second out of seven teams in the Girls Tennis GCC Championships. Shaker scored 32 points while the top team, Solon, scored 40. The women's tennis team has four matches this week, the first on Tuesday at Notre Dame-Cathedral Latin.
Women's Golf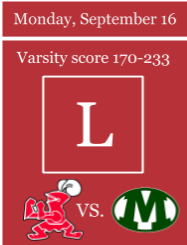 The women's golf team lost to Medina on 170-233 on Monday and finished third out of three teams on Wednesday. Shaker finished with a score of 242 on Wednesday, while Brunswick finished with 222 and Strongsville had 195. Shaker's lowest scorer was freshman Jes Cunion. Senior Sarah Straffon shot an eagle, as well. Their next match is at the GCC Postseason Tournament on Monday.
Field Hockey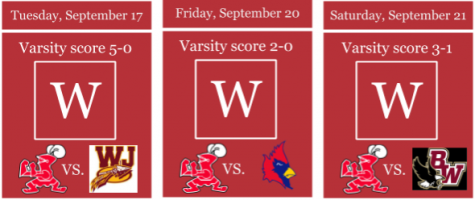 The field hockey team finished the week with a perfect 3-0 record. Senior Margaret Mahoney scored twice in a 5-0 win against Walsh on Tuesday. Senior Reese Pulver and senior Lora Clarke scored both of Shaker's goals in a shutout win over Thomas Worthington, and Clarke scored again in the Raiders' third win of the week versus Bishop Watterson. Their next game is Tuesday against Western Reserve Academy.
Men's Soccer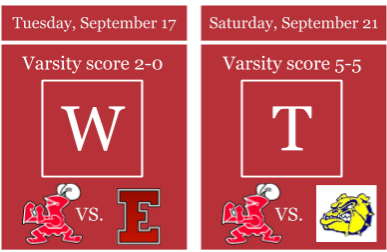 The men's soccer team did not lose a match this week shutting out Elyria 2-0 on Tuesday and tying Olmsted Falls on Saturday. After a defensive battle against Elyria, Shaker and Olmsted Falls combined for ten goals in 5-5 draw. The Raiders had a 4-1 lead at halftime, but had to settle for a tie. The men's soccer team will be back in action Tuesday on the road versus Solon.
Volleyball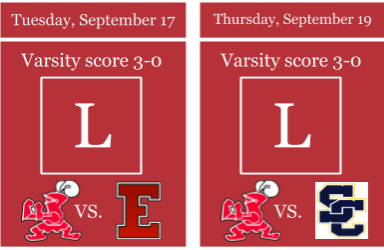 The volleyball team lost matches 3-0 against Elyria and Solon this week, but finished as the Beachwood Invitational runner-up. Shaker lost a close one to Beachwood in the final in three sets to take home second place in the Beachwood Invitational. The volleyball team's next match is on Tuesday at Strongsville.
Men's Golf
The men's golf team finished third out of three teams in their lone match of the week, posting a score of 186. Walsh Jesuit, the top team, scored 165. The golf team's next match is at the Greenman Golf Invitational on Sunday.
Football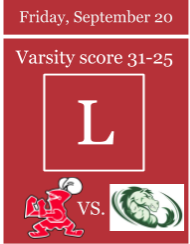 The football team fell to 1-3 on the season after a six point loss on the road at Strongsville. The Raiders got jumped out to a 14-0 lead after the first quarter thanks in part to a touchdown run from senior LouDon Graham, but Strongsville tied the game at 14 by halftime and outscored Shaker 17-11 in the second half. The Raiders' next opponent is Solon on Saturday at home.
Cross Country
The men's and women's cross country teams competed at the Cloverleaf invitational. The men's team took 4th out of 14 teams, and the women's team finished in first place in a 16 team field. Junior Avery Blaszak, sophomore Mia Compton-Engle, sophomore Anna Carpenter and junior Juliet Tonkin all finished in the top five on the women's side. The next cross country meet is Saturday at the Madison Invitational.
Comment using your Facebook, Yahoo, AOL or Hotmail account
comments
Leave a Comment